Veloxity is the Best CRM For Consulting Firms
Veloxity enables your consulting business to increase your sales and engagement so they keep coming back to your consultants for their projects.
Why Do You Need A CRM For Your Consulting Firm?
For consulting firms, your customers are the most important part of your business. Acquiring new customers with marketing is critical, but retainment requires them to associate your firm with successful projects.
If you don't have a centralized system for sales data tracking and instead are using spreadsheets, OneNote, paper, and sticky notes, then your customers will not receive the best possible attention and, worse, they may feel your company is too disorganized to manage their critical projects. Leads may also fall through the cracks costing you potentially many new sales.
The answer to this situation is for your firm to get a CRM for Consulting Firms, which will immediately improve your processes, services, and consultants' ability to service their clients and to onboard new prospects.
Laser Focused Marketing Campaigns
It all starts with finding new customers, and this requires advanced marketing. If people looking for consultants don't know you exist, then that's lost revenue potential.
Easily create professional email campaigns in minutes.
Use Veloxity's industry best targeted searching to reach the optimum audience.
Set up advanced A/B testing and DRIP campaigns, or combinations of both.
Automate lead creation and route them to the proper sales rep based on campaign target response.
Instantly view built-in campaign dashboards that show campaign performance.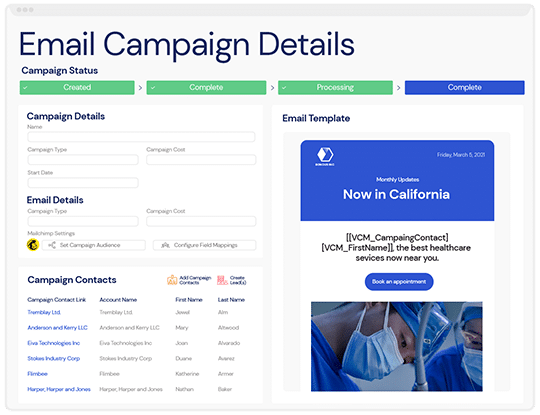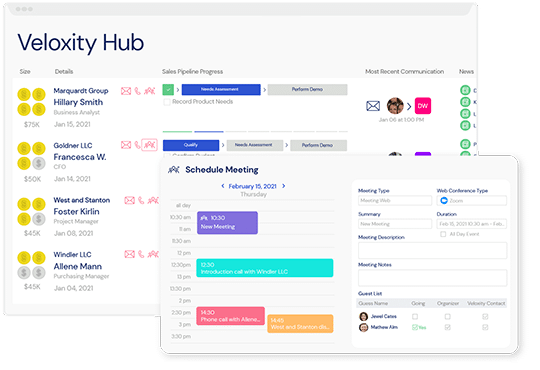 Unprecedented Ease of Use and Features
You don't want your consultants spending endless hours in the CRM, you want the CRM to quickly provide the information they need to be most effective.
The Veloxity Hub makes the hyper-efficiency of your salespeople the norm. Unprecedented insights…click less…sell more. Easily see your leads and opps and what's happened all in one place.
Integrated email, phone calls, webinars, calendar all available from the Hub.
The only interactive timeline on the market. See the entire communication history with your prospects and customers and respond right from the timeline.
See performance to quota for each territory in a single view that you can interpret in minutes.
The system can tell you what to do next. Stop digging thru emails and the CRM for each account to determine what you should focus on next.
Integrated sales dashboards provide at-a-glance views of historical and current sales data so you know where you need to focus your efforts.
Upsell or cross-sell clients on further services
Veloxity accelerates your sales by making all relevant sales information readily at hand and by guiding the sales rep on their next best action.
Easily see each of your customer's order history so you can know when and what they ordered and where there may be new opportunities to sell additional services.
Schedule follow-ups and to-do's with our integrated calendar to keep on top of your existing clients and to foster your relationship with them
With integrated Product Management and Easy Quote building, ensure you respond professionally to existing or new clients with detailed estimates.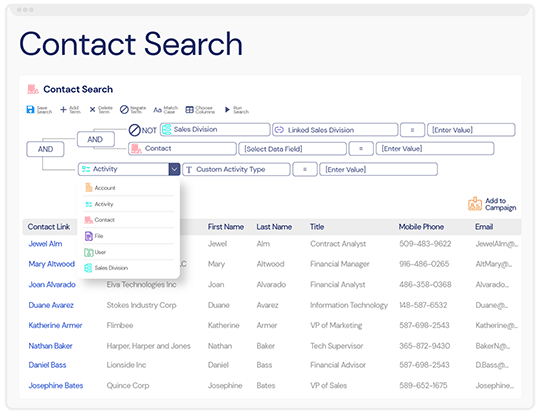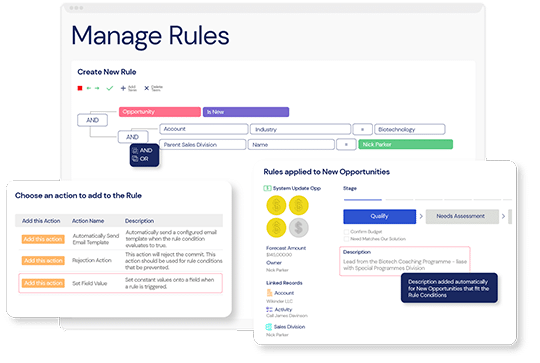 Automate your Workflows and Business Rules
Your consultants are busy, so let Veloxity Business Rules handle some of the work for them.
Create unlimited rules with the most powerful Rules Engine in the CRM space.
Pick from one or more workflow actions when Rule conditions are triggered.
Schedule future events based on Rule trigger, such as sending emails from a template in the future.
Enforce business rules by rejecting data changes that don't comply with your requirements.
Get in touch for more information on CRMs for consulting firms.