Veloxity is the Best CRM For Lead Management
Veloxity enables your sales team to be more effective at assessing, qualifying and converting leads to customers.
What is Lead Management?
The goal of your business is to grow your customer base by driving new sales as effectively and efficiently as possible. This starts with lead generation which could be sourced from within a lead generation software tool like Veloxity's CRM for Lead Management, but can also come from other lead management software, someone clicking on Google Ads or even just people calling your company or sending you an email inquiring about your solution or services. What distinguishes all these inbound communications for your sales reps is that they are leads and not yet qualified opportunities. Sometimes these are referred to as prospects.
A lead management tool will then provide a process where these incoming leads are assigned, ranked, qualified, and nurtured so that they can be converted into new business opportunities. A truly flexible system enables you to define your own sales pipeline for qualifying the leads through a process that is clear with check-offs for each sales rep on the team to use when interacting with the prospect to determine if they are a good candidate for your solution. Examples of these guided sales check off's might be:
Is our solution a match for their needs?
Do they have a budget for their project?
Is the prospect making a decision in the next 3 months?
Also of critical importance is knowing what the full set of communications have been with leads whether by email, phone calls, or meetings. Having this information "in hand" and easily accessible makes sales teams more efficient, but also ensures nothing gets lost as sales reps leave your company since someone else can pick right up where the lead sales process left off.
In summary, if you don't have a lead management software solution for tracking and managing your sales data and instead are using spreadsheets, OneNote, paper, and sticky notes, then your leads will not receive the best possible attention and, worse, they may feel your company is too disorganized to work with or may even never receive a follow-up. A recipe for business failure is to have your valuable leads fall through the cracks costing you potentially many new sales.
The answer to this situation is for your firm to get the Veloxity Lead Management CRM, which will immediately improve your processes, services, and staff's ability to qualify leads and convert them to new customers.
Laser Focused Marketing Campaigns
A lead management CRM is not much use if you don't have leads.
Veloxity marketing Campaign Management enables your marketing team to have focused targeting to ensure your target prospects are aware of your solution.
Easily create professional email campaigns in minutes explaining why your company has the right solution for them, generating new leads.
Use Veloxity's industry best targeted searching to reach the optimum audience from your database of contacts.
Setup advanced A/B testing and DRIP campaigns, or combinations of both.
Automate lead creation and route them to the proper sales rep based on campaign target response.
Instantly view built in campaign dashboards that show campaign performance.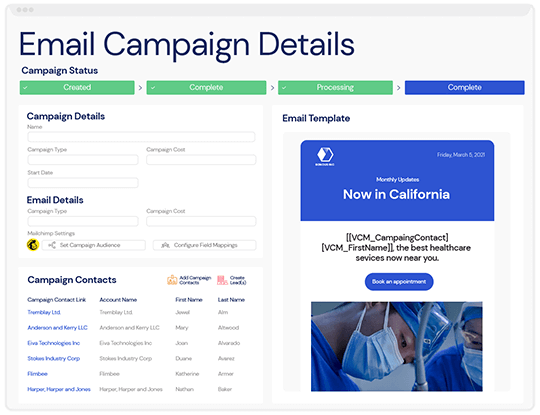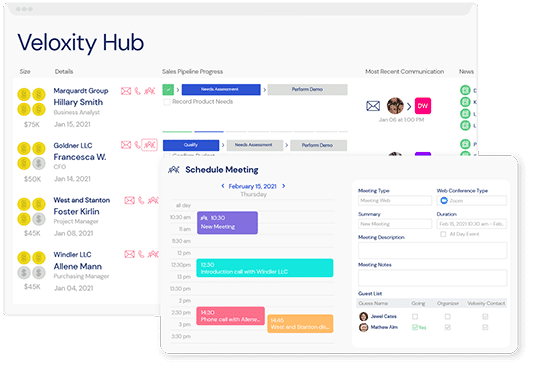 Unprecedented Ease of Use and Features
When the Leads from your customers or prospects come rolling in you want the CRM to quickly provide the information your salespeople need to be most effective so they can move the prospect rapidly through the sales process.
The Veloxity Hub makes the hyper-efficiency of your salespeople the norm. Unprecedented insights…click less…sell more. Easily see what's been happening with your leads all in one place.
Integrated email, phone calls, webinars, and calendar all available from the Hub, the premier lead management interface.
The only interactive timeline on the market. See the entire communication history with your prospects and customers and respond accordingly right from the timeline.
The system can tell you what to do next. Stop digging thru emails and the CRM for each account to determine what you should focus on next.
Save time with Automation and Suggested Actions
Let Veloxity provide the personal touch for you with automated Lead follow-ups so fewer sales reps can do more, and no Leads get neglected.
Veloxity's Rules Engine enables quick no-code creation of well-defined triggers and custom follow-ups such as emailing from a predefined template but still personalized for each prospect.
Schedule future events based on Rule triggers, such as sending emails from a template in the future. Send a new lead a different template 1 day after it arrives, another 2 days after the lead arrived, etc. to keep constant engagement with them.
Why have your reps guess what the next best action is to take? Instead, let Veloxity suggest the next best action based on prior activity. This ensures a received email from a prospect doesn't get missed or that lead goes into a neglected state where they received no communications from your sales team.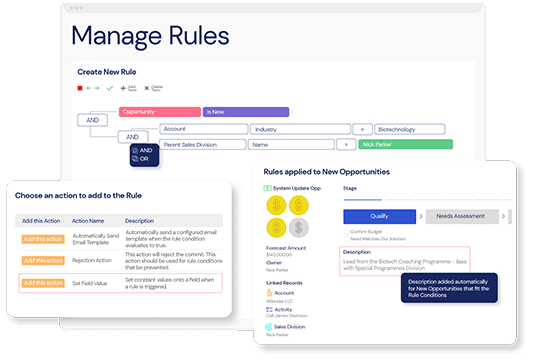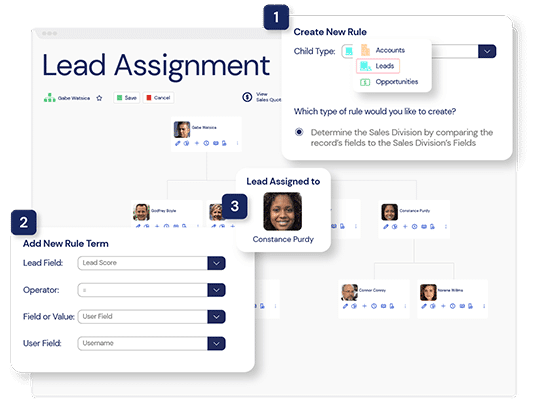 Assign and Rank your Leads – one benefits of a Lead Management CRM
If you have one sales rep lead then assignment is easy, but what if you have a larger team? Automated Lead assignment ensures the right person sees the lead and attends to it.
Veloxity's Lead Management CRM enables you to define your own sophisticated assignment criteria and let Veloxity auto-assign the Lead for you.
Leads can be assigned based on things like geographic area such as state, city, or zip codes.
Veloxity also can assign leads round-robin so leads are equitably assigned across your sales teams.
Get in touch with us to find out more about CRM Lead Management.