Veloxity is the Custom CRM Software Enabler
Support your business needs with our low-code / no-code custom CRM software platform at half the cost of other solutions
Most CRM's offer basic functions for tracking contacts, accounts, opportunities, activities, and more. This core set of features is designed to meet the basic sales tracking needs of most small to medium sized businesses. What separates the top CRM's from the rest though is that very few can truly grow and adapt to your specific needs. The common term describing software that can be tailored is "platform". CRM's that are built on extendible platforms, of which there are only a few, offer your organization much more flexibility to have a custom CRM software solution that meets your specific needs.
If you're looking for a CRM for a small business, you should consider your plans for growth and not just your current needs. As your business grows, you will need a custom CRM software system to grow with you. That's a major advantage of Veloxity CRM: Veloxity Customer Relationship Management software provides the most robust and extendible CRM platform for enabling low-code / no-code options to extend the system to support everything from basic data tracking customizations all the way to advanced automation, allowing you to keep track of the information relevant to your business in the basic CRM as you upgrade and add features. This means you will never outgrow Veloxity as it can easily be adapted to your business requirements now and in the future, and it can do this at half the cost of the other solutions.
Extend, Relate, and View
Customizable CRM software requires data personalization
Add new, unlimited data objects easily and quickly.
Add unlimited fields to your data objects. All common field types supported.
Relate the objects to other objects to support your business processes.
Configure data views and dashboards in minutes. See data the way that makes sense for your business.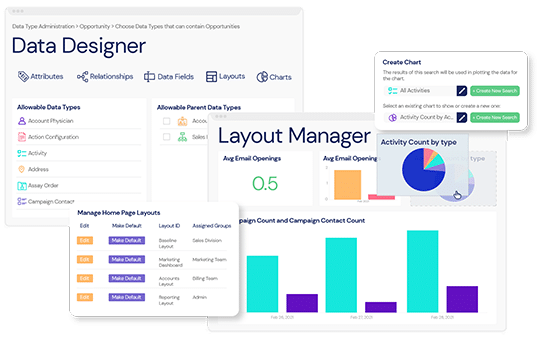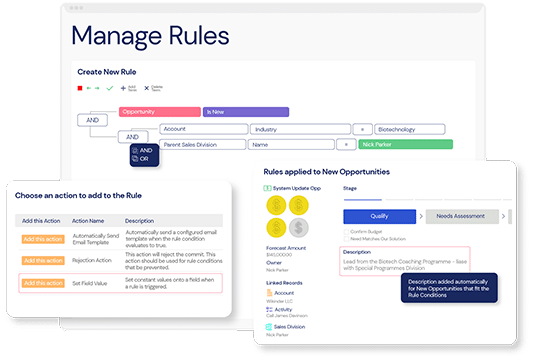 Automate your Workflows
Let Veloxity do the heavy lifting for your Custom CRM Solution
Create unlimited rules with the most powerful Rules Engine in the CRM space.
Pick from one or more workflow actions when Rule conditions are triggered.
Schedule future events based on Rule trigger, such as sending emails in the future.
You can even run custom code when Rule conditions are met giving you unlimited ability to control system behavior.
Unlimited Customizations
CRM Development
Unlock the full power of the platform with webhooks.
Create unlimited webhook invocations to control system behavior according to your process flows and business rules.
The most invocation points of any platform. Put icons and any toolbar or the main menu as well as numerous other invocation points.
Use REST API to perform any data operations required to support your custom CRM software needs.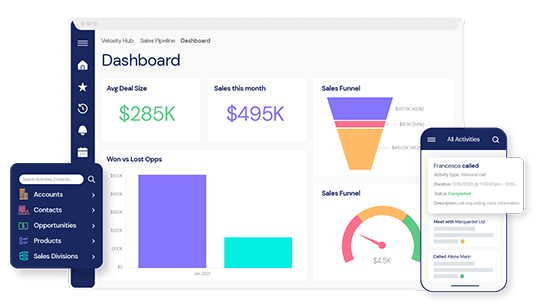 Get in touch for more information about Veloxity and our custom CRM software today.