Is a CRM Worth It for a Small Business?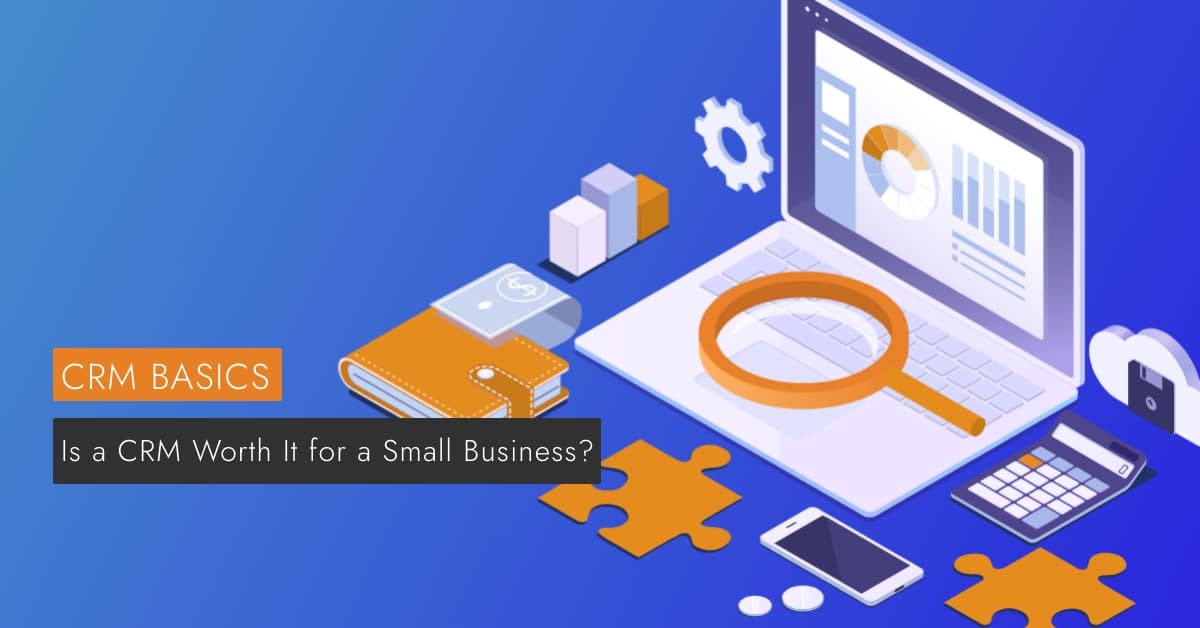 CRM is short for customer relationship management. It is software that automates the relationship between the business and its customers.
A CRM system is like having an expert at your fingertips to help you develop and maintain relationships with your customers as well as maximize sales opportunities. The first step to choosing a CRM for your small business is to determine the kind of results you want to achieve.
If you are curious whether you should invest in a CRM for your small business, read on to learn more about the features and advantages of using a CRM.
What is CRM software?
A CRM (Customer Relationship Management) is specially designed software to help business owners maintain and improve relationships with their present and prospective customers, suppliers, or colleagues, offering them a seamless user experience. It facilitates sales tracking, provides business owners with an in-depth overview of customer interactions, enables prompt inter-and intra-department collaboration, and more!
CRM platforms consolidate a massive volume of data your company generates daily about your clients and sales leads into a single place to help you run the business more efficiently, resulting in improved productivity.
So, what if you do not use CRM software? Let's understand it with an example. If you rely on a traditional system, the information your employees gather every time they get calls from prospective customers, follow up leads, or attend sales prospects gets stored in an unconnected or analogous tool like a laptop or notebook. With these manual processes, the data would inevitably get lost sooner or later, or your team may fail to assist customers as promised.
A CRM software can address these issues efficiently and offer you a centralized system to keep track of everything: from customer personal information and overall purchase history to purchasing behavior patterns.
With a compelling CRM strategy, as well as company-specific customer support models and marketing strategies, your business can generate more profit and revenues and save on costs, improving customer relationships and CLV (Customer Lifetime Value).
Though CRM tools have been in practice since the mid-1990s, their use started skyrocketing over the last decade. The current global CRM market size is worth USD 47.6 billion, and it is forecast to reach around USD 96.5 billion by 2028, rising at a CAGR rate of 10.6%.
Different Types of CRM Software
Let's face it: A CRM can seem like a two-edged sword. Though it has nifty tools to help you track KPIs and plan targeted campaigns so you can constantly improve, there are so many CRM options that can be overwhelming to choose from.
Let's break down the main types of the CRM system based on their advantages and capabilities to help you navigate the landscape better:
Operational CRM: Just as the name indicates, an operation CRM is specially designed to facilitate your business operations and manage them well, analyzing the customer data your business generates. It blends the core business sections – marketing, sales, and service through process automation and helps your staff offer a cutting-edge customer experience.
Analytical CRM: An analytical CRM collates client data from your business, organizes it into a repository, and facilitates data processing and analysis through visualization to enable you to derive applicable and actionable insights. So you can unveil the story the data is telling you to pick out opportunities and ensure business optimization.
Collaborative CRM: A collaborative CRM is all about synchronizing various customer data and ensuring better cooperation among different departments. By streamlining marketing, sales, and support processes, a collaborative CRM tool enhances channel interaction and company-wide collaboration for improved customer satisfaction.
Campaign Management CRM: Blending operational and analytical CRM functionalities, a campaign management CRM ensures you can plan, track, analyze, automate and execute marketing initiatives effectively through utilizing the contact data the CRM consolidates.
Strategic CRM: Prioritizing the customers, a strategic CRM gathers, segregates, and uses customer data to help organizations turn leads into regular clients and maintain a long-lasting relationship with them through improving and customizing interaction. It thus enables business owners to make more data-based decisions through analyzing the recent market trends and consumer behaviors and comes up with better value propositions for the customers.
CRM Deployment Options
So you are all set to take that all-important CRM system initiative for your business. Picking the most competent CRM deployment model is significant to deal with the issues your business is facing so you can meet your strategic sales and marketing goals efficiently.
Let's get into the deployment options most market-leading CRMs offer:
CRM in the Cloud: Opting for a cloud-based CRM software means you do not have to invest in installing and maintaining your own server in-house. The cloud system is owned, built, and managed by the third-party cloud CRM provider on their server. Your CRM data gets stored remotely via a public cloud environment or on the provider's server (private or hybrid cloud). However, how much elasticity, level of security, and standardization in functionality you will get is a factor of the cloud deployment option you choose. If you have just launched your startup or run on a tight budget, a cloud-based CRM is the best option to fuel your business growth. What makes cloud-based CRM so impressive is that it is accessible over the internet, and you do not need to install any software on your on-site computer.
On-premises CRM: Deploying CRM on-premises means you have to set up servers to run IT infrastructure capabilities in-house that will be accessible via your local private network only. One thing to remember here is that you have to install the required software on your office computers. Though system upgrade, monitoring, and customization are your responsibility which can be a bit hectic, on-premises CRM functionalities are highly configurable to meet your business specifications better. You can even request remote technical support and system maintenance from your CRM vendor if resourcing is an issue.
Small Business CRM
Amidst the bustle and thrill of launching your own small company, the necessity to assess and procure IT systems might be the least exciting thing on your to-do list. But deciding on the most appropriate technology arsenal to match your expanding small business requirements is crucial, even if it is tough to determine how a particular system will fit into your business processes, especially in the future.
Running and managing a startup is no picnic. But despite the hurdles, you still require to make revenue, focus on customer retention and identify opportunities to streamline so you can sell more and your business can become more productive.
But as a small business, you might be thinking that investing in a CRM would only pile up your expenditure. You are not alone! But the fact is, no matter whether you own a large company or a small business, if you agree with the statement above, your business is doomed to failure.
In the past, people might have made their small businesses survive really fine without a CRM system. Relying on Google docs, spreadsheets, or even manual notebooks could work nicely to help them follow up things such as customer names, emails or contact numbers, billings, etc. But with evolving technology and intensifying competition, business requirements are also changing.
Understanding who your present and would-be customers are and how you can maintain a good relationship with them should be on the top of your to-do list to boost your sales. And apparently, you require a mechanism to manage them, especially when your startup is yet to create a long-lasting impression on your target customers. It is where small business CRM comes into play exactly.
With the best system in place, you no longer have to remain confined into that never-ending spreadsheet hell or notebooks or deal with repetitive, time-killing manual duties daily.
The target market for this kind of CRM system is startups and expanding businesses where a single sales team of one or two sales reps or small groups of employees are responsible for interacting with customers. Therefore, small business CRM software has limited functionalities than enterprise-grade CRM services and mainly focuses on offering the sales team the features they require to generate more leads.
Though both small business and enterprise-grade CRMs are designed to meet specific business requirements based on the sizes of the companies using them, the core services both ensure are:
Handling data more efficiently
Generating more personalized and better-targeted sales outreach
Enabling the sales team to offer highly personalized and informed customer service.
So, how is a small business CRM different from traditional CRM software?
Effortless to Set Up: As small business CRMs are mainly cloud-based, they are far easier to deploy and manage, coming with a shallow learning curve.
Suitable for Smaller Teams: No matter how big or small a team your business is made of, small business CRMs can suit it well. However, they are great for companies with fewer employees, more specifically less than a hundred.
Affordable: Instead of making you pay based on a long-term contract, small business CRMs allow you to opt for a monthly subscription making the system more affordable. We will discuss the cost of small business CRM later and how it is more appealing to a business with a limited budget.
Key Features of Small Business CRM Software
The standard stack of features that make small business CRMs suitable for smaller and expanding businesses are:
Contact management
Lead management
Sales pipelines management
Task management
Sales analytics and reporting
Interaction tracking
Top-notch customer support
Is a CRM Worth It For A Small Business?
The answer is yes! If you still think quality CRM software is only for businesses with huge capitals, resources, IT experts, and sophisticated and compact software and hardware ecosystems, read on to find out how a CRM worth it for a small business and make you grow.
Helps Gather and Organize Customer Data Better
One of the most basic yet essential functionalities of every small business CRM software is helping business owners store, organize and manage customer data and sales information efficiently. This highly effective data centralization consolidates all your required data into one single place. And the more centralized and organized your client data is, the effortless it is to pull up when interacting with a customer and getting the context required to initiate and continue a highly productive conversation. It thus relieves you from the hassle of digging through hundreds of spreadsheets and files to get essential client information.
And with Veloxity CRM, tracking customer accounts, contact details, and email IDs for real has become easier like never before! The out-of-the-box tracking and top-notch contact management coming with veloxity CRM ensure that all essential data and details are at your fingertips just when you need them. It means that you no longer have to search for past conversations with your customers as everything is right in front of your sight presented in your intuitive veloxity CRM dashboard or email inbox.
CRMs help you maintain cleaner client data by standardizing and automating data enrichment and mining and avoid data duplication. So your sales reps get notified and do not miss anything essential.
Moreover, most market-leading small business CRM systems enable you to consolidate repetitive data into one record for better and more efficient data organization.
Do not worry if you have new sales reps to attend to a large client or account, as you have the records of all your clients in your CRM system, your new sales rep or the team does not have to start from scratch to know about that client's preferences and demands. It is one of the leading benefits of small business CRMs, as losing customer information is the last thing you can afford as a small business.
Personalized Communication with Leads
Personalizing communication is one of the most effective sales tactics today. When 63% of customers consider it a standard of service and think they are acknowledged as individuals and loyal customers when you offer them exclusive offers, you cannot ignore value-based selling. To make your small business expand and increase ROI, getting more clients, you must focus on treating all customers and leads with utmost attention. For instance, you cannot use their first names while interacting; instead, your offer needs to be tailored to their requirements.
Thanks to small business CRM solutions like Veloxity CRM, which allow communication personalization through segmentation filters and tags. So you can categorize potential and present customer data based on different criteria, like location, account type, channel, newsletter subscription, company name, and more, creating your own labels or just using the ready-to-use ones.
Another surpassing benefit of small business CRMs is they help you manage your sales leads better. So, you can segregate promising leads from a pool of incoming leads, evaluate their key information and factors, and communicate with them over various touchpoints to nurture and convert them to deals. If you have just launched your business, starting your sales funnel with leads instead of opps, Veloxity hub views, and the pipeline is just what you need to manage your leads efficiently and turn them into loyal customers.
Helps Run Effective Email Campaigns
Email marketing is the recent hottest and most powerful digital marketing tactic. Mailouts can be super-efficient to achieve the expected result – all you need to do is ensure that your hyper-personalized email campaigns hit your prospect and customer inboxes at the right time. It is, in fact, the most trusted form of interaction when 77% of customers prefer email over other channels.
Today, 93% of B2B marketers largely depend on email for content distribution, and around 29% of marketers prefer email marketing as a highly powerful marketing channel. So you must prioritize running successful email campaigns as a small business owner to drive ROI.
Email marketing can help you generate more leads most cost-efficiently – what small businesses need. But unless you turn to the right tool to send massive send-outs and generate compelling emails, it can be of no use. Here is where small business CRMs come into action. Thanks to small business CRMs that facilitate mail merge by efficiently segmenting emails. You can effortlessly create and maintain your email list and send emails to all of your leads and customers in minutes. If your small business is highly email-based, there is no alternative to use efficient CRM software as a marketing tool.
For instance, with Veloxity CRM, you can build unlimited professional email templates and even add embedded pictures hosted by Veloxity in no time. So you do not have to send a single email to hundreds manually. Just create your template, and the Veloxity CRM will fill in the contact sections in the body and subject before mailing.
Tracks and Boosts Marketing Performance
Thanks to CRMs that help your team monitor customer behavior effortlessly by putting all customer data into one place. So you can ensure no one is out of sync, decide what steps are fruitful (and identify what is not working), and distinguish the clients that may require a little bit more attention in the future.
For instance, tracking the number of new clients and prospects your team has managed to bring to your business will help you analyze if your current acquisition efforts are working fine or you need to adjust your spending or strategies. Similarly, by following up on the status of your present customers and observing your gross churn, you can decide if your client retention attempts are fueling your ROI or you have to shuffle up things a bit to ensure your current contacts are satisfied.
With Veloxity's robust and out-of-the-box marketing solutions, you can limit the dependence on multiple applications you use to promote the great products you sell, schedule your marketing campaigns and identify the most suitable prospects to target. It presents real-time data on your email clicks and opening (also how many are left unclicked), so you can analyze how effectively your marketing efforts are translating into sales. And as a small business, instantly getting real-time campaign performance overviews in your CRM's built-in campaign dashboards is all you need to track and boost your marketing performance.
Helps Monitor Sales Process More Efficiently
Sales process monitoring helps you avoid losses and make smart gains, identifying your flaws and strengths timely. Thanks to small business CRMs that enable you to track sales and nurture your contacts and leads better, visualizing your sales pipeline.
For example, Veloxity CRM relieves you from struggling with static pipelines, and drilling down into databases infinitely. Now, you can, in minutes, watch your custom sales stages and how much revenue you have generated/stage with Veloxity's out-of-the-box chartings, or Kanban, identify significant deals in your sales pipe and find out the points where your contacts usually drop off from. What is more interesting is that Veloxity interactive dashboard helps you track your leads's/contacts' activities effortlessly.
Automated Sales Forecasting
Besides tracking sales processes, every small business owner must have thorough sales forecast reports to understand better how their businesses perform and devise strategies to make their companies grow like never before. It helps the sales team precisely estimate their future sales growth depending on the potential deal pipeline.
Small business CRMs automate sales forecasting to help you track your sales progress, identify the pain points and sell smartly. For instance, Veloxity, using advanced machine learning, offers highly accurate sales forecasts based on historic data and trends. Your sales team can polish the selling strategy effortlessly, and sales reps can better understand how they are tracking against the quotas. So you and your sales manager can make more data-based decisions to handle your resources more efficiently.
Boosted Productivity with a Mobile-friendly CRM
When you implement a mobile-friendly CRM, your sales, marketing, or customer support team can access and manage critical information in real-time, no matter where they are. So monitoring performance and log activities, responding to customer support cases, accessing dashboards, visualizing data with charting, and analytics to run your business even on the go has become possible today – thanks to mobile CRMs.
For example, with Veloxity CRM's responsive web design, you no longer have to struggle with the desktop browser version while working remotely with your smartphone. All you have to do is sign in with your smartphone, and you can effortlessly use Veloxity's fully functional mobile-friendly application, compatible with both iOS and Android.
Seamless Communication
Your CRM acts as a storehouse of communications, notes, discussions, requirements, and contact information. And if it is cloud-based, it upgrades regularly.
Accessing real-time and on-location data and enabling multiple users to work on the same file concurrently becomes effortless with a CRM that supports a built-in collaboration system. It allows departments and teammates to share insights faster and make better decisions. It is particularly significant to align the functionalities of each part of your business. For instance, as files can be shared among multiple users, when a salesperson assists a client and fills in particular sections in a dedicated file, other departments can get the most updated details in no time and work accordingly. Thus CRM brings all departments like HR, marketing, sales, and finance in one page to boost customer relationships and ensure speedy turn-around time in sales reporting even if the teammates work remotely.
Veloxity believes in easing communication for improved productivity. Hence it integrates Zoom, Teams, Gotomeeting, and Google Meet to facilitate creating and scheduling webinars from the CRM system.
Automates Workflows and Business Rules
CRMs understand that as a small business, you may not be well-equipped with an expert IT team. Hence, most small business CRMs enable you to automate workflows with little/zero coding knowledge. So, after organizing your client data appropriately, you can employ your CRM system to automate almost all of your daily marketing tasks like purchase follow-ups, responding to simple customer inquiries using chatbots, welcome messages, etc.
With Veloxity robust Rules Engine, you can create endless rules, direct your leads to the right sales territory rep, schedule automated events like sending messages based on Rule Trigger and implement business rules by discarding data changes that no longer aligns with your specifications.
Small Business CRM Cost
Though there is no magic-bullet answer about how much you have to spend on a CRM for your small business, we can give you a rough idea. The price/user largely varies with the software plan and functionalities you require. While most small business CRMs would charge you around $12-$20/user/month, you may also find free CRMs. Most CRMs support monthly and annual pricing, with a premium discount if you pay annually upfront.
Also, some top-class CRMs offer free subscriptions up to a specific number of users.
Combining the simplicity of an entry-level CRM system with the dynamism of a customizable enterprise-class platform, Veloxity allows users to sign up for its free version to quick-start their businesses and upgrade to the state-of-the-art paid editions, paying only $7/user/month. Veloxity grows as your business expands to easily get adapted to your business specifications and processes and introduce a cutting-edge user experience at costs lower than other CRM tools in the market.
How to Choose the Right CRM for Your Small Business
Small business owners might be bombarded with a torrent of clamor about the most advanced CRM software. When the market is packed with so many CRM providers, everyone claiming to offer CRM service with endless features and advantages, picking the right CRM that can comply with your requirements may seem a bit tricky.
Keep the following factors in mind while selecting a small business CRM:
Before researching the alternatives, you must fix your budget, as the lion's share of it will go for CRM deployment and software licensing. You can start with free CRM software and upgrade to a paid tool eventually as your business grows.
For a small business owner, investing in a cloud-hosted or web-based CRM is, no doubt, a good start. Cloud-based CRMs can be deployed immediately, and you get prompt access to top-notch built-in features spending far less than on-prem CRMs.
Every business – small, or large, is unique in terms of the customer base, development dynamics, and operations. So before deciding on a CRM solution, you should know what features and functionalities your business demands and invest in a tool that can scale with your company.
Spending on a CRM that is seamlessly integrable with other applications that your small business is already using, like ERP, web forms, Outlook and Gmail, HR software, etc., is an intelligent decision to streamline operations most efficiently. Choose a CRM that enables users to import files, data, and information from other sources and verify if it allows you to effortlessly export data out of the system.
Purchasing CRM licensing only at its face value is a Big No! To pick a top-quality CRM that can match your business processes, you should always request a live demonstration and opt for a test drive to understand how the system works.
Last but definitely not least, verify how robust security measures the CRMs you have shortlisted offer. Consider investing in an agile CRM that encrypts your data with layers of protection and allows you to customize access, so it never becomes a potential goldmine for scammers and cybercriminals.
Conclusion
When you have the most powerful CRM system with best-in-class features and functionalities, like data organization, advanced analytics, marketing automation, and more, offering cutting-edge customer service becomes effortless.
Try out Veloxity – a future-proofed, affordable and highly scalable CRM platform that can help your small business identify opportunities efficiently and grow at a breathtaking speed.