Why Should a Small Business Use a CRM?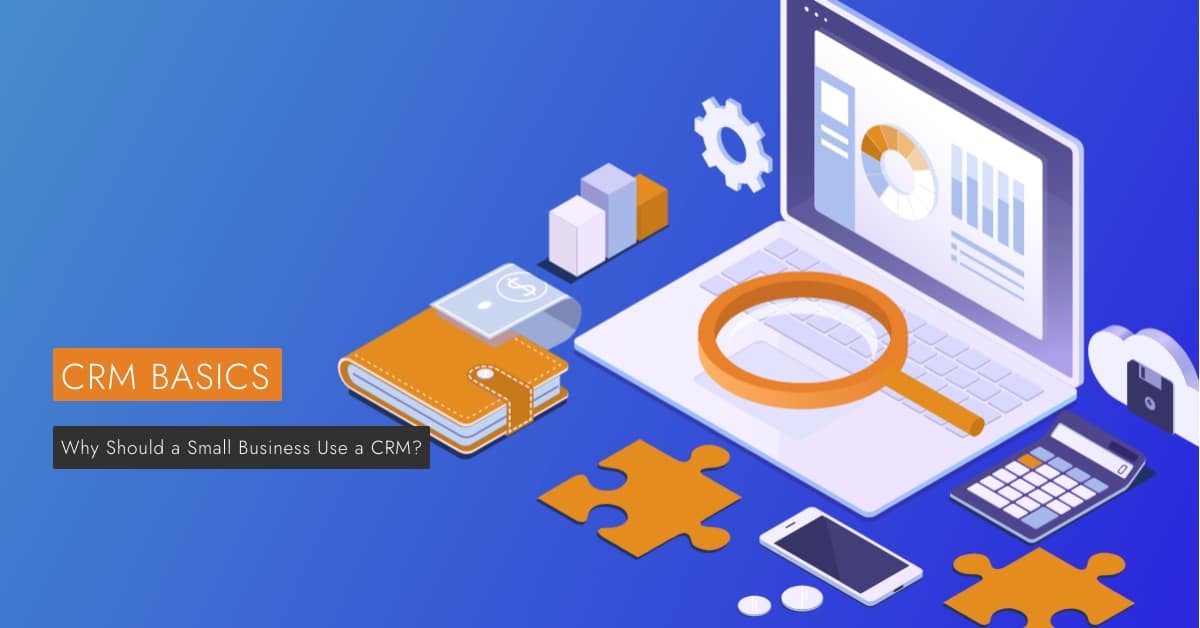 If you're a small business owner, you might be asking yourself why should a small business use a CRM?
Customer relationship management (CRM) software enables small businesses to address operational difficulties while also establishing a consistent routine for following up with potential clients. CRM is frequently the secret ingredient that aids in the transition of a small organisation to a fast-growing one.
If you're considering whether or not to use a CRM for your business, this post will help you make the right decision, as we cover the various benefits of a good CRM for small businesses.
How a CRM Can Solve Your Small Business Problems
Problem #1: Your Data Is Disorganized
You may have been able to keep track of your client data when you were just dealing with a few customers and one or two sales people. But now, you're finding it more and more difficult to keep consistent records that everyone can access. Spreadsheets get broken, information goes missing, and there's no real way for your sales team to quickly access the information they're looking for.
Solution: A CRM Makes Sure Everyone is On the Same Page
A CRM boosts your sales team productivity by storing all your important sales and customer data in one single location. All that time spent pouring through endless spreadsheets on various drives can now be used to nurture leads and follow up with customers.
CRM doesn't just collect, store, and organize your data in a way that's easy to search. The more data a CRM collects, the smarter it gets. You can gain valuable insights about your business as well as forecast potential revenue.
Problem #2: Your Customer Service Reps Are Going In Blind
You can't expect customer loyalty without giving your support team the vital information they need to help clients with their issues.
When a customer calls in for an update on an existing support ticket, your team members will be answering the call blind because none of the customer communication history is readily available to them, or they have to chase down the last person who spoke to the customer. Not only does this slow down the resolution process, it also reflects badly on your company and may scare even your most loyal customers away.
Solution: A CRM Improves Customer Support
If a CRM is good at anything, it's maintaining positive customer relationships. Your sales reps and customer service team can establish good habits by easily finding the information they're looking for straight from the customer's account. With just a click of a button, you can view the customer's data and contact history to more easily anticipate their needs and resolve their issues.
Problem #3: Your Sales Team Is Spending too Much Time on Data Entry
If your sales team is actively pursuing leads and staying in touch with customers, they'll have to sequester a large chunk of their day to input lead data into your current system. And after all the data entry is done, there may not be a systematic way to prioritize quality leads.
Solution: A CRM Automates Daily Tasks
A CRM frees up your team's valuable time by automating daily and repetitive tasks. For example, Veloxity CRM has a powerful lead assignment rule builder to automatically assign leads to territories or users. Our sentence-based rules engine automates tasks just by filling in the blanks.
Other Advantages of Adopting CRM Software for Small Business
Increased Productivity
As your company grows, you need to know where you should be focusing your attention. A CRM allows you to zero in on your analytics and gain valuable insights into your small business' strengths and weaknesses.
Increased Company Profits
The greatest advantage of a CRM is the ability to stay on top of your leads so that they don't get dropped somewhere along the way. With all your important customer data in one place, your sales reps can close more deals and maintain customer loyalty.
Better Internal Communication
The heads of departments won't have to play catch-up or spend all day waiting for other departments to return their emails/calls about customers and accounts. Everything about a customer is stored in a single place, ensuring that all departments are working together as a single organism.
Intelligent Marketing Campaigns
Power-up your email marketing campaigns with laser-focused marketing tools. Segment your prospects, leads, and customers into specific groups based on your chosen factors to test and optimise your marketing emails.
Veloxity CRM takes it a step further by automatically creating leads in the CRM system whenever a prospect clicks on a link in your email.
The Best CRM Solution For Small Business
If you're ready to adopt a CRM for your small business, you want one that you can learn relatively quickly. We recommend finding a CRM that's ready to go out of the box with an intuitive interface that doesn't take more than a day to learn.
As a small business owner, you also want to invest in a CRM that can grow with your business. Veloxity CRM's features are designed with your small-business needs in mind. Get started with our free trial today!