Pharma CRM Solutions: How to Choose the Right Pharma CRM for Your Needs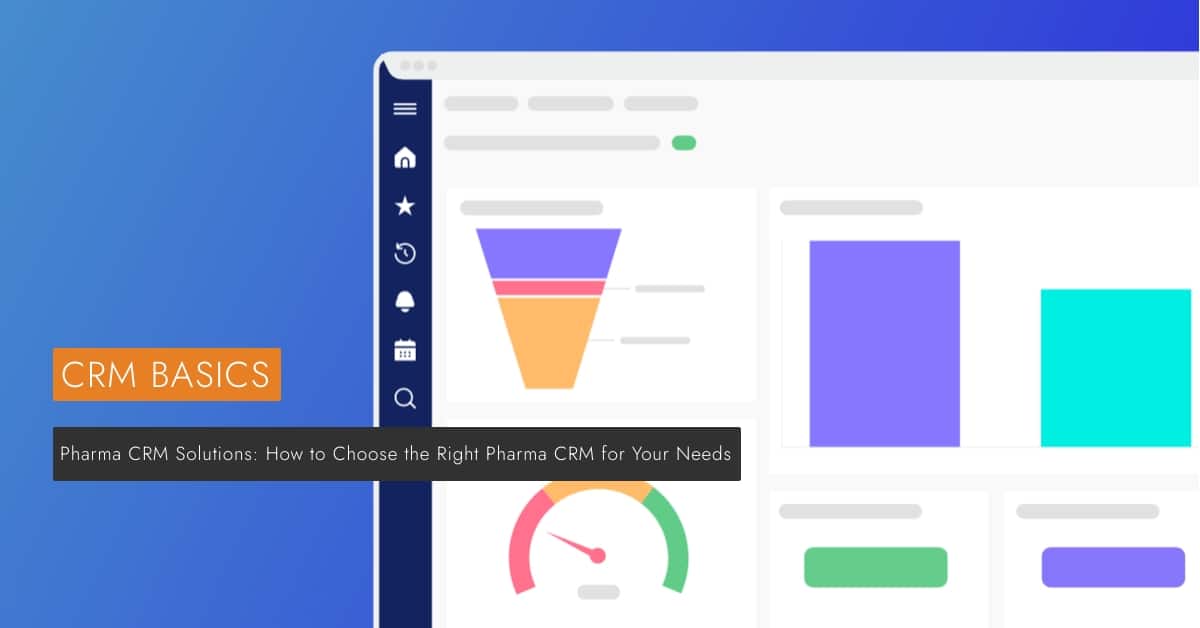 As you know, a CRM is a software solution that allows your pharmaceutical company to manage all of its business functions, including sales, marketing, customer service, and business intelligence.
With a CRM, your organization can generate new leads, manage existing clients, and improve customer satisfaction.
While each company is unique, all CRMs offer similar features to help pharmaceutical companies save time and improve their success rate.
Let's take a look at how to choose the best pharm CRM solution.
How is a Pharma CRM Unique?
A CRM or Customer Relationship Management solution is a centralized system consisting of tools, strategies, and practices that businesses of all sizes can implement to build and maintain long-lasting relationships with their customers by analyzing customer interactions and data throughout the customer lifecycle.
Ensuring proactive interaction with customers is highly challenging in all businesses, including the pharmaceutical industry. And the constantly evolving regulations and business policies, intensifying market competition, and ever-increasing budgets involved in the pharmaceutical business only add to the difficulties.
While the CRMs for life sciences and pharma companies have the same targets as CRMs in other industries, the way these targets are fulfilled must emulate the particular demands of the pharmaceutical advancement, marketing and sales environments. It is because a prescription drug involves a longer development cycle and far more investments than the products produced in other businesses, and attracting and retaining clients throughout the drug lifecycle is crucial for a business's ultimate success. 
Here, a pharma CRM comes into play. It is a CRM system specially designed to meet the specifications of a pharmaceutical company. A pharma CRM software offers a centralized platform to manage and monitor all business data involved in the pharmaceutical industry (about manufacturing, distributing, and selling a drug) through various channels – mobile, web, email, etc., and drive sales growth.
A pharmaceutical CRM solution aims to:
Help streamline communication with the individuals and companies involved with your pharma business;
Create a customer base with comprehensive data on each of your customers and store each customer's data in a unique holistic profile;
Give your sales reps immediate access to statistical, analytical, financial data and reports;
Build a drug nomenclature base, consolidate all essential documentation, and categorize them based on various parameters;
Build a unified pharmacy base;
Provide users with AI/ML-based algorithms for the sales system and schedule calls, messages, and meetings for each customer;
streamline sales processes with automation;
Pharma CRM Functionality
A CRM system opens up incredible opportunities for pharmaceutical businesses to thrive. Now more than ever, pharma firms need to manage and nurture sales leads and current clients masterly. And implementing a CRM with top-notch features and functionalities can help you attract more leads, generate more revenue and identify customer pain points to drive innovation and sell smarter.
Let's look through the functionalities of a quality pharma CRM:
Marketing Campaign Automation and Management: Helps sales reps run successful campaigns from anywhere. The sales reps can get organized data about drugs and professionals at their fingertips so they can create targeted promotional messages and custom reports effortlessly. It should support email automation. So your reps can use built-in email templates, customize emails using CRM's email builder, schedule mailout and ensure the hyper-personalized emails can reach all target customers' inboxes at the exact time simultaneously. The tool should also facilitate segmenting contact and call lists, tagging, and filtering to execute email and calling campaigns more intelligently.
Medical Representative Management: A pharma CRM helps you manage and schedule medical reps' working hours and doctors' office visits, counting on multiple factors – doctor expertise, route convenience, etc. It may also facilitate tracking appointments considering the area, delegate, medicine, etc. Employing AI/ML-based predictive models, a quality CRM should help improve future marketing strategies and efforts, identify the busy hours in a day and ensure the waiting time is minimal and the team is working efficiently.
Sample Tracking: Having a CRM with sample tracking functionality is a plus in the pharmaceutical business to manage a large stock effortlessly. It enables your reps to store minute data of medicines securely via CRM and retrieve the details when required. They can manage and monitor specimen inventory and generate invoices from within the software. A pharma CRM consolidates data about essential information like the expiration dates, location of the samples, etc., and notify you before you run out of stock to help you avoid unnecessary delays in drug development processes.
Opportunity Management: With a CRM's opportunity management functionality, you can track your sales-qualified leads (SQLs) through the sales process towards onboarding practitioners.
Lead Management: Helps you capture leads from multiple channels and route leads to appropriate reps so they can qualify, analyze and nurture the incoming leads better and convert the sales-ready leads into deals.
How Can a Pharma CRM Help your Business Grow
Improved Customer Service
When you have a CRM system implemented, interacting legitimately with customers and getting repetitive clients, managing customer databases efficiently becomes effortless. A pharma CRM furnishes a company's delegates with all essential and relevant data about a customer's previous orders, past queries, preferences, and so forth and enables them to fetch that data in no time to deliver more customized and quick service.
Stronger Sales Analysis
CRM's sales tracking functionality helps your sales team analyze the entire sales process better and get clear visibility of each stage in the sales process.
By integrating with your existing industry databases and running sales activities in a single centralized repository, a pharma CRM ensures your sales reps have more data points for more accurate data analysis.
More impressively, a CRM can augment your forecasting by employing AI/ML-based predictive models on significant past trends and data. So your sales reps can predict the expected sales revenue accurately over a future period depending on your current pipeline.
Improved Reporting and Analytics
A CRM's easy-to-create data visualizations, data mining techniques, and various charts make analyzing the mass volume of data about patients, drugs, and customers consolidated from different communication channels into a pharma CRM system effortless.
Moreover, a pharma CRM helps managers track sales activities better and troubleshoot sales issues by providing direct reports on sales figures and reps' performance (sales field visits, order booking, etc.). More impressively, a pharma CRM provides MIS reports, so your team can devise future sales and marketing strategies more efficiently.
Data Augmentation for Improved Lead and Customer Generation
Gone are the days of surfing the internet endlessly for collecting data about your customers manually. Now you have a pharma CRM system in place.
It can pull in your customers' data from various external and internal sources (website, social media, etc.) and augment your current datasets to give you a more comprehensive picture of their behavioral, social, and environmental factors. So with far less effort and time, your team can have the latest information about your leads and clients and successfully boost the engagement rates of your marketing automation, facilitating personalized and targeted interactions.
How to choose the Best Pharma CRM Solution
Technology and pharma business demands are evolving at a breathtaking speed, so does CRM software. It is a highly competitive and growing system.
While every vendor promises to deliver state-of-the-art CRM software with best-in-class customer experiences, investing in a system that complies with your business specifications is a bit challenging.
So how can your company pick the best pharma CRM solutions with shiny objects that would fit into your business so you can be at the forefront of advancement rather than a step behind?
Let's look over:
HIPAA Compliance is a Must
The compensation of overlooking patient and customer data protection can be high — up to millions!
Moreover, from research in drug development to post-market endorsement ventures, data can play the leading role in your decision-making process in all steps in a pharmaceutical business. In effect, there arise various data security and integrity concerns throughout a medicine or healthcare product lifecycle that demand to be scrutinized thoroughly and can seem intricate unless a regulatory standard or mandated baseline like HIPAA (Health Insurance Portability and Accountability Act) is put into action to control data transaction and reduce data vulnerability.
The HIPAA act may seem complex, but it sets some regulatory standards, having a simple purpose – to ensure top-notch security and privacy to patients' and customers' confidential data in healthcare, life science, and pharmaceutical industries. If you want to drive clients and customers from all over the world, you must invest in a HIPAA compliant CRM, like Veloxity pharma CRM, to secure their information and keep cyber threats away.
Veloxity is a HIPAA compliant best-in-its-class CRM system for the pharmaceutical industry that guarantees robust access control through two-factor authentication and enables configuration of data record and field-level access by role so an authorized user can access business-critical data only when it is required. Moreover, it supports complete audit trails to ensure the system is compliant with regulations, and you can understand and backtrack changes in your CRM to avoid frauds and manual errors.
Count on Ease-of-use
A CRM should help salespeople manage their sales pipelines and evade drill-downs. But how can your team be more productive if they have to deal with a difficult-to-navigate, inapt and cumbersome CRM system?
Putting an easy-to-use CRM is particularly essential for a business that involves complex sales processes like pharmaceuticals, where tracking and streamlining complex operational processes are crucial to driving sales growth.
So, before investing in a CRM, evaluate if it is easy-to-use, easily integrable with your current system, straightforward in its reporting, performs consistently, and loads faster.
You can also ask for a free demo from the provider and go for a test drive to evaluate if the CRM is intuitive to use and can meet your requirements. So your employees can operate it comfortably, ensure data accuracy, and your pharma business can thrive, increasing ROI.
You can try out Veloxity – a future-proofed CRM with ready-to-go top-notch features and functionalities to make your pharma business run more efficiently. So you can spend more time putting the CRM into action and far less time figuring it out, and your team can sell even faster and better!
Invest in a CRM that is Integrable with Your Existing System
A CRM is to make your business operations effortless, not to pile up your challenges, operating as an isolated system. Hence before investing in a CRM, make sure it supports seamless integration with your existing systems so that you can save tons of money and time. And it is especially crucial if the CRM is for a pharma business where tools like ERP, EHR, Gmail, Outlook, HR, or accounting solutions are integral parts.
But how does a CRM supporting third-party integration add value to your business?
Integrating your existing IT software into your CRM fuels your business productivity by making your sales reps more equipped to deal with client requests. For instance, a CRM that is integrable with EHR acts as a single trusted data source available at your fingertips to get a 360-degree view of your customers, ensure efficient referral lifecycle management, and more.
You can give Veloxity's pharma CRM a shot. It integrates with Gmail and Outlook seamlessly to sync your emails with your CRM contacts. Veloxity CRM is also integrable with IMAP, so your email account can get easily configured in your CRM software. Thus you can, without undergoing the painstaking process of tracking emails in your mailbox, see your interactions with your CRM contacts straight from your CRM dashboard. It also integrates with Zoom, Google Meet, MS Team, and Go Meeting making creating and scheduling webinars from the CRM easier.
Choose a Multi-platform CRM
Implementing a CRM compatible with a plethora of web-enabled devices, from mobile and laptop to tablet, is critical to stay on top of your competition in today's constantly evolving pharmaceutical market.
A multi-platform can outshine the functionalities of a conventional CRM system. While your customer service team can identify cases and be more proactive in tracking and resolving them, the marketing team can plan and execute campaigns and track performance regardless of their locations.
Additionally, you can cut on admin overhead costs and enable effortless data sharing and collaboration in real-time. All these are possible having the power of CRM in their pockets – the ultimate key to drive uninterrupted business growth.
For example, now, your employees are no longer tied to their office desks; instead, they can work efficiently even on the go with Veloxity's state-of-the-art mobile-friendly CRM. So you can get more work done and make data-driven decisions faster with Veloxity's lightning-powered fully-functional mobile app. Veloxity CRM really knows exactly where you left off.
Choose a CRM that has Scale with Your Business.
Scalability is critical to any expanding company, especially for a pharma business that aims to go from 0-100 in a year. If your business tools fail to grow alongside your company, you will, in no time, realize that your business growth has slowed down or become halted.
Since a CRM is a long-term investment, you have to weigh your current requirements against your long-term business purposes and look for a system that can scale as rapidly as your business demands.
If scalability is one of the driving forces behind your decision-making process, you can surely try out Veloxity, a highly scalable CRM that can quickly adapt to your business by adding new capabilities as time goes on. No user caps, no functionality/feature constraints, and no matter how big your corporate ambitions are, Veloxity can seamlessly fit into companies of all sizes – a small to midsize business or a global sales corporation.
Evaluate the Deployment-type You Need
Though with an on-prem CRM, you have greater control over your data, IT system, and tighter protection against breaches, it comes with hefty price tags and needs experts for system maintenance and upgrades. In effect, it gets slower in delivering ROI.
On the flip side, a cloud-based CRM is highly flexible, secure, can significantly decrease your upfront infrastructure expenditure, and ensures near-perfect system uptime and minimal downtime.
So if you have just launched your pharma business with a limited budget or do not have on-site physical servers, a cloud-based CRM can be a great choice.
Consider The Cost
The biggest challenge that buyers face while investing in pharmaceutical CRM software is the product price. CRM providers usually use a subscription-based pricing model, and the cost can be a factor of various parameters – available features, allowed user number, training facility, etc.
Again, how much you have to spend on a CRM largely depends on its deployment option – on-prem or cloud-based, the requirement of upgrading your existing hardware, training your staff to adapt to a new system, etc.
As CRM involves a huge investment of money and time, make sure you analyze your requirements and know exactly what you are paying for. Though a pharma CRM has almost the same functionalities as other CRMs, you may have to pay a bit higher for it.
While some CRMs can cost you around $12/user/month, suitable for a small company, the price can be as high as $450/user/month for an enterprise-grade pharma CRM.
Thankfully, Veloxity CRM helps you offer personalized digital-first customer experiences at scale. You can sign up for the free version, or subscribe to one of its paid ones starting at only $7/user/month as your business upgrades. Driving innovation even faster in the pharma business, leveraging unlimited best-in-class CRM features is no more expensive now!
Conclusion
Deciding on the best CRM solution that can meet your business targets efficiently by enabling you to stay ahead of the curve can be tricky.
Get started with Veloxity pharma CRM now to make your pharmaceutical business grow at a breathtaking pace, keeping your customers happy everywhere!