How to Choose the Right CRM Software Training for Your Organization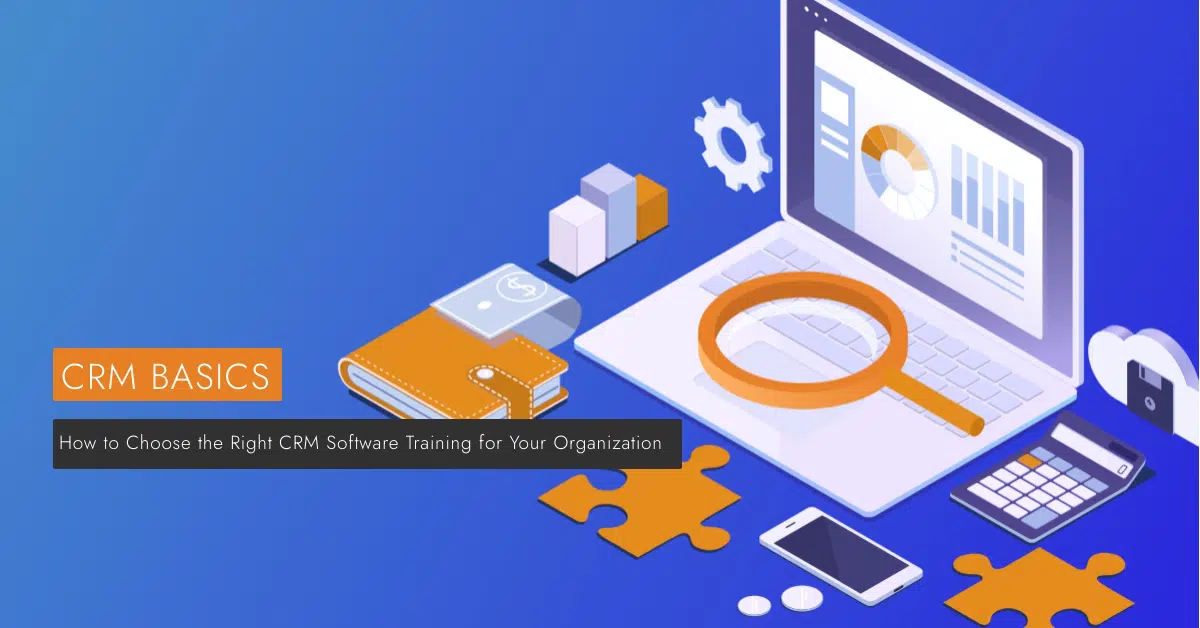 A CRM system helps you manage your relationships with customers, suppliers, and partners. It allows you to monitor and manage your customers and their interactions with you. You can also monitor your opportunities, customers' needs, and other data to develop new products and services.
If you're searching for a new CRM software, you might already be aware of how complex these systems can be. That's why so many CRMs come with a free trial, which often lasts 14 days. This two-week period gives your team the chance to learn and adopt the software. However, these free trial periods aren't always sufficient time to learn the intricacies of a CRM system. Additionally, new hires won't be able to benefit from the free trial period down the road.
The solution? CRM software training.
In this post, we'll give examples of CRM products that offer the best CRM software training and the different types of courses available.
Start Your Training
Who Should Take a CRM Software Training Course?
Anyone in your organization who will be using your new CRM software should be thoroughly trained, if not by a professional, then by a fellow employee who has received training. Training can happen in groups or individually, depending on the size of your organization. Taking part in a training course led by a certified instructor better guarantees your staff knowledge will be up to date and complete.
Why Is CRM Training Important?
Improper training is one of the main reasons for low CRM adoption—which is the last thing you want. While some sales and support staff might learn their way around the CRM without training, there will also be users who need plenty of help getting started.
The improper use or adoption of your software can be a wasted monthly expense while not solving any of the issues that led to you implementing the software in the first place.
All future employees can easily be trained by your certified staff, which will lower your employee onboarding costs.
What to Look For In CRM Software Training
Whether you're looking for in-person or online training, you should stick to a CRM course that offers real-world examples and/or tests to help students get the hands-on practice they need for future scenarios.
Not all CRM training costs the same. For example, Hubspot has several online certification courses, ebooks, and lessons for absolutely free, whereas Salesforce platform certification can cost anywhere from $400 to $2000.
Where to Find CRM Online Training Courses
LinkedIn Learning
LinkedIn offers a variety of online CRM courses for administrators, marketers, and sales teams. Your staff won't be certified by the end of the course, but they will get the skills they need to maximize your CRM. Popular LinkedIn courses include:
Salesforce for sales managers
Salesforce for administrators
SAP Business One essential training
Learning Zoho CRM
Microsoft Dynamics 365 basics
Coursera
Coursera is a massive open online course (MOOC) provider with courses in just about every subject. There are many CRM, sales, and marketing courses available on Coursera today, but the most popular CRM courses are in Salesforce and Hubspot.
Certstaffix
This training website offers a wide variety of courses, from photoshop to Python. You'll find a wide range of Salesforce certifications, both teacher-led and self-paced. Training centers are located all across the US.
Direct CRM Training
You don't have to look far to find CRM courses. You can find online video tutorials and helpful guides straight from your customer relationship management provider. We highly recommend that your staff are thoroughly trained on how to use the CRM, and video tutorials are often sufficient for smaller CRMs that require less integration time.
For example, Veloxity has a large database of helpful training videos and tutorials to help you and your staff get started with setting up the software, using your email templates, importing your data, creating rules, and more.
Learn more about CRM Training
Teacher-Led In-Person Training
CRM certification training courses are for companies and individuals alike. An individual can improve their chances of employment by completing certain CRM certification.
In-person CRM training has many benefits. Group training speeds up adoption time and gives employees effective hands-on training. On the other hand, teacher-led training is also more costly for your organization.
Teacher-Led Virtual Training
Thanks to the ongoing pandemic, companies have had to restructure the way they train their employees. Many businesses have found solutions to continue their daily operations in a virtual and remote climate.
If your employees are still working from home, a teacher-led virtual course will not only save you on transportation costs, it'll also maintain your employees' health and safety.
Self-Paced CRM Platform Training Learning
Self-paced learning gives your staff members the freedom to select their own schedule and learn at their own pace. As long as your reps are connected to the internet, they can learn from anywhere at any time and schedule lessons when it won't interfere with their other work priorities.
Start CRM Software Training Today
When it comes to learning your CRM software, there's no shortage of solutions. Whether online or in a classroom, you can expect to find certification courses and training videos on just about anything related to your CRM. Start your Veloxity CRM software training today!