Who Should Use a CRM: How CRMs Can Work for Your Business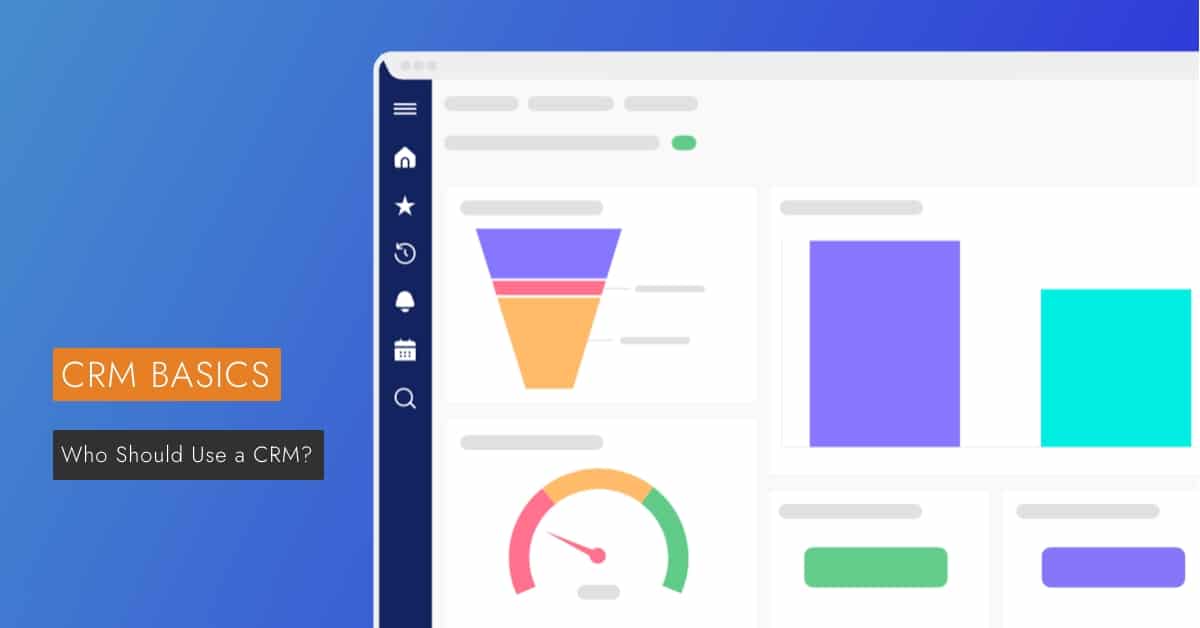 As a business owner, you have probably heard of a Customer Relationship Manager or CRM. But who should use a CRM? Is it suitable for all business types and sizes?
Every business, big or small, and profit or non-profit, can benefit from using CRM software to improve their sales, customer relationships, sales pipeline, and operational efficiencies.
In this post, we will discuss who should use a CRM and the CRM features that support various business operations.
What Does a CRM Do?
A CRM can consolidate all essential data about the interactions, engagements, and transactions of a business with its prospects, leads, and present customers in a centralized repository, collecting from multiple touchpoints, like email, social media live chat, website, etc.
The term CRM refers to a software database system that comes with robust contact management, lead management, marketing automation, and the list goes on. It gathers customer-centric data in unique holistic profiles, provides you with a 360-degree view of your customers, their purchase behavior, history, demographics, etc., to help you offer more proactive service. So your support, sales, and marketing team can stay connected and maintain a long-lasting relationship with the customers throughout the entire customer lifecycle, nurture leads better, and streamline processes that, in return, boost business profitability – the ultimate goal of all businesses.
Let dig deep into the key features of a quality CRM:
Reportings: A quality CRM solution comes with customizable reports to enable users to view and visualize statistics business matrices and sales pipelines in a highly engaging perspective.
Sales Analytics: When it comes to CRM reporting, sales analytics is one of the most valuable features to put the light on. You can gather both structured and unstructured data about the efficacy of your past sales campaigns from all over your business – social media, website traffic, polls, and more in a single place. So you can analyze them better and devise powerful strategies for your next sales campaign – all using the same CRM platform.
Marketing Campaign Management: Almost all CRM software comes with automated workflows to help you track marketing efforts and performance, manage campaigns better and fine-tune marketing strategies to bring more clients to the business and turn them into sales.
Sales Forecasting: A CRM employs AI/Ml-based predictive models to offer users accurate sales forecasting to set a benchmark to scale whether their sales and marketing efforts can really translate into deals or they need to be re-scrutinized. The business owners can also use this data to route their future sales efforts in the right direction.
Who Should Use a CRM?
Though different CRM solutions have been in the market since 1987, their use has skyrocketed during the last decade. The outcome is, while the CRM market size is worth approximately 47.6 billion dollars in 2021, it is forecast to reach around 96.39 billion dollars in 2027, growing at a CAGR of 11.1%.
But who should use a CRM? Let's get into it:
A Company with a Sales Team: A CRM is an indispensable part of any business with a sales team. Tracking customer history and behavioral patterns to sell more products and crack more deals becomes effortless when they have a quality CRM into action.
A Business that Runs on Marketing: As we have already stated, a CRM can help a CRM automate most of your marketing and email campaign tasks. You can also craft hyper-personalized messages using a CRM's built-in email template builders, send targeted emails using segmentation filters and tagging, and schedule mailouts to ensure the right email can reach the right customer at the right time.
A Company that Needs to Create Invoices on a Large Scale: Another reason businesses switch to a CRM from legacy systems is it can automate the invoice generation process, minimizing errors associated with the manual process.
The types of businesses that use CRM tools daily include:
Retail industries
Banks and financial institutions
Insurance companies
Healthcare organizations
Pharmaceutical and for life sciences industries
Agricultural businesses and more
Why Use a CRM
Gone are the days of navigating between multiple applications to complete tasks manually. With a CRM into play, your team can get essential information at their fingertips, improving your business ROI dramatically. The few of many benefits of a CRM system include:
Better Customer Retention: Besides helping you bring more leads and nurture them efficiently, a CRM platform can also play a major role in keeping your present customers happy as high customer turnover can badly affect your company's productivity. For instance, a CRM can trigger your team to reach out to the customers who have not been contacted for a while, follow up customer emails, and remind them of the upcoming appointments – all that a business needs for customer retention.
Simplified Cross-departmental Collaboration: Another jaw-dropping benefit of a cloud-based CRM is that it facilitates cross-departmental collaboration by allowing your staff to dig deep into reports and analytics from anywhere. Thanks to CRMs that have enabled users to share files in real-time among different departments of a company. So data input by a team is easily accessible by others, making it effortless for each department to work more productively. For example, with Veloxity CRM, sending messages (and GIFs!) to other CRM users from right within the native mobile app has become easier like never before. And for prompt action, a notification bell triggers the receiving user upon a message arrival!
Integration with Third-party Services: A CRM can seamlessly integrate with the services your company uses to run optimally, making it easier for your team to get data gathered by multiple systems using a single platform- your CRM software. For instance, Veloxity supports integration with Outlook and Google to sync email conversations with all of your CRM contacts and track them straight from your CRM timeline.
Meet Veloxity- one of the most trusted and widely-used CRM that suits every business of every size and brings marketing, support service, sales, and analytics together to let you focus on your customers and grow like never before.