What Is the CRM Implementation Process?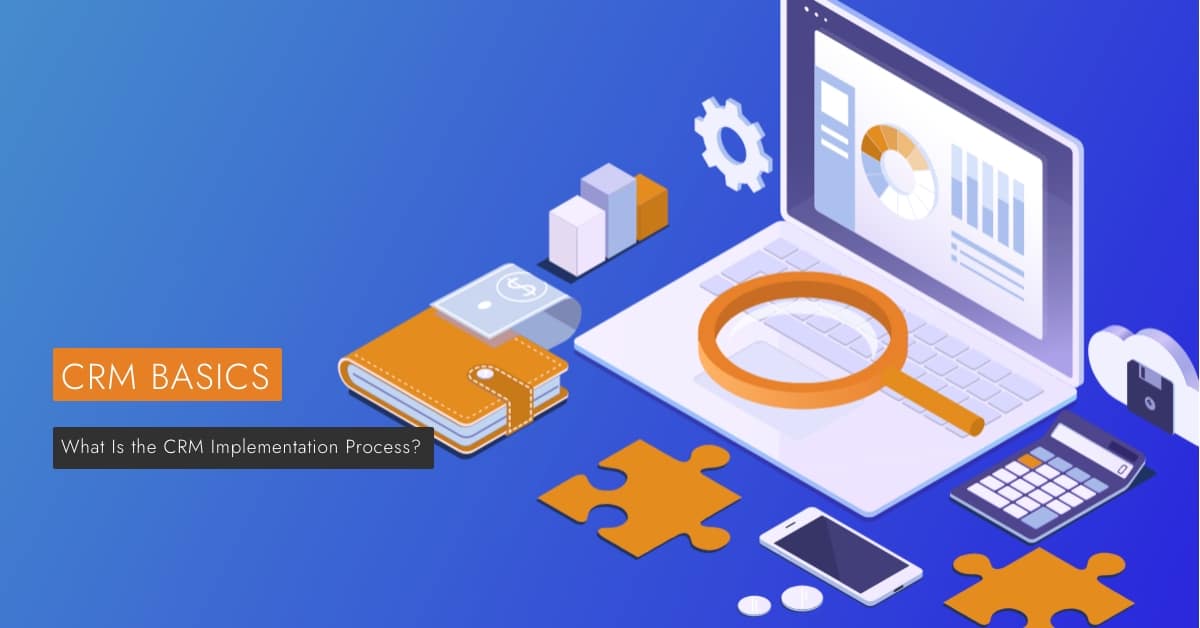 Customer relationship management software helps businesses maintain their customer relationships by enabling customer data capture, storage, and tracking, including profiles, contact history, and purchasing history.
CRM software is an important tool that can help you manage customer interactions across multiple channels—from social media to email to your website. It's also useful for improving customer experience by providing real-time analytics, which can help you improve client engagement, conversion rates, and customer loyalty.
But if you're not sure how to implement an effective CRM system, we'll take you through the process of selecting your CRM software, organizing your data, and setting up your account.
What Is CRM Implementation?
In the most simplest terms, the CRM implementation process is preparing your organization for setting up and using your CRM software, including transferring all your customer data. The best CRM software products today are designed to have out-of-the-box solutions that are ready to go when you are.
However, preparation and planning are needed for a successful implementation. Taking care to properly roll out each step of the boarding process will help your team maximize the software's features and ensure everyone is on the same page. It also prevents you from losing customer data or wasting your time transferring unnecessary data.
How Can You Tell When It's Ready to Implement a CRM?
You know it's time to start using a CRM if:
Your team struggles to find the documents you're looking for.
You can't seem to stay on top of customer communication.
Your sales process isn't streamlined or your team members can't seem to agree on the correct process.
Your company is expanding and your business needs are becoming more complex.
The Importance of a CRM Implementation Process
The implementation process helps you:
Determine which CRM product meets your needs
Organize your data
Decide the various roles your team will play; and
Migrate your customer data effectively
Crucial Steps for Successful CRM Implementation
Let's go over the steps of getting started with your CRM software.
#1: Find Out Your Business Needs
It's time to start asking yourself the right questions to determine what problems you're hoping a CRM will solve. Why do you need a CRM? What teams will be using it? Where is all your current data and how will implementing a CRM help your business' processes?
What is your current sales process and how will a CRM improve upon it? Do you want your CRM to offer marketing automation? Do you want to clean up your customer service and customer relationship practices with better management tools?
The more questions you ask yourself, the better equipped you are to find the right CRM product. Rather than looking for a CRM with the shiniest features, focus on finding one that can help solve your problems and meet your business needs.
#2: Clean Up Your Data Before Transferring
It's time to organize your customer data before you move it to your CRM. Whether your info is spread across Excel files, post-it notes, or paper folders, you could probably use this time to reassess your data and find out what you're missing, what's outdated, and what you don't need.
This information audit is the perfect time to establish a streamlined data entry strategy and to avoid cluttering your CRM with unnecessary client information.
We recommend performing regular data audits every year to avoid expensive costs associated with bad or obsolete data. With a CRM like Veloxity, all your customer information is easily accessed from a single location, making all future audits easier for your team.
#3: Transfer Your Data
Now it's time to move your files and customer information into your CRM. Your data or project manager will ensure that your customer information is correctly added to the correct fields. With Veloxity CRM, your customer information will forever be accessible right at your fingertips, thanks to our built-in advanced search capabilities.
#4: Set Up Rules Automation and Integrations
Now you can start customizing your interface. To start, we recommend setting up automated lead assignment rules so that all new leads are automatically assigned to territories or even specific users. Our lead assignment rule builder lets you create your own rules with custom fields to better align with your sales cycle.
Using Veloxity's self-defined sales stages, you get to decide what steps each sales rep needs to complete in order to move on to the next stage. With our customizable sales stages, you'll be empowering Veloxity's AI to learn the probability of closing a deal based on historical data. This, of course, maximizes your forecasting accuracy.
Now you can integrate your existing third-party apps like Gmail and Outlook into your CRM to encourage adoption and simplify your operations.
#5: Train Your Staff
Let's go over the implementation process so far. First, you've assessed your business needs and decided what tools you require from a CRM. With that information, you've selected a CRM product that can help you achieve your company goals.
Next, your team has organized and prepared your client information for the data transfer. Then, you or your project/data manager has overseen the process of moving all the data to the CRM.
Finally, you've customized your interface by setting up automation and integrating your existing products like Outlook and Gmail.
Now it's time to introduce your sales team and staff to the CRM. Depending on which CRM product you choose, you may have to schedule in-house training with a qualified representative or conduct a virtual training session online. Veloxity's Help and Learning Center is always available to help you and your staff with video tutorials, FAQs, and other resources.
Start Your CRM Implementation Process Today
Are you ready to choose your customer relationship management software? Try Veloxity for FREE today and find out how easy it is to implement our CRM.