What are The Key Features of a Good Customer Relationship Management Program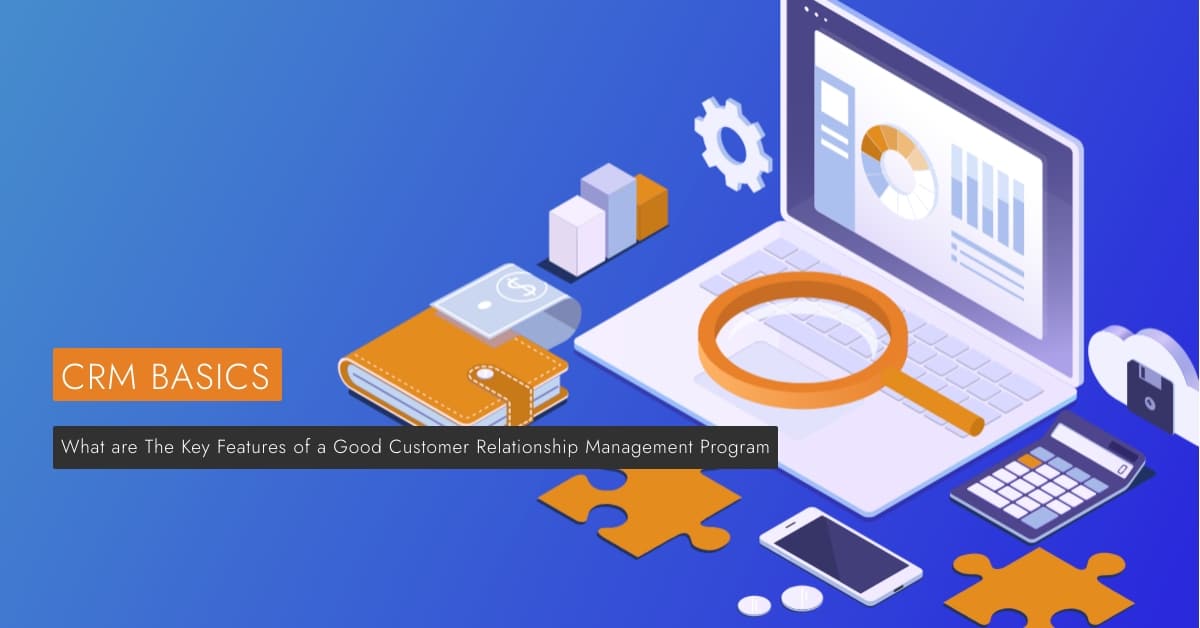 Customer relationship management (CRM) software helps businesses interact with their customers in a more direct and efficient way. It can help businesses grow their customer base, reduce customer service costs, and limit the time spent on administrative tasks.
In this post, we'll share the top customer relationship management features and talk about how they can benefit your organization.
If you're interested in learning about what a good customer relationship management program should include, read on.
Key Features of a Good Customer Relationship Management program
Unified Contact Management
Contact management is a must-have feature of a quality CRM. However, it is much more than a 'fancy notebook' that can only consolidate basic data about your current and would-be clients. A CRM with top-notch lead management should be able to:
Organize, classify, and search your CRM contacts to help you customize your sales and marketing strategies
Track all communication channels to make sure you can personalize your interactions and maintain a positive rapport with your prospects, leads, and present clients.
Thanks to Veloxity's out-of-the-box tracking and contact management system that ensures all essential customer data is put together in a centralized repository and available at your fingertips just when you require.
Lead Management
CRM software enables your sales reps to capture essential data about your leads and potential customers from various interaction channels – social media, web forms, phone calls, emails, etc. Lead management functionality in a CRM helps your sales team identify, score, nurture, and move incoming leads upwards through the pipeline and forecast how likely your prospects are to convert into paying customers.
For instance, if your company starts its sales funnel with leads instead of opps, Veloxity CRM can be your pick. You can use the pipeline or Veloxity Hub views to track your leads better and turn more prospects into opps and contacts.
Reports and Dashboards
If you have shifted to a CRM from legacy systems to streamline business processes, reporting and dashboards are some of the must-have features to look for. Quality CRM tools should come with fully customizable reports and charts to offer clear, powerful, and detailed visualization of statistics and key business matrices, including customer retention rate, profitability, the success rate of marketing campaigns, and more.
A customizable and intuitive dashboard acts as the real-time visual interface of how your sales, marketing, and service teams streamline their strategic planning processes based on what they are presented with every day. It should also enable your teams to share reports and analytics and cooperate in real-time to make data-based decisions and translate insights into actions.
For instance, Veloxity offers you the best-practices reports and dashboards with powerful visualizations of data tables so you can have complete insight into your team and business performance.
Sales Forecasting
A quality CRM helps you stay on top of your competition and make your organization thrive with confidence, providing you with sales forecasts on your future sales figures and projected revenue, depending on your pipeline of prospective deals and present/past trends. So you can set a benchmark to determine if your returns are really on par with your sales efforts.
Thankfully Veloxity CRM implements Machine Learning to augment forecasting and improve accuracy, so your sales teams can finetune strategies to make your future sales efforts maximize the ROI.
Mobility
A quality CRM should come with a fully functional mobile application to ensure your teams can access data, get notified about campaigns on their smartphones from anywhere, any time, and be more productive even on the go!
For example, Veloxity's SaaS-based CRM also comes with a native mobile app that enables your team to connect to present and new customers, even offline!
Email Client Integration
A bespoke state-of-the-art CRM supports email client integration, so the incoming/outgoing emails of a business get captured to its Account Activities, making it easier for the associated teams to pull up any past interaction with a client immediately when required.
For instance, The Veloxity CRM integration with Outlook and Gmail makes it easier for your salespeople to look up the contacts while creating personalized emails and viewing relevant messages straight from the CRM inbox.
Why Does Your Business Need a CRM
The global CRM market was worth around 41.93 billion dollars in 2019 and is estimated to reach 96.39 billion dollars by 2027, increasing at a CAGR (compound annual growth rate) of 11.1% during the forecast period 2020-2027.
Whether you are the owner of a small, midsize, or large company, if you want to scale your business and expand its reach by acquiring more customers through targeting their preferences, and demographics, and evaluating purchase behavior, investing in a quality CRM has no alternative.
Let dig deep into how a CRM can help your company grow even faster:
Streamline and Automate Processes: Putting a CRM into action means you can easily streamline processes and automate workflows to make your business hours more productive.
Improve Customer Service: While customers are the epicenter of any business that aims to thrive, figuring out customer pain points and fixing them at the earliest convenience should be your utmost priority. A CRM plays a vital role in consolidating data on customer satisfaction. So your support team can analyze them better and devise effective strategies to deliver proactive customer service.
Increase Sales: CRM solutions can not only gather data about customer interactions, but they can also gather personal information about your clients in one place, facilitating sending personalized and hyper-targeted messages with customized offers. With the right offers to hit the right clients' inboxes at the right time, you can retain more happy customers and crack more deals, followed by improved ROI.
Try out Veloxity – a feature-loaded best-in-its-kind CRM system that can scale with your business and help you turn more of your leads into wins!