What Is the Purpose of a CRM? What are the Benefits?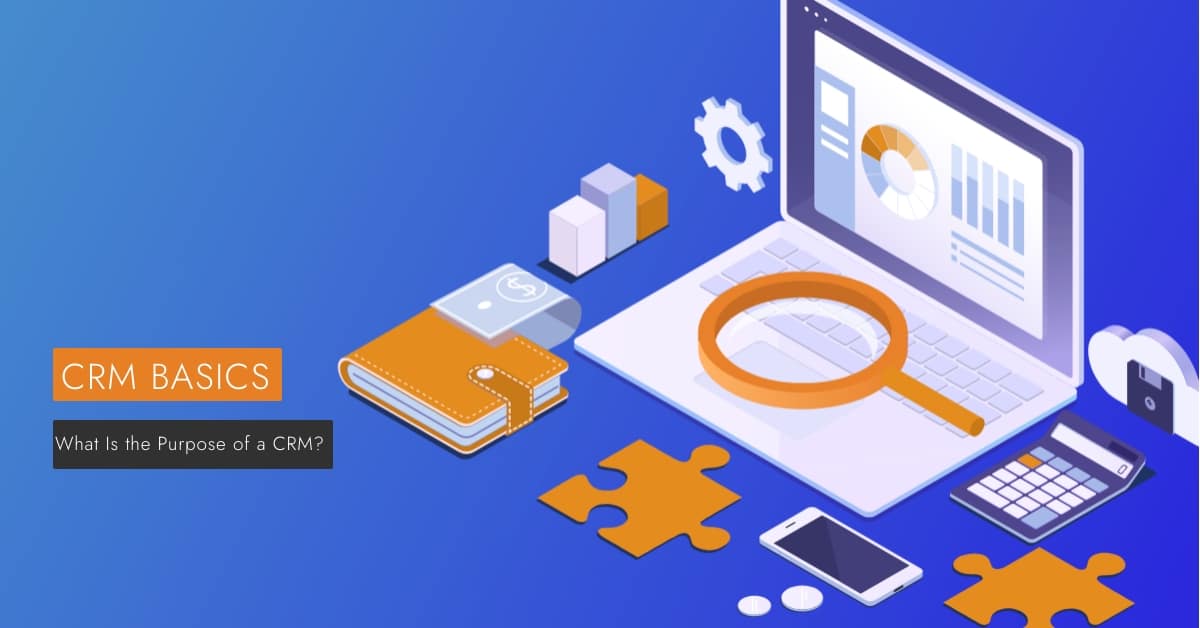 If you're new to CRM software, you may be wondering, "what is the purpose of a CRM? What benefits does it offer?" To answer those questions, we first need to understand what a CRM is.
CRM stands for customer relationship management. It's a business software used to manage and nurture your customer relationships and ultimately increase your customer lifetime value by providing real-time information about your current customer base. This helps you build deeper relationships with your clients and boost overall revenue.
This post explores the purpose and benefits of a CRM and how you can use one to better manage your customers. If you want to learn more about the role of CRMs, keep reading.
The Purpose of a CRM
Customer relationship management is simply the process of managing your customer relationships. CRMs allow companies to capture, centralize, manage, and analyze customer information in real-time while giving you the ability to automate your sales and marketing efforts.
Who Should Use A CRM?
CRM software benefits any company that has more than just a few customers. Even if you only have 10 or 20 clients, there are probably hundreds of data points in your customer database that can be used to maximize your marketing efforts.
Storing your customer-related information in one place allows employees to see everything they need for their specific role – thus avoiding knowledge silos and pipeline inefficiencies. This boosts employee productivity and customer service.
The Top Key CRM Benefits
There are many reasons why companies choose to implement CRM systems into their business practices, but here are just a few:
Automated Lead Management
Capture data on every single prospect that visits your website or interacts with you in any way. CRMs collect and store not only your customer's information but also every email, phone call, and touchpoint. New contacts are automatically generated whenever they submit a form, engage with your social media accounts, or sign up for your newsletter. Once you've captured your lead information, the new contact is assigned to specific sales territories or individuals depending on your automation rules.
Personalized Messaging & Increased Sales
Personalizing your messaging means that you can generate better leads, which ultimately results in increased revenue. You can use a customer's internet behaviour to trigger marketing emails that speak to the individual wherever they are on their customer journey.
Increased Customer Lifetime Value
Customer lifetime value is the amount of money that a customer will spend with your brand over their lifetime. The more you understand your customers, the more personalized your offers can be. This increases the chances of cross-sells and upsells, which could mean significant revenue for your company. It's been proven that by increasing customer lifetime value, companies can increase overall revenue.
Streamlined Sales & Marketing Processes
The more data you have about your customers, the smarter your CRM will get. Over time, your CRM can more accurately forecast sales and improve sales processes.
Customer Segmentation & Personalization
You can group your customers into segments based on their demographics and behaviours. These groups could be used to target specific customer types with different marketing messages or even offer discounts or promotions to certain segments that are most likely to buy.
Customer Insights & Increased Revenue
Having real-time access to customer data allows you to make better business decisions. You can create reports that provide insights into your customer base's purchasing behaviors, interests, and demographics. This allows you to make strategic business decisions that would ultimately increase revenue.
Why Does Your Business Need a CRM?
It allows you to gain a 360-degree view of your customer.
It automates time-consuming tasks by reducing mundane or repetitive manual data entry.
It helps you manage leads, customers, opportunities, events, cases, products, and services all in one place.
It provides you with accurate reporting and analytics to measure the effectiveness of your marketing and sales efforts.
How To Effectively Use Your CRM System in 5 Steps
Get everyone in the sales and marketing departments on board and discuss your CRM needs.
Implement a trial period to test out the CRM system and gather feedback from stakeholders.
Train your staff and create user profiles for all of your employees, with specific access rights given according to their roles within the company.
Start adding contacts through email marketing or by manually entering them into the CRM platform from your previous data system.
Make sure to deploy a mobile CRM app so employees can access the system from anywhere.
Conclusion
There is a ton of data and information about your customers and prospects available to you, and it's only getting more abundant as the years go on. The amount of data we produce in a single day is enough to fill over 40,000 GBs! Two million Google searches are conducted every single minute.
Knowing how to use this data effectively can give your business a competitive edge. A CRM is a powerful tool that helps businesses analyze and understand their customers better, which will ultimately lead to increased revenue.
Get started with Veloxity's future-proofed CRM platform. Start your free trial today!