Lead Generation: A Beginner's Guide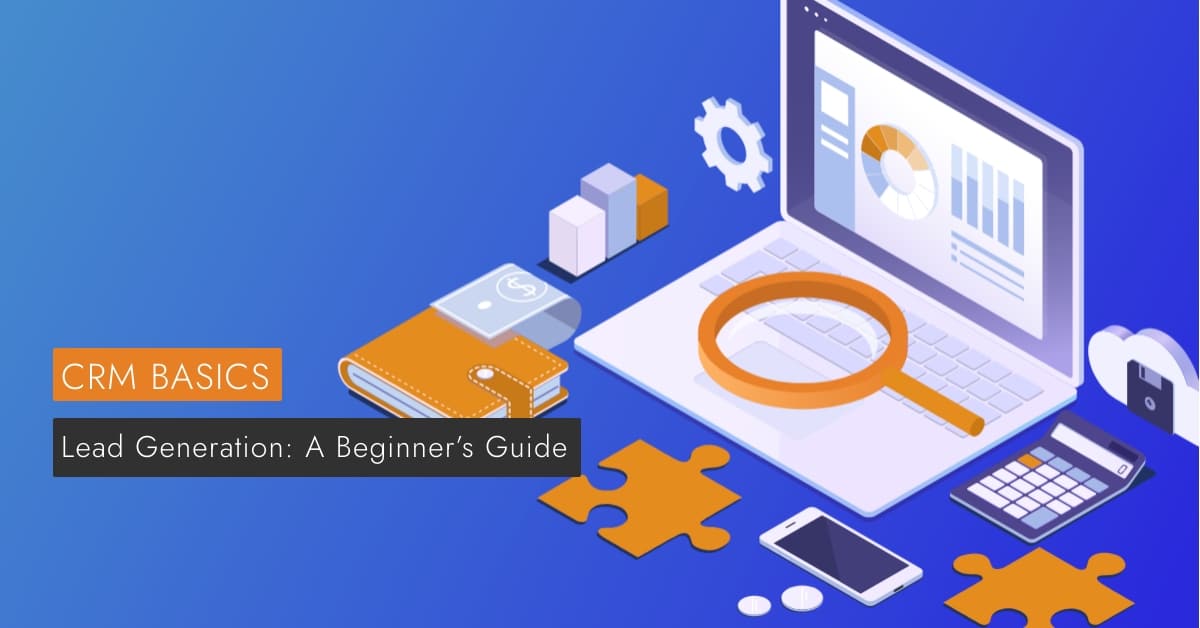 Lead generation is critical to the success of your marketing campaigns. It's essential to follow the principles of the lead generation process to ensure your campaign efforts are fruitful and that you start increasing your conversion rates.
But it can be hard to know where to begin, especially if you're not even sure what lead generation means. In this post, we'll talk about what lead generation is and the best ways to start generating leads for your company.
The Basics Of Lead Generation
In order to give you better advice on how to generate more leads for your business, let's make sure we're all working with the same definitions.
What Is a Lead?
A lead is a person who has somehow shown interest in your business, namely by submitting their name and email on your website. In other words, lead are potential customers.
How Do We Qualify Leads?
Leads don't necessarily come from the same source, and they aren't all at the same stage of their buyers' journey. There are four main ways to qualify (or categorize) a lead:
Marketing: A marketing qualified lead has interacted with a landing page form or blog post, but isn't necessarily ready to click "buy."
Sales: A marketing qualified lead turns into a sales qualified lead when they have demonstrated a much clearer interest in purchasing your product or service.
Products: Someone who has shown interest in your product after testing out a free sample or demo is a product qualified lead.
Services: A contact (or existing customer) who has demonstrated their interest in your product or service to your customer service representatives is a services qualified lead.
What Does Lead Generation Mean?
In short, it's the act of generating a visitor's interest in your product or service. Generally, people become new leads when they submit their name and email address on a landing page.
What Does Lead Nurturing Mean?
Lead nurturing is what happens in between lead generation and a sale. It's what marketers do after they receive the contact information from their lead to touch base, maintain their interest, and guide them through the lead generation funnel.
Your CRM software should help you follow your leads with a visual pipeline to help you stay on track of each customer's journey.
The Importance Of Lead Generation
Lead generation speeds up your sales cycle. It makes the whole process from potential lead to customer much more organic, and appeals to the modern customer who is used to taking a more active role in finding a product or service they're looking for.
In short, a solid lead generation strategy turns visitors into paying customers, which is what you're after, of course.
When we're talking about lead generation in this post, we're mainly referring to inbound marketing efforts to generate sales leads.
Effective Inbound Marketing Strategies for Lead Generation
Now that we know what a lead is, let's talk about the most effective lead generation strategies:
Content Marketing
White papers, e-books, blog posts, or any other lead magnet with a high perceived value is a great way to generate leads. If potential leads think your content is worth the exchange of their information, you've just generated a lead while giving your customer something to take home with them.
Content that's informative, well-written, and has a high perceived value is an effective top-of-funnel marketing strategy to generate leads.
Email Marketing
Email marketing is one of the most effective lead generation strategies for your contacts that have already signed up for your company newsletter. Considering your customers are likely inundated with sales emails on a daily basis, it's crucial to include an impactful CTA that stands out and makes them take a desired action.
Did you know that Veloxity CRM has various email integrations and tools to help you keep track of your contacts and leads? Now you can easily segment your contacts to build better email campaigns.
Advertising
The whole goal of advertising is to inspire your target audience to take action. If your message is clear and includes a strong CTA, you'll attract visitors right to your desired landing page. You want to make sure that if you're investing your budget on ads, your landing pages needs to be just as strong.
Social Media
Facebook, LinkedIn, Twitter, and Instagram—all sites we use every day. Using social media to generate leads is a no-brainer. Whether it's engaging infographics or punchy images with clear calls to action, social media is an effective (re)marketing strategy.
How to Manage Your Leads
So, what do you do with all your leads? Before you can set up nurturing campaigns, you need an intelligent way to segment your leads so that everyone your campaign is targeting is at the same stage of the sales process. You can do this by lead scoring (assigning your leads a score based on certain factors).
Managing your leads takes more than just a simple spreadsheet. We highly recommend using a CRM that helps you interact with your leads to give you a visual representation of where each contact is in their buying journey.
Veloxity CRM allows customers to set up self-defined lead stages to help them prioritize their outreach. To learn more, watch this quick video to find out how to set up Lead Stages in your Veloxity account.
Use a CRM to Engage With Your Customers
Veloxity CRM has various marketing tools to help you develop and launch robust B2C and B2B marketing campaigns all in one app. Create unlimited email templates, schedule campaigns, and get real-time insights of your campaign performance using Veloxity's intelligent features.
In this post, we defined lead generation, gave examples of strong lead generation marketing strategies, and offered solutions for managing your leads and campaigns.
Find out how Veloxity CRM can help your sales team generate more sales qualified leads today.