Why Should a Small Business Use a CRM?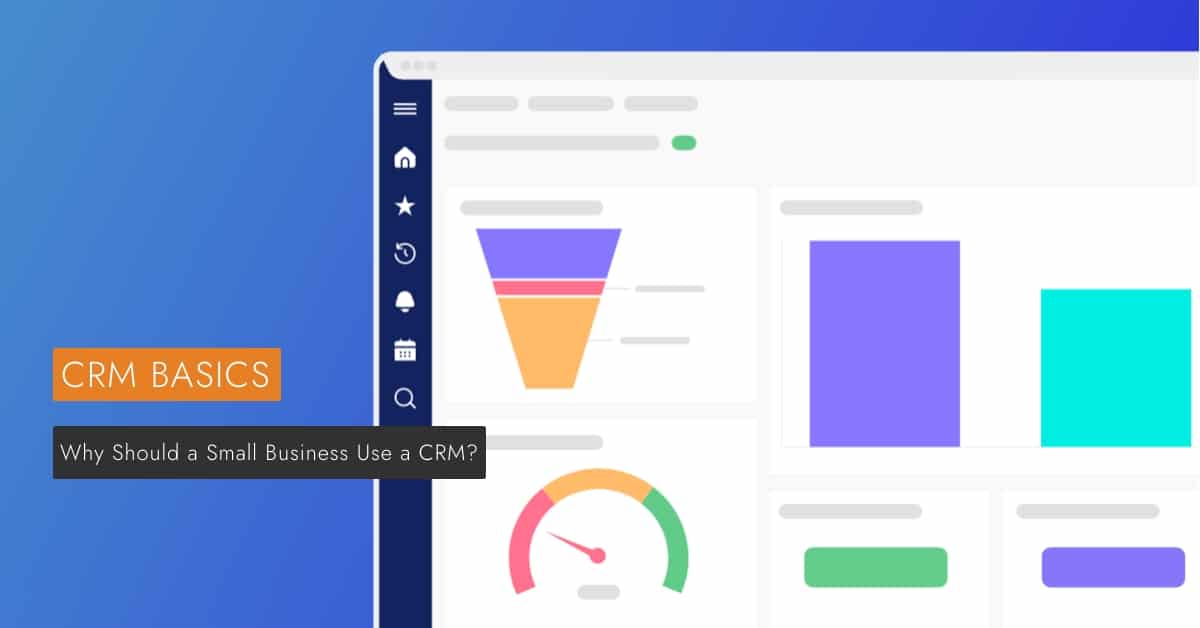 If you're a small business owner, you might be asking yourself why should a small business use a CRM?
Customer relationship management (CRM) software enables small business owners to address operational difficulties while also establishing a consistent routine for following up with potential clients. CRM is frequently the secret ingredient that aids in the transition of a small organisation to a fast-growing one.
If you're considering whether or not to use a CRM for your business, this post will help you make the right decision, as we cover the various benefits a good CRM offers small businesses.
What Companies Can Benefit From CRM?
You may be wondering if your company needs CRM software. While we think that customer relationship management software is suitable for any business that relies on happy clients, the three industries in which we think a CRM system is critical to business success are B2B, manufacturing, and professional services.
When It's Time to Consider a CRM
Are you struggling to stay on top of customer inquiries, calls, and complaints? Is your sales team growing? Does everyone in the company know what their responsibilities are?
If you're a small business owner, you may be holding out longer than you need to. Here are some tell-tale signs that it's time to start using a CRM:
Your Data Is Scattered Across Multiple Spreadsheets
Your team may have been able to get away with it before, but now that business is expanding, you're struggling to update and consolidate all your customer data. The more customers you get, the more data you collect and the more employees you have to access and make changes. You want to house your important information in a single location that's easy to find, customize, and chart.
You Can't Keep Up With Customer Service
There used to be a time when you handed customers your direct phone number. Now, the phone won't stop ringing and you've had to ask your sales team to field calls and emails. There's no streamlined way to follow up with customers or escalate issues to the right channels. And when you are dealing with a customer, you don't have their call/email history in front of you, which makes a one-call resolution very difficult. You want to be able to access all of their information from a single location.
Your Customer List Is Growing
Thanks to your hard work and dedication, new and high-value customers are starting to roll in. Now, it's up to you to make sure they stay happy and that we give them the attention they deserve. Managing and maintaining these customer relationships are vital to the growth of your business—and yet, you don't have a proper system in place to keep track of your pipeline and take care of customer satisfaction.
The Advantages of a CRM for Small Business
Plan, Write, and Launch Your Email Campaigns
Email marketing is consistently voted as one of the most effective marketing strategies amongst B2B digital marketers. A CRM helps you launch campaigns to specific groups of customers, as well rely on real-time performance tracking to perfect your campaigns and reach a faster ROI.
Visualize Your Sales Pipeline
When you adopt a CRM, you can more effectively visualise the sales process. One of the basic CRM tools is a visual sales pipeline that allows you to better understand and recognize opportunities before you miss them.
Saves You From Repetitive Tasks
Customer relationship management systems like Veloxity, Hubspot, and Zoho CRM take care of daily routine tasks, which frees up valuable time for your sales team. For example, Veloxity's rules automation engine instantly assigns leads, accounts, and opportunities to new owners. Plus, users can expand their automation with Veloxity's integrated rule builder.
Make Sure Everyone is On the Same Page
Say goodbye to those confusing spreadsheets. A CRM streamlines the entire sales and customer management process, so that all the information you need about a client is available from a single source. Your sales reps and marketing team will be on the same page and striving toward a better customer experience and more sales.
Stay On Top of Your Customer Support
Anyone on your team can click on a customer's account and find the crucial information they're looking for. CRMs gather more than just the critical contact details—like the name, business address, and email—but also the information that can help your team track your leads within the sales cycle. Gain valuable insights by understanding their communication history and previous purchases. 
Best Scalable CRM for Small Business
Whether you're still using manual methods to record your data and file your customer information, or you've got a hundred online spreadsheets open at all times, now might be the best time to switch to a customer relationship management software product.
If you're struggling to keep up with daily tasks or you want to build an intelligent marketing campaign but don't have all the data to help you create one, check out Veloxity CRM. Our easy-to-use platform is critical for small business owners who want to expand their company. Start your free trial today!