Traditional CRM and Salesforce CRM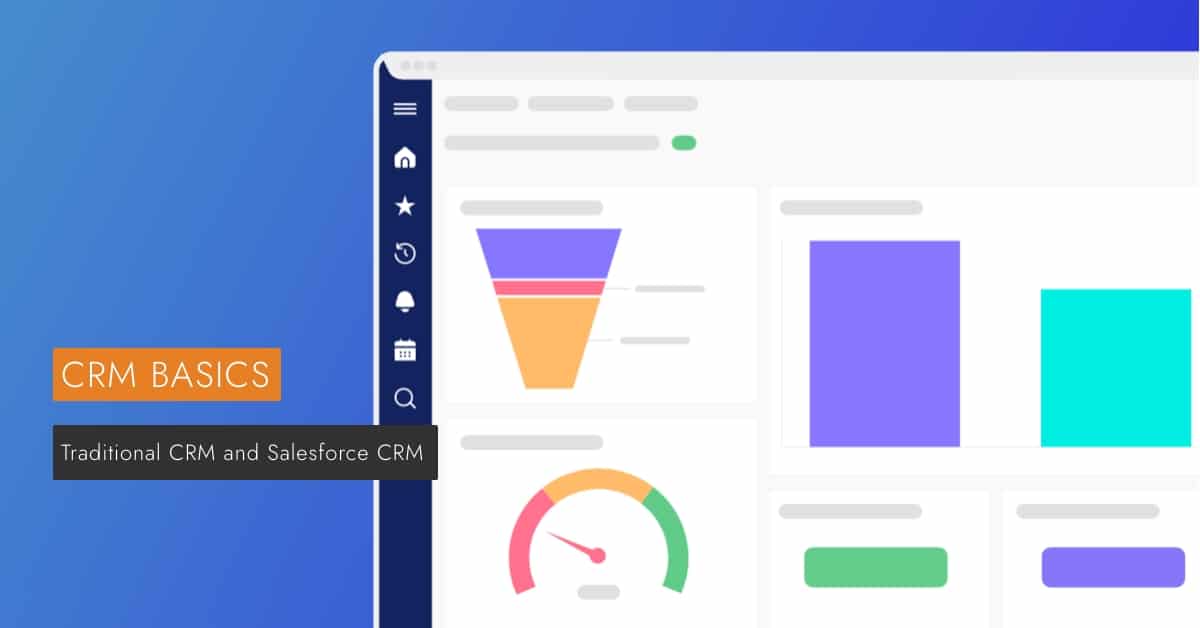 Salesforce is perhaps the most well-known CRM software product on the market. It's an all-in-one solution that works like a hybrid of traditional CRM and SFA (sales force automation). It merges the best of both worlds to make your business more efficient.
But what is the difference between traditional CRM and Salesforce CRM?
Traditional CRM software is focused on tracking customer interactions through the usual communication methods, i.e., phone calls, emails, etc. A social CRM like Salesforce can act like a traditional CRM, except that it offers more marketing tools to track both inbound and outbound interactions (via Facebook, Twitter, etc.).
In this post, we'll take a look at the differences between traditional CRM and Salesforce CRM to help you decide which CRM is the right one for your organization.
What Is the Purpose of CRM Software?
A CRM system allows a company to build a stronger bond with its consumers, service users, employees, suppliers, and partners.
A CRM manages your customer data all in one location. Both traditional and Salesforce CRMs feature configurable dashboards that show everything your team needs to know about your customer: communication history, sales stages, customer support issues, and more.
You already know that if your company is going to last, you'll need a long-term strategy. Your CRM helps you forecast sales and anticipate customer issues.
What Are Some of the Advantages of a Traditional CRM?
Both Salesforce and traditional CRM systems help you keep track of all of your customers and their needs with contact management tools. You can utilize your analytics to learn more about your sales processes and customer experiences to develop smarter marketing campaigns.
A traditional CRM has several benefits and advantages, including:
Improved Contact Handling
With a unified contact monitoring system, every call, email, and touchpoint from every contact, lead, and customer is accessible from your contact management tools.
When you can keep track of your customer communication history you'll be helping all departments – sales, customer care teams, and marketing managers – provide better customer experiences.
Collaboration Between Teams
Data silos make collaboration impossible. Traditional CRM software helps sales reps, marketing managers, and client care reps work together to close more deals and resolve customer inquiries and complaints.
On the other hand, if you want to maximize your company's marketing efforts, you might want to consider using a social CRM like Salesforce. Social CRMs are equipped with social media marketing software and platform integrations to leverage your customer's social interactions for more intelligent and targeted marketing campaigns.
More Accurate Sales Forecasting
The more customer data you have, the smarter your CRM gets. For example, Veloxity's AI learns the probability of closing a deal based on your sales stage data, which improves your forecasting accuracy over time.
When you use a non-traditional CRM like Salesforce, you'll have the tools to accurately predict lead behaviour from the moment of data capture. Because traditional CRMs don't typically incorporate a customer's social interactions with your company, you won't be able to use this data to improve your marketing campaigns.
Salesforce CRM
Salesforce CRM is a massive software program with a seemingly endless amount of applications for a total end-to-end business solution. Its features—especially its marketing software—go well beyond the scope of traditional CRM software.
Salesforce CRM provides an environment for two-way communication between your customers and your team. Using Salesforce marketing software, you can provide your customers with an enriched experience across various social media channels, while leveraging customer behaviour to fine-tune your campaigns and customer service.
What Are the Advantages of Salesforce CRM?
All-in-One Solution
As we mentioned earlier, Salesforce is a massive software with solutions for just about every major business process, such as:
Marketing
Customer service
Ecommerce
Third-party integrations
App development
Workplace wellness
Employee training
Marketing Integrations
As a social CRM, Salesforce's marketing solutions can take your social media engagement to the next level.
Built-in Slack integration
Personalized mobile interactions
Advertising studio
Social media engagement across all channels
Email marketing
Google Analytics
B2B marketing automation
Cloud-Based Software as a Service
Salesforce's cloud-based CRM software is speedy and simple to set up and use because it doesn't require time-consuming installation, in-person software updates, or dedicated server rooms.
Salesforce and other SaaS CRMs reduce IT expenditures and take care of automatic software updates without any user intervention.
Single Source of Truth
Every business process is connected. Each team member is working from the same data and can see changes in real-time, thus eliminating data silos. Each department—from sales to customer service to marketing to IT—are working from one platform, which improves intra-office communication and collaboration.
Scalable Platform
We've made Salesforce sound like a highly complex platform with many moving parts—but it doesn't have to be. If you run a small business, you may not need half the features that Salesforce offers.
Salesforce is a scalable platform with solutions for all business types and sizes. You can easily upgrade your version or add more functionality whenever your business needs it.
The Verdict: Salesforce CRM Does More
Salesforce is one of the most well-known CRM products on the market today, and it's no question that it offers way more than a traditional CRM. It can significantly expand your customer outreach through social media integrations and other business solutions.
If you want to boost customer engagement and use customer interactions to create intelligent marketing campaigns, Salesforce CRM may be the solution your company needs. You can also read more on Salesforce on our Salesforce CRM Competitors page.