How is CRM Used in Sales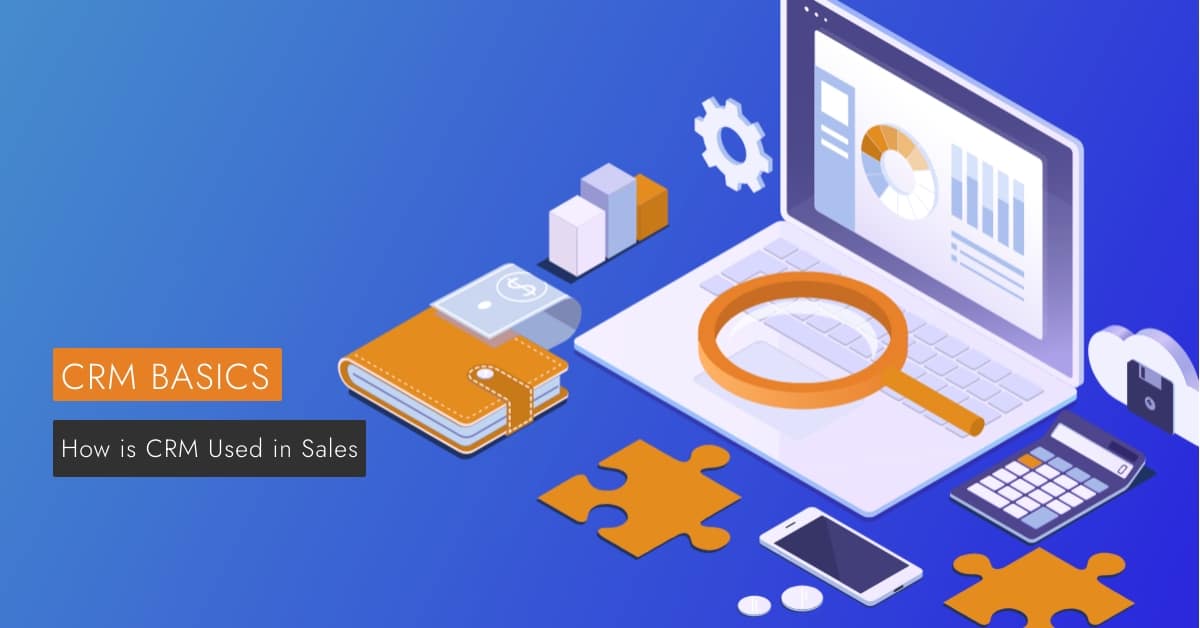 When you're dealing with sales, you need CRM software that can automate certain processes that help reps focus on sales instead of administrative tasks.
In this post, we'll walk you through the benefits and features of CRM software for sales reps.
We'll also cover how CRM software is used in sales and the different types of CRM software.
Types of CRM Software
Before we jump into how CRM helps sales reps, let's look into what a CRM system is and its types.
A CRM is a centralized system that helps businesses with customer relationship management and manages all touchpoints with clients and prospects throughout the sales process. A touchpoint means any interaction (whether direct or indirect) between a brand (mainly sales reps) and its sales leads. To better understand the landscape, let's go through the main CRM types:
Operation CRM: Helps you deliver proactive service to your customers, bringing sales, marketing, and service processes on a single page and manage the business more efficiently.
Analytical CRM: It provides you with data visualization and better insights into your consolidated customer interaction so you can better understand customer demands and optimize your sales and marketing efforts.
Collaborative CRM: A Collaborative CRM integrates and synchronizes customer interaction data and different communication channels, such as email, phone, web, and more, to boost customer satisfaction, retain clients and generate maximum profit.
How CRM is Used in Sales: CRM Benefits for Sales Reps
CRM is a must-have system if you want your company to thrive. It can be the catalyst for uninterrupted development if you will. The benefits of this widely-used tool for sales reps are undeniable. Even though you cannot realize it immediately, it can be the ultimate game-changer if implemented and utilized rightly.
Let's look over some top-notch benefits of sales CRM software for salespeople:
Offers a Secure and Centralized Storage
A CRM solution provides sales reps with a centralized repository to securely consolidate data about their sales opportunities, leads, and sales activities and facilitate scheduling from within the system. And guess what? Accessing the CRM database for a 360-degree view of the customers, having clear visibility of the leads, and each customer's holistic profile, picking notes, and more from anywhere, any time have become effortless now.
No need to dig through endless spreadsheets; all essential information is at their fingertips so they can crack more deals and achieve their quotas effortlessly.
Automates Follow-ups
With a CRM into action, you no longer have to miss out on sales. Converting leads to deals requires your sales reps to follow them up several times, and as your salespeople have to juggle more than one lead simultaneously, handling all follow-ups concurrently can be challenging and time-consuming.
Thankfully a CRM can automatically track follow-up tasks and trigger your salespeople to follow up with sales leads generated through the site, so they can ensure no lead slips between the cracks and more deals are closed in a shorter period.
Activity Reports? What About No Brainer
With a quality CRM, preparing weekly or monthly summary reports to better track sales figures and sales reps' performance has become effortless like never before! With this automated report generation process, sales managers and salespeople, with only a few clicks, can get a more transparent and unified view of the current sales in progress, set sales targets, performance analytics, and more.
Helps Predict Future Sales With Data-based Sales Forecast
Gone are the days of wearisome settings and arduous data visualizations. Now, with a quality CRM, your sales reps can efficiently augment forecasting and get real-time visibility of your team's pipeline to drive more revenue and pipeline accuracy.
Thanks to a CRM's AI/ML-based predictive models that enable your sales reps to forecast future sales figures and revenues, allocate resources and set sales targets more efficiently for selling better, faster, and smarter.
Helps Bolster Productivity and Save Time with Automation
How can your sales reps be highly productive when they need to navigate between administrative and sales tools to get simple administrative tasks done?
Thanks to CRMs that can automate most administrative and repetitive tasks on a single pane that may take hours to do manually but yield little productivity. For instance, CRM tools keep track of customers' and leads' interaction via various channels, automate data entry and record-keeping so the sales reps can focus more on interacting with prospects than filling out contact information forms. They allow email segmentation, filtering, and scheduling to facilitate mailout, help your sales team create hyper-personalized emails and ensure they hit your target customers' inboxes at the right time, manage and track appointments, and more to fuel your business productivity.
As a centralized platform for your client data, a CRM makes it effortless for salespeople to nurture leads and convert them into loyal customers. And when you have the best CRM like Veloxity in place, your company is sure to flourish at a breathtaking pace.
Let's see how:
With Veloxity's Sales Division view, your sales managers can drill deep into data insights in no time and better analyze the performance of each sales division at a glance.
With Veloxity, you can configure and design the sales stages to make them easily fit your business process.
Supercharge your sales with Veloxity's sentence-based Rules Engine by automating repetitive daily tasks just by filling in the blanks. Assigning duties, routing leads to the appropriate sales reps, scoring sales leads have never been so effortless before.
Veloxity's fully functional native mobile app allows real-time collaboration and file sharing, activity logging, sales activity tracking, and more in-office and virtually, even offline.