Top Lead Generation Software Tools in 2021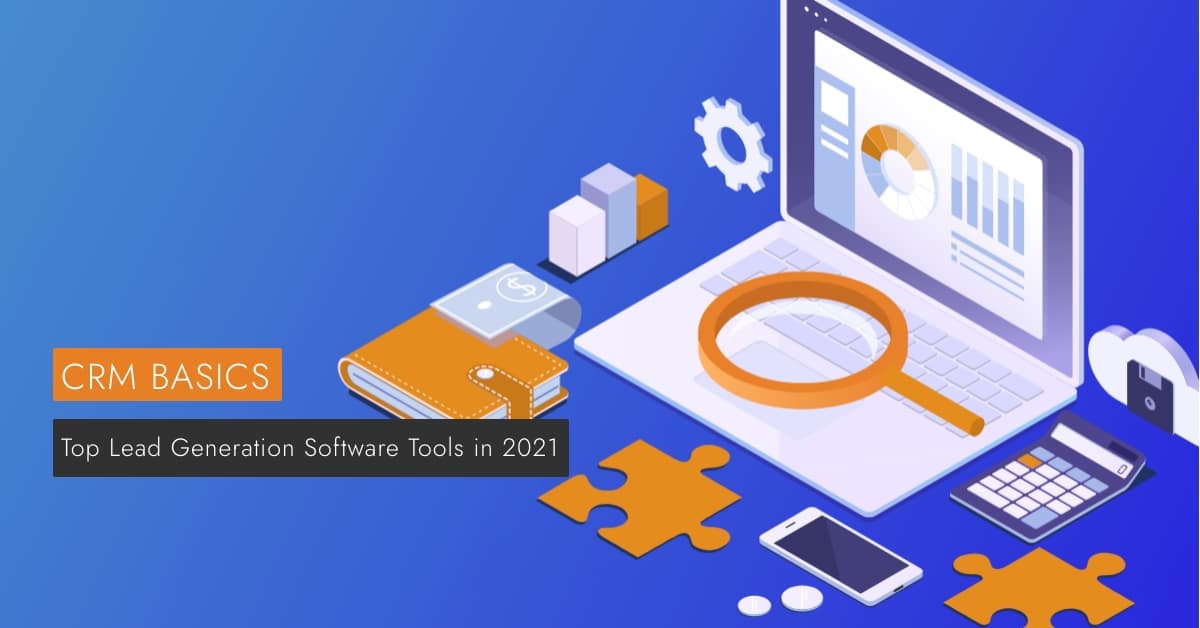 You know that lead generation is important for your business. But finding the top lead generation software can be tricky and time-consuming. After all, there are so many options available.
So, we've done the research for you. We've identified the top lead generation software tools to help support your marketing and sales strategies. In this post, we'll list out each product's benefits and features, as well as any limitations.
What Is Lead Generation Software?
Lead generation software is any online tool to help your company generate more leads. In the modern context, lead generation software is trying to get potential customers to submit their information on your website.
While print media, cold calls, and newspaper ads are still used as lead generation strategies for B2B and B2C marketers, the most popular and effective strategies for generating quality leads are online.
Let's take a look at the most popular lead gen software:
Why You Should Be Using Your CRM for Lead Generation
Growing your business means adopting the right software to help you manage your customers, sales teams, and marketing efforts. Whether you're a small business or a large corporation, customer relationship management software is essential for nurturing leads and staying on top of customer communication.
Finding a CRM that offers tools and functionality for lead generation delivers an end-to-end marketing and sales solution all under one roof.
Features to Look for in a CRM:
Free trial and/or free version
Sales pipeline
Lead management
Lead capture integration
Third-party integrations
Excellent customer service
Veloxity CRM
Veloxity CRM helps businesses accelerate their sales with lead management software, forecast automation, and a marketing automation add-on for building targeted email campaigns. Even better, Veloxity's rules engine automation helps you instantly add and assign new leads from our out-of-the-box webforms.
Veloxity CRM Key Features & Tools
Lead management
Marketing automation with advanced email building
Rules engine automation
Expandability and flexibility of features
Third-party integrations
OptInMonster
Email campaigns are consistently viewed as one of the most effective B2B and B2C lead generation and remarketing strategies. OptInMonster makes lead capture easy with various lead generation tools designed to boost your email subscriptions and increase sales.
For example, it can detect when a visitor is about to leave your site by scanning the location of their mouse, thus triggering a popup. This "exit-intent technology" helps users claim an extra 2–4% of conversions.
OptInMonster Key Features & Tools:
Geo-location targeting
Campaign triggers
Various campaign types
Drag-and-drop opt-in form builder
Targeted campaigns
Third-party integrations
Conversion analytics
Pipedrive
Pipedrive is a straightforward, easy-to-use CRM designed to help sales teams close deals. It offers typical CRM features like sales and pipeline management, communication tools, workflow automation, etc. But marketers looking to attract potential customers should check out Pipedrive's LeadBooster add-on.
LeadBooster Key Features & Tools
Chatbox
Live Chat
Web form builder
Prospector outbound lead generation tool
HubSpot Marketing
HubSpot is a CRM platform that offers extensive features and various platform integrations to support your business. Utilize HubSpot's other "hubs" to add marketing, sales, customer service, and content management systems to your platform. If you're using HubSpot, there's likely no need to search elsewhere for lead generation tools.
Add the HubSpot Marketing hub to your CRM or try their free plan.
HubSpot Marketing Key Features & Tools
SEO
Blogs and social media management
Ad tracking (LinkedIn, Instagram, Google Ads, etc.)
Landing page builder
Email marketing
Form builder
Pardot
Pardot is a B2B marketing automation tool by Salesforce, one of the biggest CRM software solutions on the market. Pardot has the features and tools you need to capture, generate, nurture, and manage leads.
Pardot Key Features & Tools
Customized landing pages and web forms
Email marketing
Lead scoring and grading
Lead qualification and segmentation
Prospecting tools
Landbot
Landbot is a no-code chatbox builder that can seamlessly integrate with the platforms you're already using. Using chatbots can lead to more landing page conversions. Chatbots make your customer service available 24/7 and can take care of easily solvable problems, which frees up your team to take care of more urgent or complex matters.
Landbot Key Features & Tools
Free version
Multichannel conversations (Facebook Messenger, WhatsApp, Zendesk, etc.)
Third-party integrations (Slack, Stripe, Mailchimp, Calendly, Google, Salesforce, etc.)
Customization
Smart chatbot AI upgrades (e.g., hidden fields, conditional logic, webhooks, formulas, etc.)
Try Veloxity CRM for Effective Lead Generation
In this post, we reviewed some of the most popular lead generation software tools for B2B and B2C businesses. As you can guess, the list of lead generation apps is endless, and small businesses can blow their budget if they're not careful.
The most affordable and sensible approach to choosing lead generation software is to find a CRM that has built-in lead generation tools and features.
If you want to generate new leads and increase your sales, check out Veloxity CRM's platform features and pricing options.