CRM Benefits & Finding the Right CRM for Your Business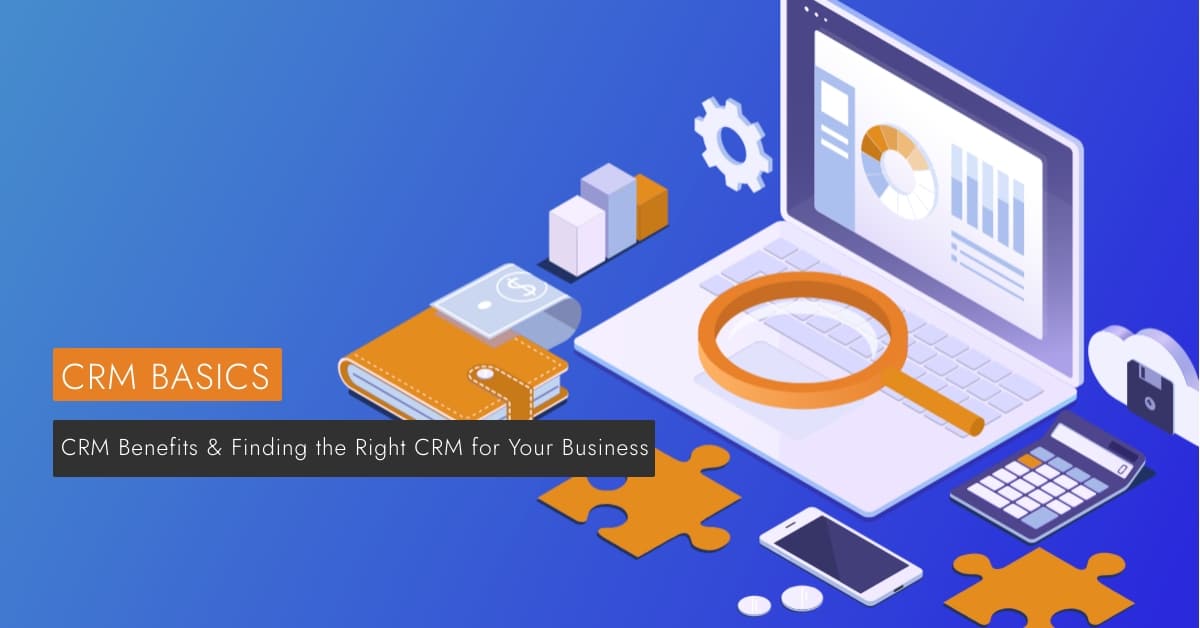 Customer relationship management (CRM) software is designed to help you retain existing customers and attract new ones. It also helps you collect and analyze customer data more efficiently.
In this post, we'll discuss CRM benefits and how common product features can help improve your sales processes. We'll also provide you with a list of the most popular cloud-based CRM products.
Small Business Benefits Of CRM Systems
Small business owners often wonder if using a CRM is worth it. Their operation is small, they don't have a long list of customers, and they're probably already very involved with their sales team. However, a CRM affords you more time to grow your business by automating everyday tasks and helping your sales team work smarter, not harder to get more paying customers.
If you plan to expand your business, you need a CRM system that can keep track of the increasing complexities of running a larger company and managing your customer relationships.
Let's take a look at the overall CRM benefits:
Enhanced Customer Experience
Customer relationship management software zeroes in on your customer and provides your team with essential tools to generate and nurture leads, keep track of support issues, segment your customers into groups for email marketing, and essentially, encourage customer loyalty.
All CRM systems are loaded with features to make your customer's experience with your company a positive one. Here are some common CRM features for improved customer experience:
Accounts tracking and monitoring
Lead management
Email template builder
Task automation
Social media tools
Third-party integrations
Chat boxes
Intelligent Marketing Tools
Some of the most helpful CRM features give businesses the power to reach more customers, generate more leads, and automate their marketing efforts. Look for CRMs that offer customizable landing pages, pop-up builders, and other lead magnets to build up your subscriber list and convert more leads.
Combining your sales and marketing tasks under one roof gives you the data you need to improve your marketing efforts, build better ads, and improve customer experience.
Common CRM tools that power up your marketing:
Automation
Email templates
Web forms for lead capture
Landing page builder
Social media management
Live chat
Search engine optimisation
Visual Sales Pipeline Helps You Track Your Progress
Visual sales pipelines make it easy to digest and understand where your customer is in the sales cycle. When you use a CRM software to track your opportunities/leads as they move through the pipeline, you'll have all the important customer communication history at your fingertips.
A visual sales pipeline is interactive, allowing you to move your opportunities to the next stage, schedule meetings, and send emails.
All CRM software is equipped with sales pipeline features, however, they are not all created equal. Veloxity's sales pipeline tool allows you to communicate with your clients, view sales forecasts, schedule web meetings, and easily find the data you're looking for—without having to click out of the pipeline.
CRM sales features that simplify pipeline management:
Drag-and-drop interface to move your leads through the sales cycle
Full customization to match your company's sales process
Automated lead assignment rules
Customer Data Analytics & Charting
Perhaps one of the greatest benefits of adopting customer management software is the ability to collect valuable data about your customers and visitors. The more customer data you have, the more intelligent your marketing campaigns will be.
The ability to track your customer's interaction allows you to evaluate overall trends and address holes in customer support or missed opportunities.
Here are some CRM analytics and charting tools to help your business' data-driven sales and marketing efforts:
Customizable charts
Detailed reporting
Advanced search capabilities
CRM Features That Are Worth Paying Extra For
While you're searching for a CRM product that offers the most value for your company, you'll discover that some sales, marketing, and customer service add-ons aren't included in the edition you want to pay for.
Every platform package offers something a little different, but here are the add-ons we think are worth the added cost for any company endeavouring to expand their customer base:
Marketing automation
Email marketing
Template builders
Multiple currencies
Forecast automation
Popular Cloud-Based CRM Software Products
As promised, here is a list of the most popular customer relationship management platforms available on the market today. Prices vary greatly, so we recommend browsing each CRM's product features before deciding which solution is right for you. Or, you can get started with a free trial or test out a free version.
Veloxity CRM
HubSpot
Zoho
Salesforce
Zendesk
Apptivo
Bottom Line: CRMs Benefit Your Business
Adopting CRM software empowers your business or organization to do more. Generate leads faster, maintain customer relationships, and help your sales team close faster with a CRM's various tools that take the guesswork and grunt work out of sales and customer service.
Ready to try a CRM software? Try Veloxity CRM for FREE today to start accelerating your business growth.