How to Land Your First Client as a Freelancer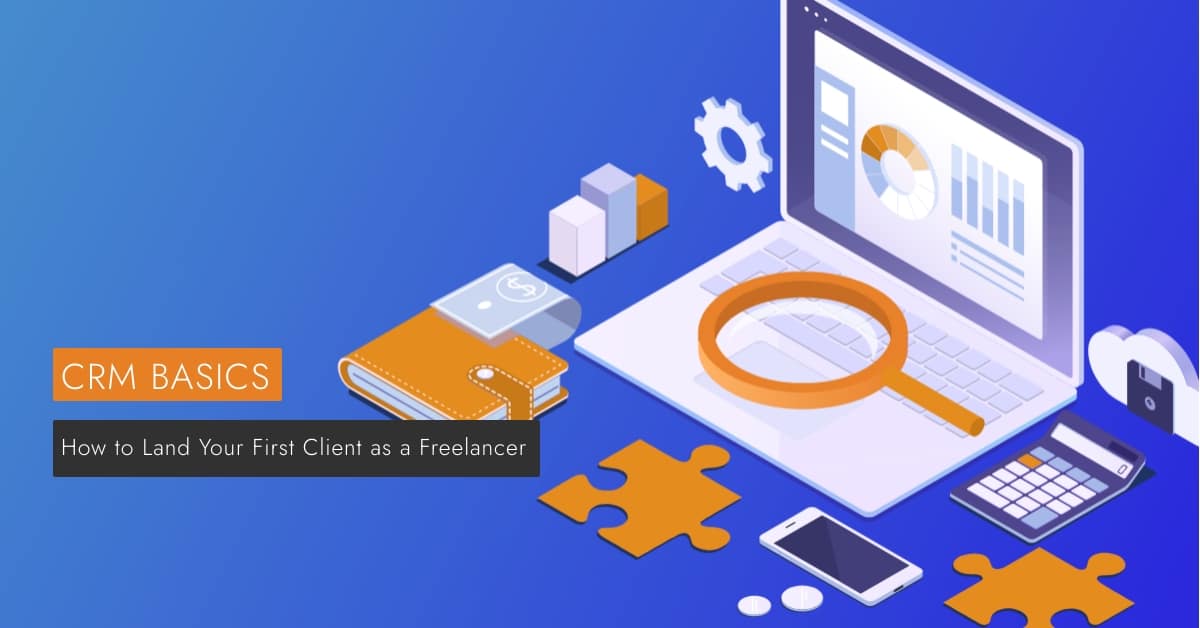 Working from home, setting your own hours, and being your own boss: everything you get to look forward to when you become a freelancer. When we fantasize about exiting the nine-to-five lifestyle for freelance freedom, we often overlook the most important aspect of running one's own business: getting clients.
If you're at the stage of establishing yourself as a freelancer and you're not sure how to get your first client, you're not alone. It's a challenge that many small businesses, sales reps, and freelancers face, and it can be difficult to get past.
So, we've put together a helpful guide to help you land your first client. Keep reading to learn more:
Know Where Your Customers Are
Whether you're branching off and starting your own marketing agency or you've developed a design portfolio strong enough to entice your own customers, you'll have to adopt a brand-new skillset to find prospective clients and generate leads.
We recommend focusing your marketing efforts on channels that are most often visited by your prospective clients. As a new business owner, you probably aren't going to have the time or budget to spend on large marketing campaigns. The more you know your industry, the better you'll understand who your customers are and where they spend the bulk of their digital time.
In the beginning of 2021, LinkedIn released the top ten industries using individual accounts on their platform. If your profession falls into one of these categories, this social media platform is a great place to focus your outreach efforts:
Information Technology & Services
Hospital & Health Care
Construction
Retail
Education Management
Financial Services
Accounting
Computer Software
Higher Education
Automotive
Determine Your Pricing (and Stick With It)
One of the biggest challenges for any new freelancer is establishing your prices. Do you know your own worth? Do you find yourself testing out different prices?
Remember, you need to price according to your experience without undervaluing your worth.
You may be tempted to offer discounts when you're first starting out, but if you end up working long hours just to make a living and cover your basic expenses, your price structure isn't sustainable—not to mention the inevitable burnout you'll face. In fact, working more for less prevents you from finding clients who are willing to pay you a fair price for your skills.
Are you new to the industry? Price accordingly, but don't sell yourself short. Be upfront with your pricing strategy and let your customers know that while you may charge less than other freelancers with 10+ years of experience, your skills are an asset.
Are you in a bidding war with other freelancers? Offering a money-back guarantee gives your customer a sense of security without you needing to lower your rate.
Network, Network, Network
Never underestimate the power of networking. Even joining Facebook groups with other freelancers could be very fruitful. When you're first starting out as a business owner, however, you'll most likely land your first client through a personal or professional connection—you know, a friend of a friend. In other words, be open with your friends and family about your new business venture.
Starting out on your own and not sure how to network? You don't have to sign up for networking mixers or conferences to meet people. You'll be surprised by where your clients can come from. Whether it's meeting someone at the dog park or striking up a conversation while in line to get your coffee, successful networking can be achieved by being friendly and talking to strangers.
The best part is, you don't have to practice an entire pitch. Here's how to maximize a networking opportunity when you meet someone new:
Be friendly and engage in a bit of small talk (starting off the conversation by asking the other person what they do for a living can come off a little pushy).
Ask the person what they do; listen carefully and offer a few questions that show your interest and that you're giving them your undivided personal attention.
When the other person returns the question, explain what you do without being salesy.
At the end of your interaction, offer your business card, email address, or something to leave the contact with.
Build Your Credibility
You want to be the go-to person for your subject matter. You may just be starting out as a freelancer, but that doesn't mean you don't have industry insights to share with others.
How do you build up credibility?
A great way to start is by producing valuable content that demonstrates your knowledge and expertise. Commit to writing well-written blogs, engaging with others on social media, and answering relevant questions on forums. Getting your own website is a must-have.
All these measures build trust and make you an authority in your industry, which could help you land your first client.
Perfect Your Pitch
Modern-day pitches come in the form of an email. While you don't have to worry about awkward silences or remembering a client's main concerns in your speech, you still need to be personable and offer solutions to their pain points.
How to write your email pitch:
Focus on solutions: point out a gap or a problem and follow up with a solution. This requires research, but the potential client will know the difference between an email blast and a carefully crafted email written just for them.
Demonstrate your expertise and how you're the best person to solve their problem
Be friendly and personable. If this is your first contact with the client, don't be too pushy by including your rates. Let the first email focus on them.
So, You've Landed Your First Client….Now What?
Congratulations, you are now a professional freelancer! Your next step is to take care of your client by delivering an exceptional service or product, as well as stellar customer support. And after that? Start the process all over again. The more clients you have the easier it is to build up your clientele. Speed up the process by asking for testimonials or offering referral discounts. Keep going and don't give up.
What happens when your client list starts to grow? Start using a customer relationship management software to stay on top of your sales pipeline and slowly build your empire.