Veloxity is the Best Sales CRM Software Solution
Veloxity enables your sales team to be more effective at closing business with the leading combination of efficiency, power, and cost-effectiveness in a Sales CRM Software.
Veloxity powers up your marketing, lead, opportunity and product management as well as quoting
The goal of your business is to grow your customer base by driving new sales as effectively and efficiently as possible. This starts with marketing so you can make sure your target audience is aware of your solutions and/or services. A comprehensive Sales CRM Platform provides robust marketing to ensure you can reach your prospects efficiently.
The Sales CRM System then needs to have advanced and integrated lead management. If your marketing is effective, then the leads will flow in. But making sure you know who is to work each lead is critical. The sales CRM system should auto-assign the leads based on criteria for you but also should help you rank your leads, so you know where to put most of your sales team's attention.
Automation of various functions such as follow-ups is a critical function of a CRM software for Sales Teams that ensures your leads and opps are never neglected. Veloxity Sales CRM Platform will do these tasks for you…it never gets tired and is never in a bad mood. It's on time every day and pleasant and will always provide a personalized touch to your valuable prospects and customers.
With any decent-sized activity, visual representations within the sales CRM software is critical to seeing how each sales team or the entire organization is performing. Veloxity provides an unprecedented ability to quickly view how sales teams across your organization are performing against quota.
Salespeople need an easy-to-use CRM Sales Software, not a clicktastic app
Veloxity has solved a major CRM Software for Sales adoption issue by providing the Veloxity Hub along with other innovations making it the most efficient CRM available.
The Veloxity Hub makes the hyper-efficiency of your salespeople the norm. Unprecedented insights…click less…sell more. Easily see your leads and opps happenings all in one place.
Visually see each Lead and Opp sales pipeline progress in a single view along with the guided sales steps for each sales stage. Also, you can easily advance sales stages from this single view.
See the latest news for each of your leads and opps right in the Hub.
Let Veloxity suggest to you what to do next. Stop digging thru emails and the CRM for each account to determine what you should focus on next.
Take actions right from the Hub for emailing, calling, setting up a webinar, or taking notes about your target business's solution needs and more.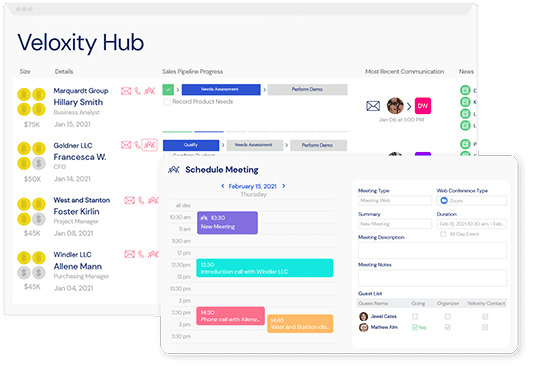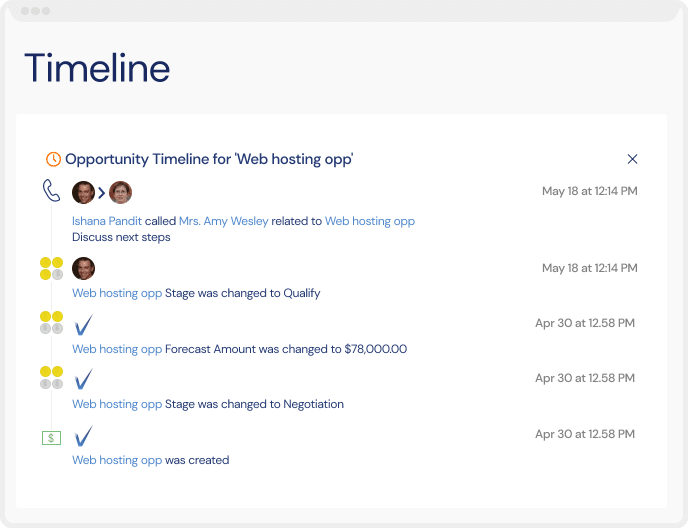 Let Sales Reps easily see what's happened and enable them to take the next best, proper action
Selling is hard enough as it is, so let our Sales CRM System make knowing what happened, brain-dead-easy, and make taking the next action simple and efficient.
Veloxity's Timeline view not only shows key events for your leads and opps but also all key communications.
The timeline enables you to interact directly with it. See an email that the prospect sent you in the timeline? You can respond to it right from the timeline itself. See? Efficient and Seamless.
Veloxity enables advanced automation where you can do it, but when a sales rep needs to take an action for your customer, contacts, and prospects, let Veloxity suggest what that action should be. This reduces the burden on the reps to know who needs attention now and what they should do.
Bring Unprecedent Clarity to your Sales Data with our Sales CRM Platform
Veloxity has innovated on the Sales Quota and Forecasting view so understanding how each sales division is performing against Quota is Instantly Clear
Veloxity's Sales Division view provides at-a-glance insights into how each sales division is performing including their actual and forecasted progress.
Use Veloxity's industry best searching to see tabular results of your sales CRM data and then easily create custom dashboards on the fly from the tabular data.
Veloxity also brings the sales pipeline to life from the usual boring sales CRM software pipeline views. Not only can you see opps at each stage, but you can also take actions right there to interact with each prospect quickly and efficiently as well as see their timeline of key customer interactions.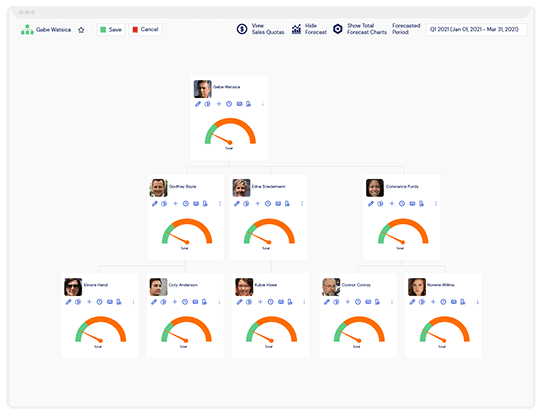 Get in touch to learn more about our Sales CRM Software.