What Are CRM Expenses? Hidden Costs to Keep in Mind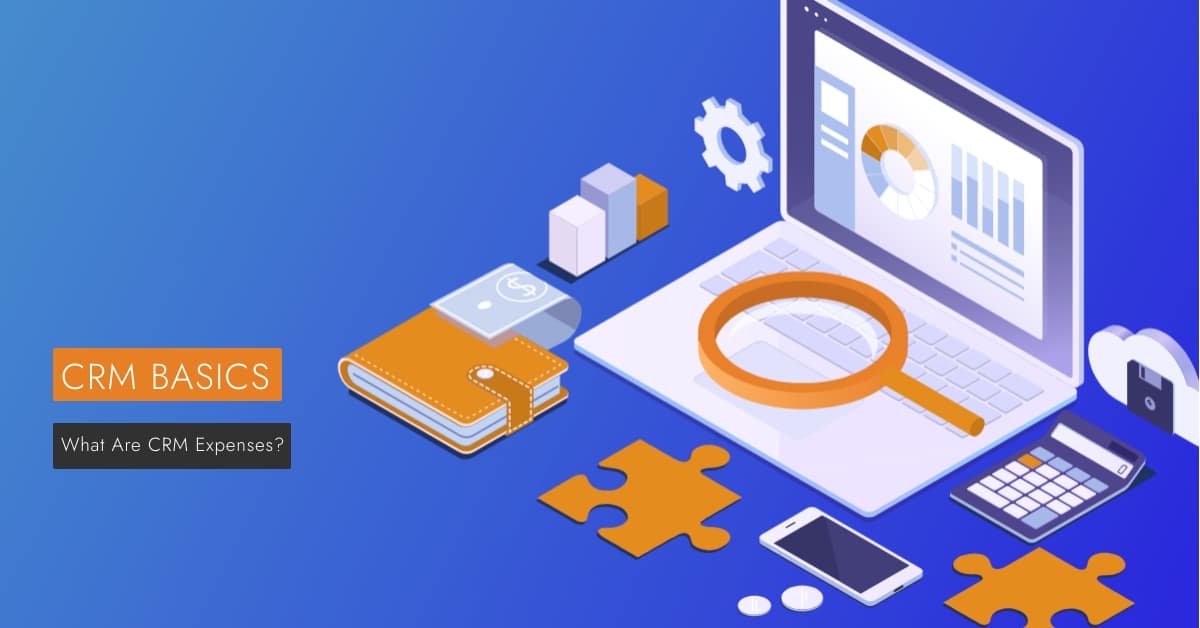 CRM expenses are the costs associated with implementing customer relationship management software. While CRM software can increase your company's ROI, implementing the software does take time and money to get started.
It's important to understand the full costs (both transparent and hidden) of implementing a CRM so that you can budget accordingly, as lack of proper funding can lead to adoption failure.
In this post, we'll go over the various CRM expenses to help you manage your expectations and choose the right CRM for your business.
Costs: Time vs. Money
Throughout this post, we'll be discussing the various costs to both your company's time and money. But time is money, they say. The hours spent on implementing your CRM software will affect your bottom line.
Many businesses don't give themselves enough time to learn their CRM. The bigger the business, the longer the implementation process will take.
Small businesses with only 10 or 11 users will likely need to spend less time on implementing their software than larger corporations that have to schedule training sessions by groups over a period of weeks or months.
How Much Does the CRM Software Cost?
Before you choose a CRM and a version that suits your budget, make a list of the features each department needs. The cheapest version of a software may be lacking the essential tools your company requires to make implementation worth it. On the other hand, you don't want to pay for a version that comes with features your team will never use.
Does your company need email marketing software? How detailed do you really need your reports to be? Answering these types of questions before you start shopping will give you a better sense of what CRM product is best for your company.
Popular CRM System Prices
Veloxity
Least expensive edition: $0
Most expensive edition: $94/user/month
Add-ons:
Marketing Automation $400/1000 contacts/month
Zoho CRM
Least expensive edition: $14/user/month (Zoho Bigin for small business starts at $0)
Most expensive edition: $52/user/month
Add-ons:
Upgrading to Zoho One for $37/user/month for all employees or $90/user/month for any number of users gives you Zoho's full feature package (sales, marketing, support, HR, productivity, finance, and more)
Hubspot
Least expensive edition: $45/month for 2 users
Most expensive edition: $1,200/month for 10 users
Add-ons:
Users can upgrade to product bundles to combine marketing, sales, customer service, CMS, and operations. Prices range from $45/mo to $4000/mo.
Gmail: $0 to $12/month
Slack: $0 to $12.50/month
Mailchimp: $0 to $14.99/month
Salesforce
Least expensive edition: $25/user/month
Most expensive edition: $300/user/month
Add-ons:
Appointment assistant: $25/user/month
Billing: $75/user/month
Pardot (marketing automation): $1,250/month up to 10,000 contacts
Hidden Costs
CRM software is priced per user per month (not exactly hidden, but not transparent either), but the prices you see listed are automatically set to the annual payment option. If you only want to pay a month at a time, the price jumps.
Other Hidden Costs:
Account setup fees
Tax
Add-ons
Dedicated customer service
Adding more users than your version permits
Implementation Expenses
One of the biggest mistakes that new users make is underestimating how long it can take to implement a CRM to the point of successful adoption.
As we said earlier, take your time exploring your options and sitting with the heads of departments to nail down a list of precisely what you're looking for. Getting to the bottom of what you need from your CRM will cut down your setup time and make sure your free demo won't be wasted.
Data
Is your customer data already ready to go? Probably not. A regular data audit should already be part of your business process, but if you're using a CRM for the first time, you might be holding on to paper files or dealing with a disorganized information system that consists of post-it notes, saved email attachments, and various spreadsheets.
How long will it take to locate, restore, clean up, and file your data? It depends on how many customers you have, how organized you are, and how much dead data you've been holding on to. Needless to say, preparing your data for your transfer is an important step and one that shouldn't be rushed.
Customization & Set Up
Importing your data is one thing. But now you need to set up your CRM. As you can imagine, this is a huge time expense. But don't rush it because proper automation setup is crucial to your customers' continued loyalty. The more workflows you set up, the longer it'll take. And as we said, time is money.
Training
This is where adoption failure can happen. If your team doesn't feel comfortable using the software, they just won't use it. To avoid this costly problem, give your team members plenty of time to learn the various CRM features that they'll be using every day.
Keep in mind that training is not only a time expense. For example, Salesforce training can cost well over $1000 for instructor-led courses. If you're looking to save money by taking a self-paced online course, expect to pay between $400–$600.
Training your team is a worthy investment if you want your staff to make the most out of your CRM software.
How Veloxity Can Help
Veloxity's easy-to-follow price plans and long list of training manuals are designed for easy integration. Our customer service teams are ready to answer your questions or to help you with any questions you have about setting up and using your cloud CRM. Start your free trial today!