The Benefits of a Collaborative CRM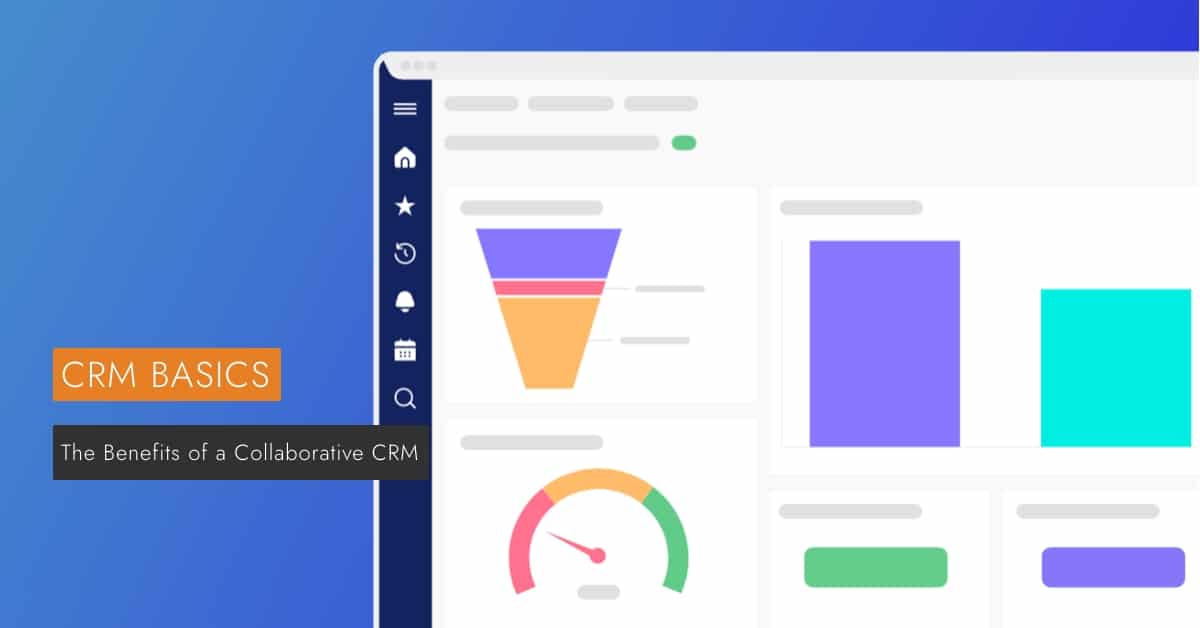 Customer service-centric companies are finding new ways to connect with their clients. The biggest challenge that these companies face is finding a cohesive customer relationship management (CRM) system that works for everyone.
Because of this, many organizations are moving to a collaborative model, which allows multiple departments to communicate with their customers. There are several options available out there for a collaborative CRM tool. The best software, however, allows for easy sharing of data between departments.
In this post, we'll discuss the important features of a collaborative CRM so that you know what to look for when finding the best CRM for your organization.
What is a Collaborative CRM
Collaborative CRM, also known as strategic CRM, is a type of CRM software that allows different organizations associated with the customer service of a business to maintain seamless communication.
Teams including sales, marketing, customer service, technical support team, distributors, or vendors mainly use a collaborative CRM system to consolidate, organize, and categorize client data in a centralized database system and share them among themselves to get acquainted with the latest updates about customer interactions.
Thus it excludes information silos and leverages interaction channels (website, live chat, social media, etc.), document management, and communications to improve and augment your prospecting efforts for boosting customer satisfaction.
Collaborative CRM solutions are made up of two components described briefly below:
Interaction Management: The interaction management process records your interaction history, tracking communication channels within your business so your team can get a 360-degree view of your prospects, leads, and present customers to optimize interactions based on customer preferences, identify the most effective channels for lead generation and determine customer pain points better.
Channel Management: Channel management is the process of improving customer satisfaction across the channels the customers prefer to be interacted with and improving customer experience using advanced technologies including Artificial Intelligence, Machine learning, automation, and data analytics. So your sales, marketing, or service team can extract actionable insights from the data flowing in your business, and you can route leads to the right sales reps and assign them duties for rationalizing their activities in a particular communication channel.
Features of a Collaborative CRM
Some of the many jaw-dropping features and functionalities of a collaborative CRM include:
Effective Communication: One of the surpassing features of a collaborative CRM is, it ensures your salespeople are on a single pane and streamline communications when they interact with the prospects and sales leads via multiple channels.
Online Self-Service: Another notable feature is that it reduces operational costs and enables your sales team to work more conveniently.
The Benefits of Collaborative CRM Software: How a Collaborative CRM Helps Your Business Grow
Helps Employees Work More Efficiently
When most CRM systems promise to facilitate cross-departmental collaboration, only a few actually ensures it. Thanks to various state-of-the-art collaborative CRMs that enable team members of different departments in a company to share files and collaborate in real-time. And the more seamless the cross-departmental communication is, the more productive the employees can be. Foster Customer Satisfaction
As the data input by a team is readily available to other departments, it becomes effortless for them to deliver proactive and effective customer service, maintaining a workflow routine more efficiently. Collaborative CRM software also helps automate sales, marketing, and many repetitive and customer service tasks to enable your sales and service team to improve customer satisfaction.
Customer Retention
Besides nurturing the incoming leads, retaining the existing customers is equally significant for a business to thrive. Thankfully, collaborative CRM empowers you to organize each customer's data in unique holistic profiles using data augmentation. So you can get equipped with the latest client information and offer your leads and clients more personalized customer service. Plus, a CRM triggers the sales reps to follow up customer emails regularly, reach out to clients who have not been interacted with for a long time, and use segmentation filters and tagging to ensure the hyper-targeted emails can reach the right client just at the time — a sure-fire approach to acquire and retain customers and reduce churn.
Increases Revenues
One of the leading causes most B2B businesses now turn to collaborative CRMs is that they help business owners generate more revenue and boost ROI, enabling the sales reps to nurture leads and turn them into loyal customers. More impressively, Collaborative CRM software consolidates data from the customer database and helps your sales team cross-sell/up-sell to the clients smartly.
Pipeline Visualization
Gone are the days of relying on static sales pipelines, digging through hundreds of spreadsheets, and continuous drill-downs. Thanks to a collaborative CRM that makes your sales pipeline more visible through offering customizable reports. It allows you to view the big deals in your pipeline and the revenue you have generated in each sale stage and helps your sales reps track significant communications and figure out where they left off. So you can prioritize your deals more efficiently and route your future sales efforts in the right direction, creating a benchmark to scale those efforts.
Are you all set to leverage the power of a collaborative CRM to make your business grow like never before and be on top of competition? Try out Veloxity – one of the world's most trusted CRM solutions with best-in-class features and powerful collaboration tools that can help your team collaborate in real-time, shara insights and close more deals successfully from anywhere.