Benefits of CRM in Hospitality Industry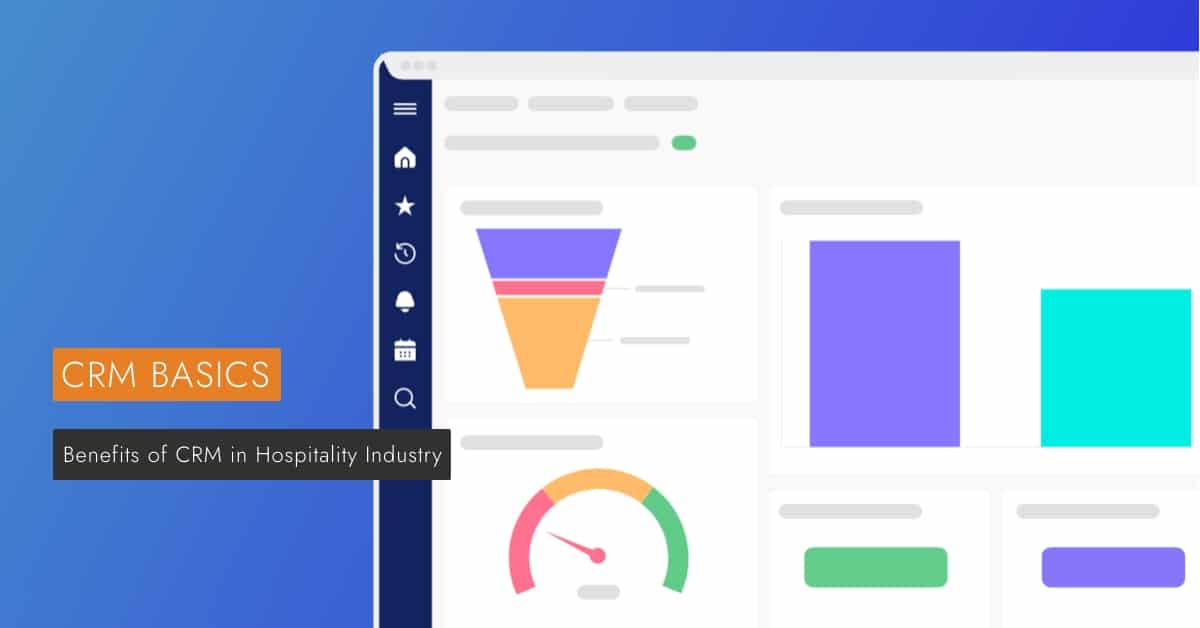 In a business-to-consumer world, customer loyalty is vital for success. And, as a hospitality business, you need to know your customers' needs, wants, and preferences so you can increase company sales and maintain a positive relationship with all of your guests.
In this article, we'll look at the benefits of CRM software in the hospitality industry. We'll discuss how customer data can be used to improve the guest experience and briefly cover the criteria you should look for while investigating in a CRM software.
What is a Hospitality CRM?
A hospitality CRM is a specially designed CRM tailored to the requirements of restaurants, hotels, various tourism-related services, etc. Besides ensuring the basic functionalities of any CRM – contact management, lead management, and aligning sales, marketing, and support team, a CRM specially customized for the hospitality industry helps manage and analyze customer feedback, loyalty programs, and more to provide better insights into guests demographics, purchase history, etc., and facilitate interaction tracking. So your teams can provide proactive customer service and meet customer expectations better for customer retention and acquisition.
A quality hotel CRM also features a telephony system with proper ACD and IVR. With a properly designed ACD system, it becomes effortless for your guests to reach the right person in no time. 
How is the Hospitality Industry Using CRM?
Today's future-focused and customer-centric hospitality service providers have already understood the recent skyrocketing trend: CRM is exploding in every sector, revolutionizing the way a modern business operates. And the bitter truth is any B2B industry that waits too long to adapt to the change is doomed to failure.
And it is particularly true for the hospitality business where ensuring top-notch customer service is the prerequisite to staying on top of the competition. It is a no-brainer that the more data a hotel has about its guest, the more likely it can get repeating clients or expect good feedback. And hospitality services use this data to tailor their offers to their guests' preferences and deliver personalized services using segmentation filtering and tagging – thanks to modern CRMs.
Benefits of CRM in Hospitality Industry
CRM has led to a boom in the hospitality sector, especially the wing of luxury hotels. Let's dig deep into how CRMs benefit this sector:
Central Repository for Improved Customer satisfaction
CRM is an advanced and smart business model that facilitates the organization, synchronization, and automation of scattered structured and unstructured client data consolidated from multiple channels and puts them into a centralized repository.
As all guest data is stored in a central database, getting essential data whenever needed to manage a customer better becomes effortless for your hotel staff. Thus, your sales reps, customer service reps, or help desk reps can get information, for instance, about a particular client's preference on room choice, just by tracking his past booking history stored in his holistic profile. And the more prompt and customized service you can offer, the more it fosters customer satisfaction.
Client Data Analysis to Offer Better Insights
In hospitality firms, massive volumes of guest data are churned out daily. Even though the significance of storing, categorizing, and managing this data by creating a unified database is beyond words, you can only reap the benefits when you are able to extract actionable insights from the consolidated data through AI/ML-based analytics – what you need to build long-lasting and profitable customer relationships.
Also, you can improve conversion rates and convert your one-time visitors into loyal and repeat clients – thanks to CRM systems. More impressively, by helping teams compare the 'potential' and 'transactional' clients and those who drop off, CRMs enable hospitality industries to redesign and redevise sales and marketing strategies to generate more leads and retain customers.
Saves Time with Automated Invoicing & Quotation
Gone are the days of juggling between endless spreadsheets to generate invoices and quotations manually every time you close a deal when you have a quality CRM like Veloxity in place. It can track time, sales, and expenses and turn them into invoices in no time to help you get paid promptly.
Further, you can customize invoices choosing from a wide range of ready-to-use templates with your business logo and hues to make them look perfect.
Automates Communication
A quality CRM helps you automate many of your company's interactions with your guests to ensure they get the best customer experience. For example, sending automated emails to clients on their room bookings may leave a good impression on them as it assures your guests that you are all set to serve them. You can also remind your current customers about the upcoming events or send automated messages to guests thanking them for using your hospitality service.
How to Choose the Right CRM for Hospitality Business?
Consider the following aspects before you invest in a CRM for your hospitality business:
Easy to Integrate: A CRM must support integration with other third-party services, including PMS and ERP – the core of any hotel service. Invest in CRM that can integrate with these platforms so you can avoid data duplication and make your business grow with ease.
Multi-channel: Interacting with customers and making them feel like they are communicating with a single entity – your business, is a complicated task. Only a multi-channel CRM can help you interact with your guests via multiple communication means and records interactions across channels, including email, social media, text, phone, live chat, and more.
Marketing Automation: Implementing a CRM with marketing automation is a long-term investment, especially for hospitality industries. Decide on a CRM that can help you segment clients to schedule mailout, create hyper-targeted emails using ready-to-use templates, and measure the campaign performance in real-time.
Ticketing and Helpdesk: You must evaluate if the CRM you intend to implement supports ticketing systems so that your hospitality business can receive your customers' complaints and resolve the issues systematically.
Flexibility: While picking a CRM, make sure it is flexible enough to grow with your business and accommodate your future requirements.
Budget: Before you end up purchasing a CRM licence, make sure you identify your business goals, the functionalities you require and choose a quality one that comes within your budget.
Wrapping UP
Are you searching for a quality CRM solution to fit into your hospitality service? Get your hands on a version of Veloxity CRM right away – your all-in-one and ultimate CRM system that can help your hospitality business thrive and deliver top-notch customer service.