Which Is the Most Customizable CRM?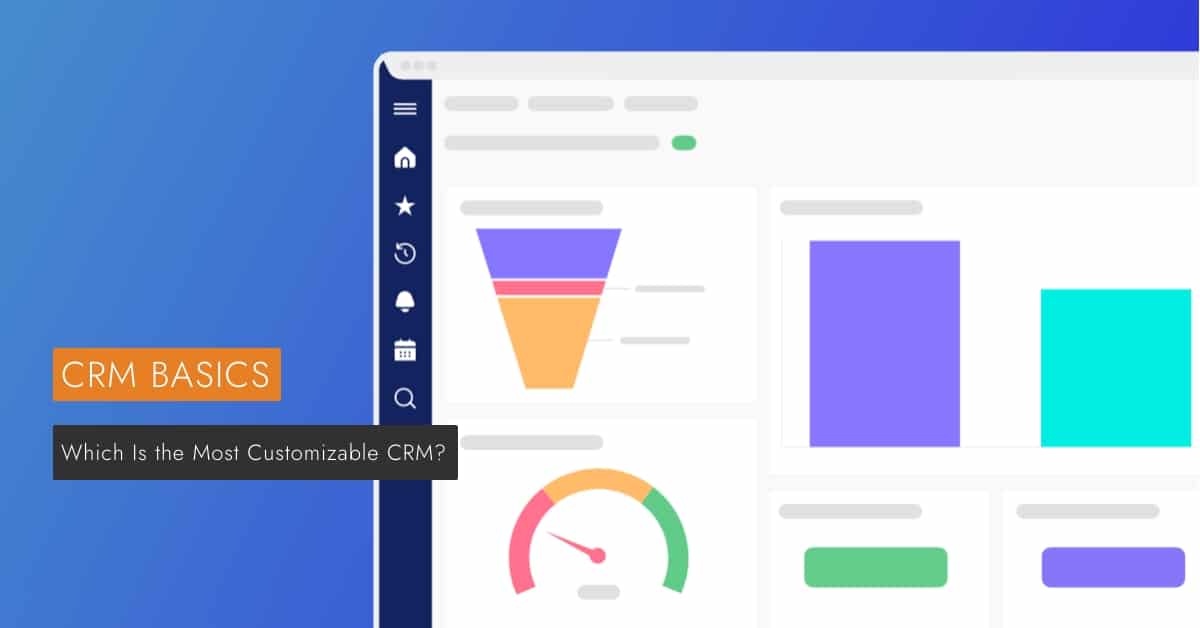 If you're looking for a bespoke CRM to suit your business-specific needs, you've probably wondered which is the most customizable CRM?
A custom CRM software platform allows users to customize CRM features to meet their own business needs. It must provide editable spaces for salespeople to enter contact information, as well as third-party integrations with tools and apps that are essential to their workflow. 
Furthermore, existing marketing and sales capabilities must be adaptable and allow users to automate business-specific repetitive duties.
In this post, we'll cover a few of the best customizable CRM platforms available to help you find the right CRM for your business.
Most Customizable CRM
Let's dig deep into the features and functionalities of some of the market-leading customizable CRM solutions:
Veloxity – Best Overall Customizable CRM
Don't misinterpret us thinking we are partial to our own product by placing Veloxity on top of our list. But the fact is Veloxity's state-of-the-art functionalities and unique configuration options make it comparable to none in the market.
Fusing the simplicity of an entry-level CRM with the robustness of an enterprise-grade system, Veloxity has become the best CRM platform that can suit businesses of all sizes and specifications.
Its customizable reports and charts, intuitive dashboards, robust rules automation engines, cutting-edge marketing automation and configurable sales stages, and homepage make it stand out from the pack and be on top of the competition.
Plus, Veloxity's native mobile application allows users to visualize sales pipeline and metrics, identify nearby prospects, and deliver proactive customer service even on the go!
With no code and fewer clicks, you can make the system adapt to your business regardless of your technical capabilities of business size and sell smarter, better, and faster.
Features of Veloxity CRM
Some of the many impressive features of this CRM include:
Easy to implement and operate
Supports integration with Gmail and Outbox to enable users to track messages with their leads and contacts straight from the CRM system timeline
Supports multi-group membership for every user of a business
Allows users to customize contact data views, build charts, tables, etc., as per their convenience only with drag and drop
Allows users to extend the existing data model by adding different custom sections to any data type.
Offers round the clock customer support
Pipedrive CRM- Best for Pipeline Visualization
If you are searching for a deal-driven CRM system that can help organize and track interactions with customers and offers complete control over schedules besides synchronizing them across devices, Pipedrive can be your pick.
Though Pipedrive doesn't come with a free plan for a lifetime like Veloxity, which is indeed a disadvantage, its top-notch customizable features make it worth the investment.
More impressively, Pipedrive comes with an intuitive dashboard to let you visualize each stage of your sales process and identify, track and extract insights from actionable data to generate more sales.
Features of Pipedrive CRM solution
Robust native mobile application plus email and calls synchronization
Pipedrive allows users to configure their sales pipeline stages, adding as many fields as they require.
It allows users to turn off features they don't require only with a single click to help optimize their sales process and boost pipeline visibility.
Supports customizable reports to help you dive deep into your business matrices and evaluate your performance against your set benchmarks and goals.
Salesforce: Best for Growing Businesses
Do you need a CRM that can grow with your business and make it broaden its reach even faster? Salesforce CRM can be your pick.
Though Salesforce is a bit expensive, charging around $25/user/month to $300/user/month depending on the plan you choose, it offers best-in-class CRM options, from basic to customized, enabling users to keep data recorded in the basic program as they configure features and upgrade.
Features of Salesforce CRM
Salesforce CRM offers real-time visibility of your sales pipeline and helps you drive pipeline accuracy using KPIs and quick filters.
Employs AI-based predictive analytics to offer precise sales forecasts and let users make adjustments depending on the KPIs that suit their company specifications.
Salesforce supports customizable reporting and allows users to make changes in the charts in the reports.
It comes with a mobile app to help users close more deals and collaborate with teammates from anywhere.
Supports a simple drag-and-drop feature to automate your sales process in Process Builder.
Apptivo: Best for Report Customization
Do you have to deal with multiple business functions and make them run optimally from a single platform? Apptivo can be your ultimate choice. From CRM to automatic invoice generation and project management, integrating all software your business is built around into a single system, Apptivo makes it effortless for your team to close deals faster.
Though the UI seems a bit outdated, the jaw-dropping customization facilities make it worth your investment.
Features of Apptivo
Budget-friendly, and easy-to-implement, and use
Apptivo CRM supports integration with a wide range of systems, including G Suite, Slack, and Office 365.
It's an all-in-one native mobile application that frees users from juggling between isolated software and track progress right from their pockets.
Supports pipeline and report customization and visualization
Nutshell: Best for Sales Team Management
Nutshell is a market-leading CRM and email marketing tool that helps you convert more sales leads into wins with fewer efforts and time. It enables sales reps and managers to work more productively, offering complete control over the sales pipeline and notification customization.
One downside that makes users think twice about investing in Nutshell CRM is that it doesn't offer a free plan and live chat facility. So if live chat and free edition mostly drive your buying decision, you better opt for Veloxity or Apptivo.
Features of Nutshell CRM
Supports custom pipelines and reports to help you get an insight into your sales performance in no time.
Supports email marketing and sales automation
It doesn't require any prior knowledge or technical capabilities to implement
Business card scanner integrated into the Nutshell CRM mobile application to facilitate data entry.
Integrable with third-party software, including Gmail, Slack, Office 365, QuickBooks, Zendesk, and Zapier.