How to Evaluate CRM Software for Your Organization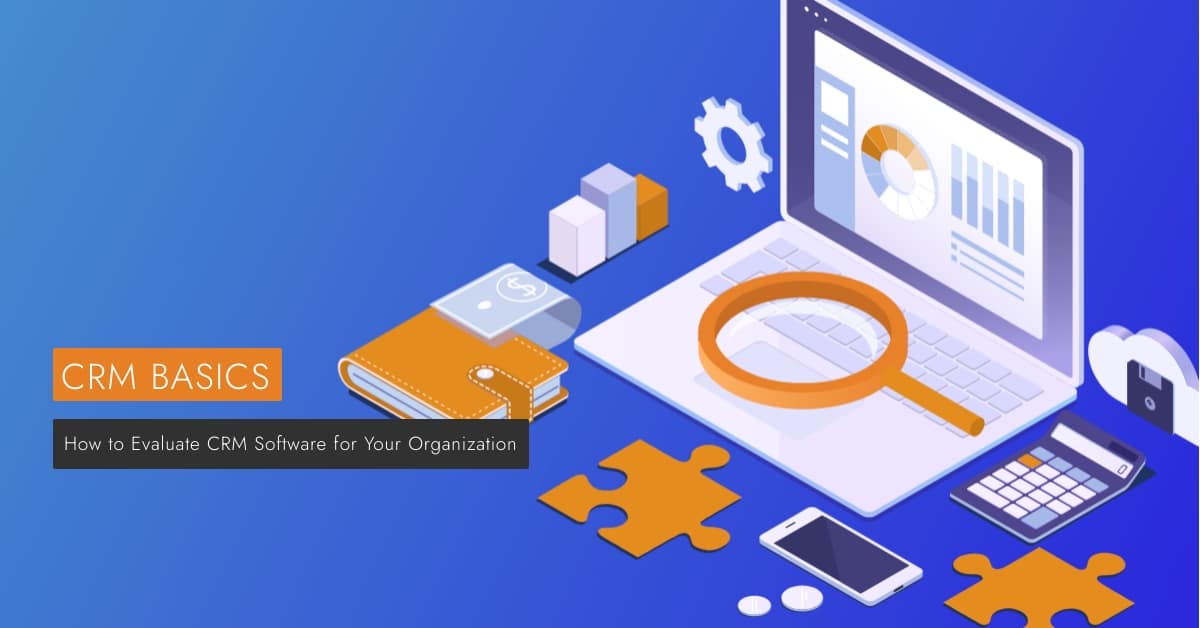 CRM software helps your business run more efficiently with tools to improve customer relationships, convert more leads, and streamline your sales process.
Before your organization invests in CRM software, it's important to know your business needs and to compare different products. We don't recommend going with the first software you find. There are many factors you should consider when selecting the right one for your company, such as cost, available features, and training requirements.
In this post, we'll show you how to evaluate CRM software to help you make the right choice for your business.
If you want to know about how to evaluate CRM software, keep reading.
What Does a CRM Do?
A CRM software offers you a single and centralized platform to store all business and customer data, track interactions that occur via multiple communication channels, share files and collaborate in real-time from within the system.
It acts as a heart of a business that ensures your sales, marketing, or support teams are on a single pane and can be productive getting essential data at their fingertips even on the fly.
More impressively, by empowering your employees to get better insights into customer preferences, buying behavior, and demographics, a quality CRM like Veloxity helps you identify up-sell and cross-sell opportunities, win more deals faster, and sell smarter.
When Does Your Business Need a CRM?
Investing in CRM software may seem obvious, but does it really make any sense for your business? It's time to invest in a CRM to make your business grow with ease if:
You are struggling to keep up with the flood of new leads flowing into your business.
Your business is expanding, making it difficult for your team to locate data and keep it organized.
Your employees are still working in silos.
You require more transparency and visibility into your sales pipeline and team performance.
Your current reporting system takes too much time than expected.
Types of CRM
Analytical CRM: Helps you make data-driven decisions by offering precise analytics based on the consolidated client data.
Operational CRM: Focuses on boosting customer acquisition and retention by bringing core business departments – marketing, support, and sales team together.
Collaborative CRM: Aims to facilitate cross-departmental collaboration and file sharing to deliver proactive customer service and foster client satisfaction.
CRM Benefits: Why Does Your Business Need a CRM?
Consolidates customer data in holistic profiles unique for each client to help your teams get a 360-degree view of the prospects, sales-ready leads and present customers in seconds.
It helps your staff better organize customer data using segmentation filtering and tagging. Sending personalized offers tailored to each client's requirements is a matter of a few clicks now – thanks to advanced CRM software.
CRMs improve closure rates by supporting lead scoring that enables sales teams to evaluate how likely a lead is about to turn into a customer and stop spending time nurturing prospects that have little chance of buying.
CRM email marketing automation helps you track the performance of your marketing campaigns and understand how efficiently your efforts are translating into deals by providing real-time analytics on email bounce rates, opening/click rates, etc.
How to Evaluate CRM Software?
We know CRM solutions are great to bolster productivity and ROI. But with hundreds of products of various functionalities available in the market, it may seem overwhelming to pick the right one.
Check out our guide on CRM evaluation to make the most befitting decision.
Identify Your Business Goals and Priorities
The CRM software evaluation process starts with defining your business goals, requirements, and pain points and determining how a CRM solution can help you optimize your business operations.
While identifying the priorities, bringing the stakeholders to the table, try to figure out:
What type of CRM can fit your business better. For instance, a CRM for a B2B company is different from that for a B2C company.
The efficacy of your current methods in evaluating your sales reps' performance and how a CRM platform can boost their productivity.
How efficiently your field representatives can collaborate and share data currently.
How implementing a CRM can help your business adapt to the rapid changes in the customer-retention management system.
CRM Expenses
Checking on how much you will end up paying for a CRM is a must, as often, the total operating expense, including integration, execution, and labor fees, outweigh the CRM licensing fee. Go for a CRM that has no hidden cost.
For example, besides a free edition, Veloxity comes with three versions costing you $7, $54, and $94 per month with no hidden charges. More impressively, it has a realm of free training resources and round-the-clock customer support service to help you troubleshoot any issue in no time.
Search for the Must-have Features
Every business is unique, as its requirements for CRM functionalities. However, the key features a quality CRM must come with to help your business run optimally include:
Visual Sales Pipeline: To help you get more visibility into your sales process, see where the big deals are in the pipeline, and understand how much revenue you have generated in each sales stage right from your CRM dashboard.
Robust Product Management: Helps you define products and products bundles effortlessly.
Quote Generation: While most basic CRMs lack quate generation capabilities, Veloxity comes with a powerful quote management system to empower your team to generate and send high-quality quotes to prospects faster than ever.
Analytics and Charts: The CRM you decide on investing in must exempt your teams from navigating between endless spreadsheets by featuring configurable reporting, charts analytics, and intuitive dashboards that visually showcase your key business matrices.
Mobility: One of the must-have features of a quality CRM like Veloxity is that it supports a native mobile application so your employees can get data right from their pockets, which will result in increased ROI.
Security
You cannot sideline the necessity of robust security measures when an unlimited amount of data continuously stream through your CRM tool.
So before deciding on a service, make sure it has:
HIPAA compliance (for healthcare, pharmaceutical, and life science CRMs)
Two-factor verification to avoid fraud access
Complete audit trail
The encrypted data transmission facility
Back-up service for data stored in the dedicated servers, and more. 
Scalability
A CRM is a long-term investment that should scale with your business for efficient alignment among your business departments so your team can effortlessly manage an increased influx of client interactions.
Figure out:
If the CRM is flexible enough and supports geo-locations.
How frequently the system is upgraded, and new features are introduced.
Customization capabilities
Ease-of-use
No matter how millions of bells and whistles a CRM promises to have, if it is cumbersome and difficult to navigate, it is of no use. Ideally, you should invest in a CRM that is effortless to operate, comes with best-in-class features, and can be implemented promptly, coming with a smaller learning curve.
Third-party Integration
Before deciding on a CRM system, evaluate if it supports integration with third-party systems and social media to act as a core of all interactions via numerous touchpoints so your sales reps can streamline and optimize communication.
For instance, Veloxity supports Google calendar sync, integrated chat, and Gmail and Outbox integration to help you communicate with your teammates and track interaction with CRM contacts right from the timeline.