How to Evaluate CRM Software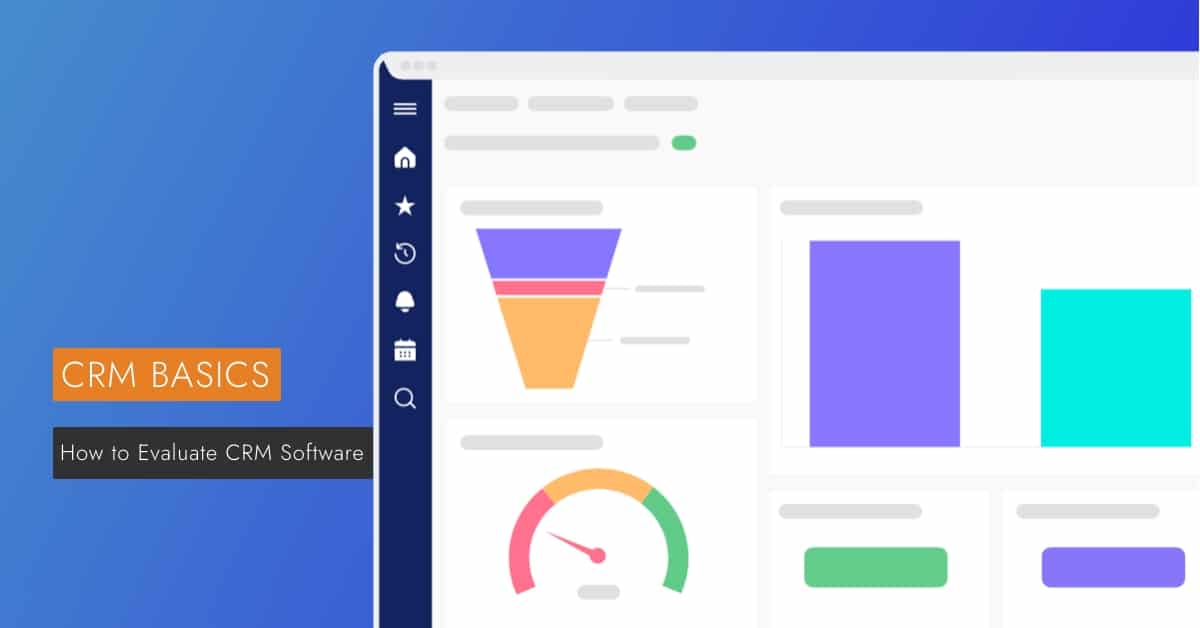 Customer relationship management software is an important tool used by businesses of all sizes to enhance their customer service, sales, and retention. It improves customer service by showing you what your customers are doing, what they need, and where they are in the sales cycle.
Are you searching for the best CRM software platform for your business? You need to know how to evaluate the available CRM software systems before deciding which one meets your needs.
In this post, we'll provide you with a list of questions to ask and help you understand the most important things to look out for when comparing CRM solutions.
Basic CRM Requirements
Visual sales pipeline and forecasting
Contact management
Analytics and charting
Email integration
Third-party app integration
Automatic interaction tracking
Mobile CRM
Free trial
Helpful-to-Have CRM Tools & Features
Rules automation (such as Veloxity's rules automation engine or Salesforce automation)
Product management
Free version
Questions to Ask About Each CRM You're Reviewing
Is the CRM Affordable?
When it comes to using a CRM, there's plenty to evaluate. The first thing you should always consider (especially if you're a small business owner) is whether or not a CRM is affordable. At the same time, you need to determine which CRM tools you absolutely need and which ones you don't need right now. Next, find the software edition that meets your business' basic requirements.
Now, multiply that by the number of people in your organization who will be using this system (this is probably everyone). If you're researching new CRM software for the first time, it's easy to miss the faint text beside the bright, inexpensive prices under every edition. Most cloud-based CRMs on the market today are priced per user per month when you pay up front on an annual basis. The cost increases slightly if you decide to pay per month instead.
Doing the numbers on this can immediately put some things into perspective and help weed out the solutions that are just too expensive for what they offer.
Is the CRM Easy to Use?
There are two ways to find out: reading customer reviews and enrolling in a free trial. Because you'll soon find out that every CRM claims to be easy to use, so we recommend doing a little digging to find out the real answer.
Luckily, some CRMs are easy to use. If ease of use is high on your priority list, check out Veloxity CRM, Keap, and Monday.com. Giant cloud platforms, like Salesforce for example, aren't as user-friendly.
Keep in mind that a CRM's interface may be easy to use, but the more apps and integrations you add, the more complicated it can get.
Is the CRM Customizable?
Let's say you know your way around a software program and you have enough experience with SaaS platforms to comfortably start using a CRM almost right away. But what you're really after is complete customization.
Whether you need to add more solutions for an end-to-end business management product or you want to integrate your various business apps like Slack, Google Workspace, Outlook, and Quickbooks, you need to find a CRM that's as flexible as you need it to be.
Customization can go beyond third-party integration or dashboard layout. If you want to define sales stages that better reflect your company's own sales cycle, or track data beyond the basics, there are quite a few CRM vendors who offer this level of customization.
For example, Veloxity CRM makes it easy for users to customize their sales stages and requirements, as well as analytics and charting.
Is the CRM Software Backed by Helpful Customer Service?
It sure does come in handy to have a responsive and helpful customer service team. From account setup to billing to technical support, asking vendors of CRM software about their customer service is a good idea.
Not all CRMs offer telephone support. You may be able to reach a help desk person by email, chat, or social media. If you're looking for 24/7 support, you'll probably find that this level of service is only available on higher tiers.
For example, 24/7 customer service is available to Zoho customers on the Enterprise plan only. On the other hand, CRMs like Apptivo offer all-day support to every customer.
If you don't mind waiting a few hours (or a few days) for a helpful CRM rep to get back to you, you have plenty more options available. You may also find the answers you're looking for in community forums, such as Veloxity's Support Centre.
Start Your Free Trial
Once you've weighed your options, read the reviews, found a comfortable price point, and determined which product meets your CRM requirements, we highly recommend getting some hands-on experience with the platform of your choice.
You want to be 100% sure you've chosen the right CRM software for your business, so before you commit, we recommend taking advantage of a free trial. Most CRM system providers offer a try-before-you-buy period from 14 to 30 days.
At Veloxity, we're committed to providing our customers with a powerful CRM system that's both intuitive and highly customizable. Try Veloxity CRM for FREE today!