What Is "CRM Software Tool"?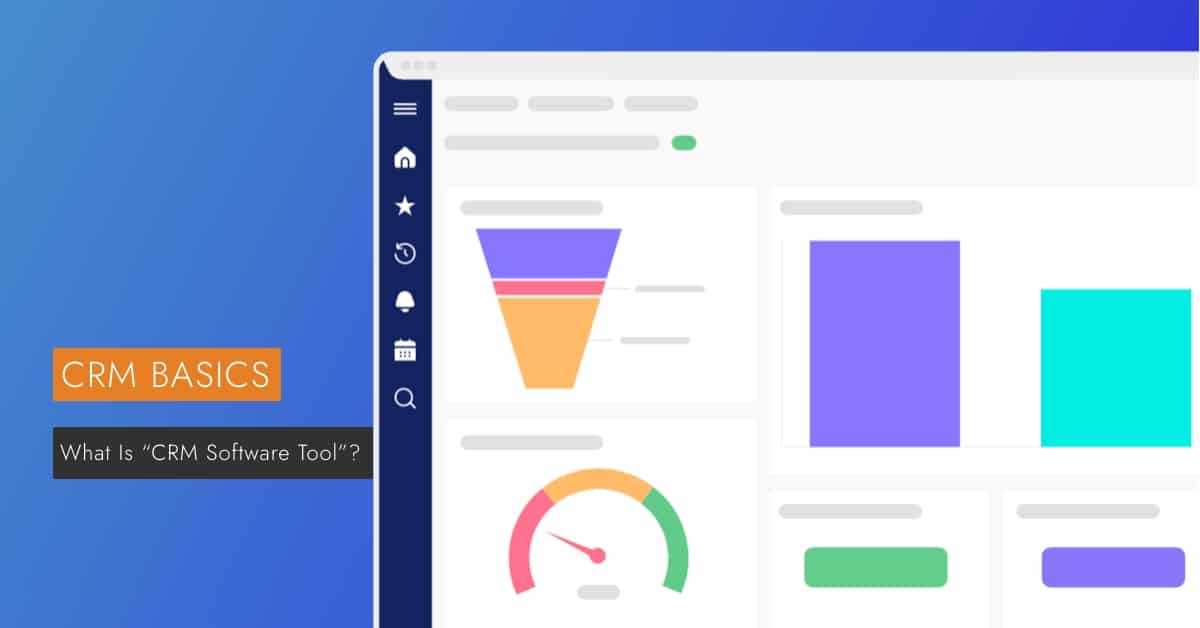 If you've not heard of a CRM, it is an acronym used to describe Customer Relationship Management. The software's various tools help sales, marketing, and service professionals manage their customer-related data.
The main goal of CRM is to maintain positive relationships with customers throughout the sales cycle to increase sales and encourage customer loyalty.
In this post, we will explain what CRM software is and discuss the importance of the most popular CRM tools and top features. Keep reading to learn more about CRM software:
The Benefits Of CRM Software
More Sales
When you can visualize your sales pipeline and see where your customers are in the sales cycle, your team can focus on closing deals and ensuring no lead or opportunity gets left behind. Users benefit from the visual pipeline by having all the important customer data in one central location.
Rules automation also keeps things moving and ensures that daily and repetitive tasks are taken care of without your sales teams needing to spend hours every day on data entry. The more time they have to chase and nurture leads, the more sales they can make.
Better Reporting & Analytics
Collecting customer data is only half the job done. You want a CRM that actually puts all this data into context. CRM software tracks leads and customers at every touch point and provides valuable insights to better serve your customers and operate your business. 
Better Lead Management
Imagine a software that can capture, score, prioritize, and assign leads automatically. Lead management is a powerful CRM software tool that allows companies to better manage their lead database while automating lead assignment.
Intelligent Marketing
You want your marketing dollars to work smarter, not harder. A CRM collects key analytics and automatically segments your customers based on various demographics, which can help you build laser-targeted email campaigns.
Accurate Forecasting
The more data your CRM receives, the more accurately it can forecast future sales for the coming year.
Better Customer Service
Give your sales team and customer support staff the tools to help customers on first contact. A CRM keeps all the vital customer data in one single location, including contact details, communication history, purchase history, and so on. Your staff will have everything they need to help your customers in a timely manner.
Essential CRM Software Tools
Visual pipeline
Lead management
Rules automation
Contact management
Third-party integrations
Marketing automation
Email marketing
Forecasting
Analytics and reporting
Who Uses CRM Software?
CRM software is suitable for all businesses, however, it's especially useful for B2B, professional services, and manufacturers. Veloxity CRM has been adopted by small businesses, emerging technology companies, and research labs. There are CRM solutions for startups, freelancers, and large corporations alike.
If you're a B2C or B2B company, you'll benefit immensely from CRM tools that help you not only manage your customer relationships, but also your product inventory.
How Much Does a CRM Cost?
The answer depends on the software you choose. If you don't need many CRM features besides pipeline management, reporting, and contact management, you may be satisfied with a free CRM tool, such as Veloxity or Bigin by Zoho CRM.
If you want more functionality, you can expect to spend anywhere between $7 and $3,200 per month. As you can see, the prices differ immensely, so to better understand what you need versus what you can afford, you'll have to compare the various CRM products on the market.
How Easy Is it to Use CRM Software?
Many CRM software companies claim to be very easy to install and learn. If you're comfortable using other software-as-a-service (SaaS) products, you may find that a CRM's dashboard is easy to navigate and that the add-ons and various third-party integrations are intuitive from the get-go.
If you're concerned about a lengthy training period, consider the various factors that make a CRM more (or less) difficult to learn, use, and adopt:
The number of employees
Your current customer relationship management system
How much integration you need
How many solutions you want (is it just the CRM? Or do you want marketing and customer service tools as well?)
How much you're willing to pay for in-person training
The customer support available
In general, the more complex the CRM platform, the more challenging it'll be to use. Adoption can be an issue for some employees. CRMs provide great value to decision makers, team leads, and employees alive, but especially to those in higher positions who want to leverage key CRM data to make better business decisions.
For increased employee adoption and user engagement, we recommend focusing on training your staff and integrating the tools they use every day.
Try a CRM for Free
Want to get hands-on experience with CRM software tools but don't want to commit to paying an annual subscription just yet? Get started with a free trial. Try Veloxity CRM today!