The Best Zoho CRM Alternatives for Small Businesses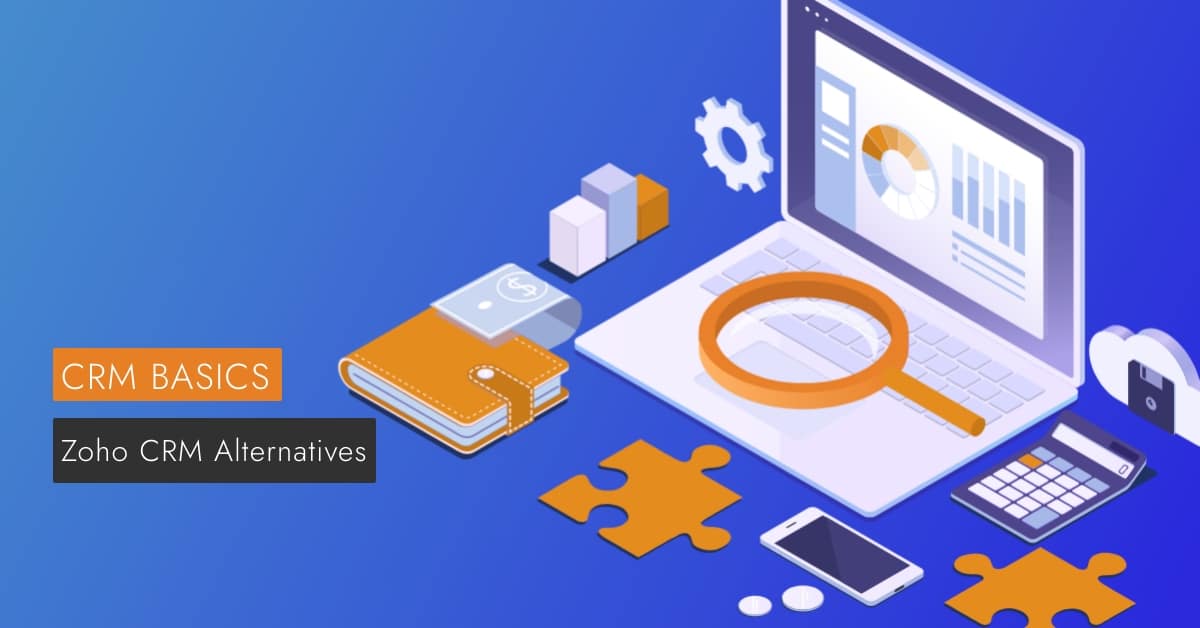 Today's small businesses run on real-time data. The more data you can generate and store, the more you can optimize your processes and take advantage of the latest technologies to improve your customer service and reduce costs.
Zoho CRM is one of the most effective and robust software products for managing customer relationships, growing your business, and reducing the time spent on administrative tasks.
But it's not the only CRM in town, and many businesses are finding great success with other CRM software products.
If you're looking for Zoho CRM alternatives for your small business, look no further. We've compiled a list of the best CRM software alternatives that you can start using today.
Why Is Zoho CRM so Popular?
Zoho CRM is a feature-rich solution for small, medium, and large businesses. Its flexible free trial and standard edition make it attractive to small businesses with a low number of users.
Zoho's customizable features and long list of third-party integrations make it one of the biggest competitors of Salesforce, a CRM that's widely accepted as the industry-leading business CRM software.
Zoho's 45 software products can be added to the CRM platform to make it even more productive. Users can bulk out their platform with business mail, omnichannel customer service, project tracking, and serverless app creation and deployment. Zoho also promotes a total business solution called Zoho One, which offers bundles of its 45 other apps.
Zoho Pricing
After the initial free trial, users can choose the standard edition, which starts at $19/user/month. There is also a free edition, which isn't overtly advertised. The free version is good for up to three users and comes with basic features.
Bigin by Zoho
Small business owners might want to check out Bigin by Zoho, its free or lost-cost platform for small organizations. The 0$/user/month edition is only good for one user, however, it offers a low-cost tier at just 9$/month. Small businesses can save money with Bigin and pay for the add-ons they need, like additional storage and records.
Bigin is by no means as powerful as Zoho's full platform, but it might just be what your small business needs to get started.
Zoho CRM Pros
Flexible free trial
Plenty of third-party integrations
Interface is relatively easy to learn
High-powered email marketing tools
Zoho CRM Cons
Support is limited for customers on lower tiers
Add-ons can get expensive
Storage capacity is limited
Why Do Small Businesses Need a CRM?
All businesses, no matter what their size, can benefit from using customer relationship management software. Not only does it improve your communication with your leads and customers, CRM software also improves operational efficiency and sales pipelines.
If your business goals include expanding your customer base, a CRM is a useful tool for the future.
What to Look for in a CRM for Small Businesses
If you run or own a small business, your CRM needs won't be the same as that of a large enterprise. We recommend finding a CRM product that understands your current needs and has a flexible platform that can adapt and expand as your company grows.
Want more advice? We've already covered this topic in our post, How to Choose a CRM for Your Small Business.
Looking for a CRM that isn't Zoho? Check out these alternatives:
Veloxity CRM
We may be biased, but we aren't wrong when we say that Veloxity CRM is a great Zoho CRM alternative. Our cloud-based platform has two very affordable editions, plus users can try any edition for free.
While Veloxity CRM comes with a long list of features and third-party integrations, these applications are flexible and easy to use and expand, so that the platform is always growing with you. While some people might find Zoho's apps and integrations overwhelming, Veloxity's platform is focused on giving you only what you need when you need it.
Your small business will never outgrow Veloxity's intelligent, AI-powered platform. Veloxity CRM is suitable for various business types, such as emerging tech, clinical diagnostic labs, B2B, and B2C.
Key Features:
Visual sales pipeline at different levels
Separate sales quotas for every account manager
Self-defined sales stages and requirements
Native CRM app with offline functionality
Multi-level sales division management
Fully customizable reports, charting, and records
Automated lead-assignment rules
Industry-leading out-of-the-box features
Cost:
$0/user/month (Free edition) to $94/user/month (Enterprise edition)
Benefits of Veloxity CRM
Intuitive platform designed by machine-learning and sales veterans
AI learns and adjusts sales stage probability-to-close over time
Unlimited webhooks
Future-proofed platform that never outgrows your business
Third-party integrations
Why Choose Veloxity CRM Instead of Zoho CRM
Zoho CRM is a solid platform for small and large businesses alike, however, many of its features—such as workflow automation—are only available on the more expensive platforms. Veloxity's Basic Edition comes with a long list of robust features, including rules automation and forecast automation.
Microsoft Dynamics 365
Microsoft Dynamics 365 is a popular Zoho CRM alternative for any team that's already using (and comfortable/satisfied with) other Microsoft products. The number of apps, features, and add-ons makes some of the other CRMs on this list seem like small potatoes. You can customize the platform to be a whole lot more than just a CRM by adding other platforms to manage your supply chain, customer service, marketing, etc.
Perhaps the most enticing feature for small businesses is that integrating other Microsoft products like Outlook and Office is a breeze.
Key Features:
Various business platforms for finance, recruitment, marketing, etc.
Mix-and-match add-ons
LinkedIn integration
Product and sales visualizations
Cost
Business Central Essentials for small and medium businesses start at $70/user/month
Microsoft Dynamics 365 Pros
Seamless integration with other Microsoft products
Strong customer support
Plenty of features
Enhanced data collection
Microsoft Dynamics 365 Cons
Gets expensive really quickly
No free plan
Not as intuitive for those who don't use Microsoft products
Why Choose Microsoft Dynamics 365 Instead of Zoho CRM
Microsoft Dynamics 365 isn't short on features, and for those already using Outlook and Office, choosing this CRM over Zoho might make more sense. If you want all the bells and whistles and your budget can afford it, Dynamics is probably the right solution for you.
Freshsales (Freshworks CRM)
Freshsales (formerly known as Freshworks CRM) is perhaps more powerful than Zoho CRM and its platform is often compared to Salesforce. It gives users a 360° view of each customer—from communications and contact details to activity history and deals—and a thorough list of customer communication channels.
Freshsales's list of features is huge, but despite this, it's relatively easy to set up and start using. All plans come with built-in cloud telephony to better monitor and manage sales calls.
Key Features of Freshsales:
Auto-generated customer quotes
AI-powered assistant
Mobile app
Robust contact management
Email integration
AI-driven sales insights
Pricing:
$0 /user/month to $69/user/month
Freshsales Pros
Easy to use
All plans include built-in cloud telephony
Customizable workflows
Free trial and free version
Powerful AI
Many third-party integrations
Freshsales Cons
Costly upgrades
No AI insights with free plan
Very limited AI insights on basic plan
Why Choose Freshsales Instead of Zoho CRM
Both Freshsales and Zoho offer a long list of customizable features, apps, and integrations suitable for small businesses. The balance is probably tipped in Freshsales's favour, simply because it offers more in terms of customer engagement and communication. Small businesses who want call management features should stick with Freshsales. Alternatively, if you're looking for an inexpensive CRM to help with your email campaigns, Zoho may be the better option (unless you're willing to pay for the more expensive Freshsales versions).
HubSpot CRM
HubSpot CRM is a great CRM for large companies, but that doesn't mean that small businesses can't benefit from its huge platform. That's because HubSpot's free edition might be all your staff needs to run your small business.
Similar to Microsoft Dynamics 365 and Zoho CRM, HubSpot offers multiple platforms under one dashboard. These "hubs" supercharge your CRM by adding marketing, sales, operations, and customer service management. But, just like Dynamics, adding more to your platform adds significantly more to your monthly bill.
Key Features:
Social media tools
Email marketing software
Sales and lead management tools
Live chat builder
Meeting scheduler app
Pricing:
$0 to $4,000/month
HubSpot CRM Pros
Free version has plenty of usable features for small business
Easy email integration
Platform is easy to learn and use
HubSpot CRM Cons
Not as many features as other CRMs on this list
Training only available online
Adding features gets expensive
Why Choose HubSpot Instead of Zoho CRM
HubSpot and Zoho CRM are very similar in that they both offer plenty of add-ons to boost your CRM. While HubSpot's paid editions are more expensive than Zoho, its free version is often enough for small business needs.
Pipedrive
If your team is focused on sales, Pipedrive is a great Zoho CRM alternative. Its intuitive pipeline visualization and sales assistant AI tools are really useful, and it offers a lot of value for the price. Pipedrive's platform is generally considered simple to learn and use.
Small business owners who want to add more functionality to their CRM might want to consider adding the LeadBooster feature (at $33 extra per month), which unlocks customer service tools, like live chat, custom chat boxes, and features that make it easy to engage with inbound and outbound leads.
Key Features:
Custom chatbox and webforms
Workflow automation
Visual pipelines
Contact timeline
Activity scheduler
Over 100 third-party integrations
Pricing:
$12.50 to $99/user/month
Pipedrive Pros
27/7 customer service
Easy third-party integrations
Simple setup
Email synchronization is a breeze
Helpful app
Pipedrive Cons
Not as much functionality as other CRMs
Good email synchronization features are only available on higher tiers
No free version
Why Choose Pipedrive Instead of Zoho CRM
One of Pipedrive's best features is its 24/7 customer support. This can come in handy for small business owners who are probably used to working at odd hours of the day. Strictly speaking, Pipedrive is probably a better fit for startups or small businesses because of the simplicity of its dashboard.
Monday
Monday.com is a modern, attractive project management software with a robust CRM platform and various other business solutions to manage marketing, social media, content, and more. It allows for easy collaboration on projects and helps employees organize their workflows and responsibilities.
Key Features:
Ready-to-go templates
Campaign management
Collaboration tools
Pipeline and lead management
HR features
Pricing:
0$ to $22/user/month (price for enterprise edition not listed)
Monday Pros
Free edition for up to two users
Helpful templates are easy to add to the dashboard
Easy to integrate third-party apps
Refreshing colour-coded platform
Monday Cons
Not as many third-party integrations as other CRMs on this list
Some basic features only available on most expensive versions
Limited project management features
Is Monday a Good Zoho CRM Alternative?
There's a lot to be said about Monday's attractive platform. We can see this being particularly enticing to creative startups or young companies. That being said, it offers plenty of functionality and helpful features that make it a solid competitor against Zoho.
Try Veloxity CRM as Flexible and Future-Proofed Zoho CRM Alternative
There are many more worthy CRM products out there, like Zendesk, Apptivo, Bitrix24, and ActiveCampaign. We highly recommend shopping around and exploring the key features of each CRM before making your final decision.
If you run a small business, take a close look at each platform's basic edition to find out which product gives you the most value.
Our verdict? Try Veloxity CRM. Its affordable pricing and scalable platform are designed to grow with your business. We've searched high and low and we haven't seen another CRM with as much flexibility as Veloxity's expandable features. No matter what industry you're in, you can adapt Veloxity's platform to meet your needs.
Try Veloxity today! Check out our free edition or read our FAQ page.