Salesforce Alternatives for Small Businesses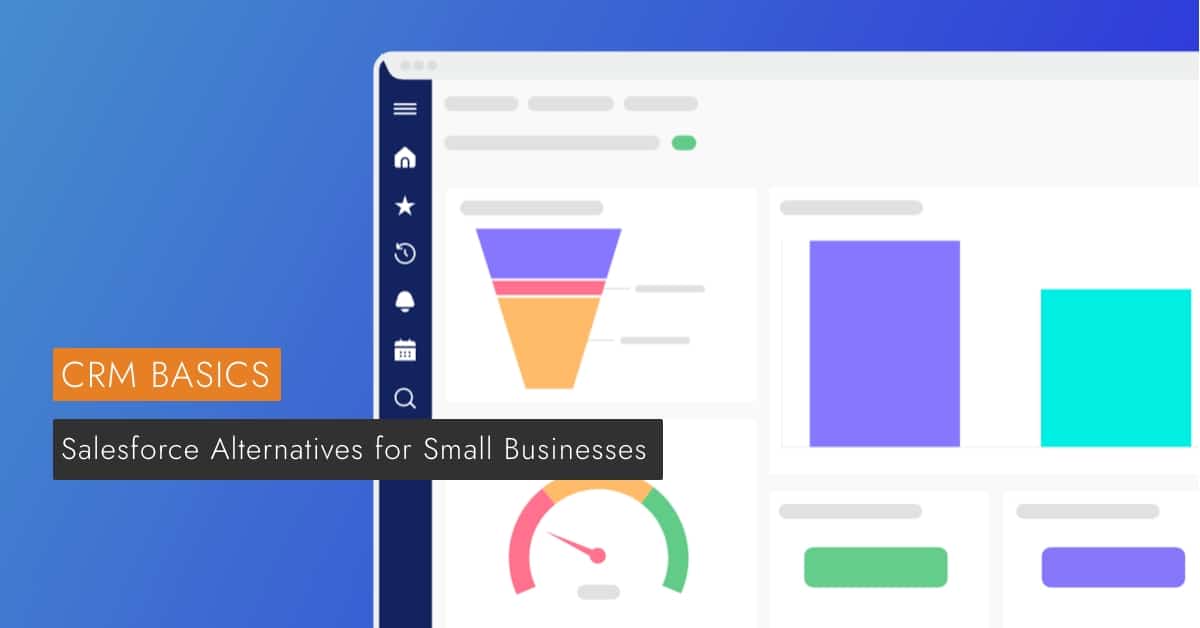 Salesforce is a well-established customer relationship management platform that caters to small and medium-size businesses, as well as large-scale enterprises.
However, there are a number of companies that offer similar solutions to Salesforce, and you might be wondering which one is right for your small business.
In this post, we'll be discussing the top Salesforce alternatives that are suitable for small organizations. And while we may be a little biased about which CRM we think is best, we know that there are many great Salesforce alternatives out there.
We'll also provide product details for each Salesforce alternative so you can choose the right one for your business.
Why is Salesforce so Popular?
We'd be lying if we didn't humbly admit that Salesforce is one of the most popular and reputable CRM products on the market. As one of the first cloud-based CRM platforms to offer per-user pricing, Salesforce has gained its reputation as a feature-packed platform that's secure, scalable, and customizable.
If you're a small business owner, you may have already watched Salesforce's Small Business CRM demo. This version delivers the basics, like marketing tools, sales automations, customer service personalization, and productivity features—the basic toolkit for new and small setups.
But if you've already seen what the small business app has to offer and you're reading this right now, you may still be on the fence about Salesforce's popular CRM product.
So, Why Look for Salesforce Alternatives?
With so much functionality, customization, and third-party integration—not to mention Salesforce's stellar reputation—Salesforce sounds like the gold standard of CRMs. But it's not the case for every business owner.
Just like every software on the planet, Salesforce isn't for everyone. Here are some common issues users struggle with:
Customization
Salesforce has loads of customization options. Its site even boasts about the platform's endless possibilities. Indeed, it is one powerful product. Problems start to arise, however, when users try to see how far it can go.
That's not necessarily Salesforce's fault, per se, but anyone who's tried to use Salesforce will understand how easy it is to get bogged down by everything that's available. While the website prides itself on its ease of use, many users find it quite difficult to customize.
Costs
Small business owners may be lured by the big-picture promises of Salesforce's stellar marketing campaigns, but may soon feel demotivated when they check out the price.
We mentioned earlier that in its formative years, Salesforce introduced the cost-per-user alternative pricing structure. But when the basic edition starts at $25 a month per user, business owners may think twice about keeping Salesforce around when they start to grow their workforce.
Lengthy training
Whether you've never worked with a CRM before or you've recently migrated, it can take quite a long time for each user to get a hang of the product.
With such a monolithic platform, it's somewhat understandable that it can take a few weeks before users feel ready to take the training wheels off. But it's lack of convenience and user-friendliness aren't doing anyone any favours.
Do Small Businesses Even Need a CRM?
The adoption of CRM software is highly recommended for small businesses.
Maintaining a positive rapport with your customers is important regardless of your business size, and your clients expect a high standard of service. If your goals include business expansion, you'll need a CRM software that can help you stay on top of your sales pipeline and effectively maintain your new and existing customer relationships.
What to Look for in a Great Salesforce CRM Alternative
A good CRM for your small business understands that your needs of today won't be the same as tomorrow. As we discussed in our post, How to Choose a CRM for Your Small Business, the right small-business CRM has features that can grow and adapt with you.
There's no shortage of CRM products, but not all of them are created equal. Finding one that's affordable and easy to adopt without needing weeks of training will save you time and money.
So, without further ado, let's take a look at some of the best Salesforce CRM competitors for your small business:
Veloxity CRM
Veloxity CRM is an excellent Salesforce alternative, if we do say so ourselves. As with the other contenders on this list, Veloxity has plenty to offer smaller operations and has affordable pricing (including a basic edition AND a free trial to get started).
What sets Veloxity apart from Salesforce and other CRMs on this list is the expandability of its features. A small business will never outgrow Veloxity's platform, as features can be expanded and customized to meet a company's ever-changing needs.
Veloxity's features pack a powerful punch for various business types, such as small businesses, emerging tech companies, and clinical labs.
Key Features:
Robust product management
Fully customizable reports, charting, and records
Automated lead-assignment rules
Visual sales pipeline
Self-defined sales stages

Forecast automation

Email and calendar synchronization
Third-party app integration
Marketing automation (add-on)
Easy business Rules creation to automate tasks like email etc.
Email templates for rapid and efficient correspondence
Automated appointment scheduling with Schedule with me links in emails
Powerful search tools to get to the data you need
Multichannel engagement with pre-built email, calendar, web conferencing and SMS integrations
Cost:
$0–$94/user/month
Benefits
Veloxity AI learns and adjusts sales stage probability-to-close over time
Easy sales reporting
Unlimited webhooks
Interactive pipeline view in the direct reporting or territory structure
Future-proofed platform
Responsive customer support with Ask the Community resource centre
Why Veloxity CRM is a Good Salesforce Alternative
Salesforce is a behemoth of a platform that can easily overwhelm your team, making it difficult and even unpleasant to learn and adopt. While Veloxity offers the same level of functionality, its extendable features are designed to meet businesses wherever they're at so they're never bogged down by functions they don't need at the moment.
Veloxity's pricing takes small business budgets into account. The free edition is excellent for start-ups and the lowest paid version, the Basic Edition, starts just at $7/month, which is considerably cheaper than many of its rivals.
Zoho CRM & Bigin by Zoho
Zoho's relatively new CRM for small businesses is a pipeline-centric platform that's priced for a low volume of users. Bigin doesn't come with as many features as Zoho CRM, however, as a small business, you may not feel like you're missing out on all that Zoho has to offer. Plus, Bigin has a healthy offering of Zoho app integrations, like Zoho Books, Zoho Desk, Zoho Analytics, and more.
Key Features of Bigin:
Custom dashboard
Third-party integrations (Google Workspace, Microsoft 365, Mailchimp, and Twitter)
Apps for iOS and Android
Pipeline customization
Key Features of Zoho CRM Standard Edition:
Sales force automation with multiple pipelines and currencies
Product customization
Social media integration
Automated workflow rules
Standard reporting with up to 100 custom reports (unlimited on higher tiers)
Marketing automation with 100 email email templates (unlimited on higher tiers)
Add-on integrations (Zoom, GoToMeeting, Slack, Amazon Connect, PayPal, Google Analytics, etc.)
Flexible free trial
Pricing:
Bigin: $0 for a single user or $9/user/month (billed annually)
Zoho CRM: $0 (for up to three users) to $52/user/month (billed annually)
Benefits
Google integration
Easy to use after initial set up
Robust reporting
Lots of third-party integration and powerful features
Why Zoho CRM Is A Good Salesforce Alternative
If you're looking for a Salesforce alternative, Zoho CRM is probably the closest you'll get to the real thing. As one of Salesforce's main rivals, you can expect the same functionality and features. Some users claim that although Zoho CRM is easy to use, setting up the platform to your specifications can be a real hurdle, and customer service isn't always as speedy as you'd like.
HubSpot CRM
HubSpot CRM is a great CRM alternative to Salesforce, especially for large enterprises. What's interesting is that its free-forever edition is actually usable and available to an unlimited number of users.
The free edition comes with plenty of features to get your small business going, such as pipeline management, reporting dashboard, deal tracking, and company insights. If you want more from your CRM, such as essential marketing features and functionality, you can get started on their low-tier edition.
It's worth noting that users can choose to bundle HubSpot's add-on platforms that they (not surprisingly) call "hubs". The hubs cover marketing, sales, operations, CMS, and customer service features.
Key Features:
Live chat software
Sales email automation
Buyer-persona generator
Marketing analytics tools
Sales automation
Pricing:
$0 to $4,000/month
Benefits
Intuitive interface makes setting up and navigating fairly easy from the get-go
Free version may just be all you need for your small business
Integrating your email from Outlook and Gmail is simple
Why HubSpot CRM is a Good Salesforce Alternative
HubSpot is a great Salesforce alternative for small businesses, especially if you and your team aren't tech-savvy enough to learn a new CRM without heavy-duty training. HubSpot's separate platform hubs make this product more than just a CRM, which is great if you want to add marketing features all under one roof.
While the free version of HubSpot gives small businesses a great start, it might not offer everything you need to make adoption worth it. Paid editions start at $45 a month, which is a bit expensive for a standard tier.
Pipedrive
Pipedrive is a sales-centric CRM with easy-to-use pipeline visualization tools and automatic customer communication tracking across all devices. Small business owners who don't have an endless supply of time and resources may find that Pipedrive's intuitive interface is easy to learn and adopt.
One of its most attractive features is the LeadBooster add-on, which comes with a custom chatbox, live chat, and tools to engage with inbound and outbound leads. This, however, adds $33 to your monthly bill.
Key Features:
Custom chatbox and webforms
Task automation
Over 100 third-party integrations
Visual sales pipeline with drag-and-drop functionality
Revenue forecast reports
Pricing:
$12.50 to $99/user/month
Benefits
27/7 customer service
Easy to integrate third-party links and synchronise customer communications
Easy to set up
Simple to adopt
Why Pipedrive CRM is a Good Salesforce Alternative
If you have any experience with Salesforce, one of the first things you might notice with Pipedrive is how much support you get no matter what your plan is. Salesforce only offers round-the-clock support for its high-paying customers, while Pipedrive customer service is available to everyone via chat and email.
Pipedrive's dashboard is much easier to understand and navigate than Salesforce and has more third-party integrations.
Pipeline offers a free 14-day trial for each edition, however, unlike many of its competitors, it doesn't have a free version, which may be a turn off for some business owners.
Monday
Monday.com is an attractive solution for remote teams who need a platform to organize their workflows, schedule projects, and collaborate. While we just described a project management software, its CRM platform is but one of many available solutions.
Key Features:
Ready-made templates for instant adoption
Research and development: product design, bug tracking
Campaign management
Pipeline and lead management
HR features, like recruiting, onboarding, and employee performance
Pricing:
0$ to $22/user/month (price for enterprise edition not listed)
Benefits
Free edition for up to two users
Long list of ready-made templates gives users a head start—the CRM template is just one of them.
Users can expand their CRM's capabilities with Monday apps
Is Monday a Good Salesforce Alternative?
As a solution for a small business, Monday's CRM platform is a great alternative to Salesforce. And if you consider yourself a young startup, you might appreciate the colourful templates and modern feel of the platform.
Some customers find that Monday's pricing scheme is a bit confusing. While set up is fairly easy for users with little-to-no CRM experience, they probably won't get the hang of it before their free trial is up.
Microsoft Dynamics 365
There's a lot to be said about not starting from scratch, which is probably what makes Microsoft Dynamics 365 so popular to businesses and users who are already familiar with Microsoft products. Much like Salesforce, MS Dynamics is a whale of a software, and allows users to integrate various platforms for marketing, customer service, supply chain, and more.
What's interesting is the cost…it's not as simple as heading over to their pricing page and clicking on the edition that meets your needs. Like Salesforce and HubSpot, Dynamics has a robust list of platforms that you can mix and match, none of which are that cheap.
Key Features:
Various business platforms
Lead generation
Social media integration
LinkedIn integration
Customer service dashboard
Cost
Business Central Essentials starts at $89.60/user/month
Microsoft Relationship Sales starts at $179.13/user/month
Dynamics 365 Marketing starts at $1,920/user/month
Benefits
Seamless integration with other Microsoft products
Can be used in cloud or hybrid environment
Enhanced data collection for increased productivity
Why Microsoft Dynamics 365 is a Good Salesforce Alternative
If your business already uses Outlook and Office, you'll find Microsoft Dynamics 365 is probably much easier to wrap your head around than learning a brand-new software from scratch.
While a Microsoft CRM might make sense for companies already using MS products, small businesses may find themselves overwhelmed with the variety and sheer volume of features and integrations available—in fact, Dynamics goes well beyond the call of duty when it comes to its platforms. If you don't need the many bells and whistles Dynamics has to offer, the costly price of admission might not be worth it.
Our Verdict: Try Veloxity CRM for Your Small Business
In this post, we reviewed some of the most popular Salesforce CRM alternatives for small business use. We know there are many more products available on the market out there, so while this list certainly isn't exhaustive, it should give you a clear idea of what to expect when you start shopping around for a CRM product.
As we've seen, Veloxity is scalable, affordable, and loaded with features that are designed to help your small business grow. We've not seen other platforms that are as customizable as Veloxity, and we pride ourselves on the simplicity of its use. Its customizable features make Veloxity CRM highly adaptable for different industries, particularly emerging tech, clinical labs, and of course, small business.
For more information about Veloxity CRM, try our free edition or read our FAQ page.