Benefits of CRM Software for Small Business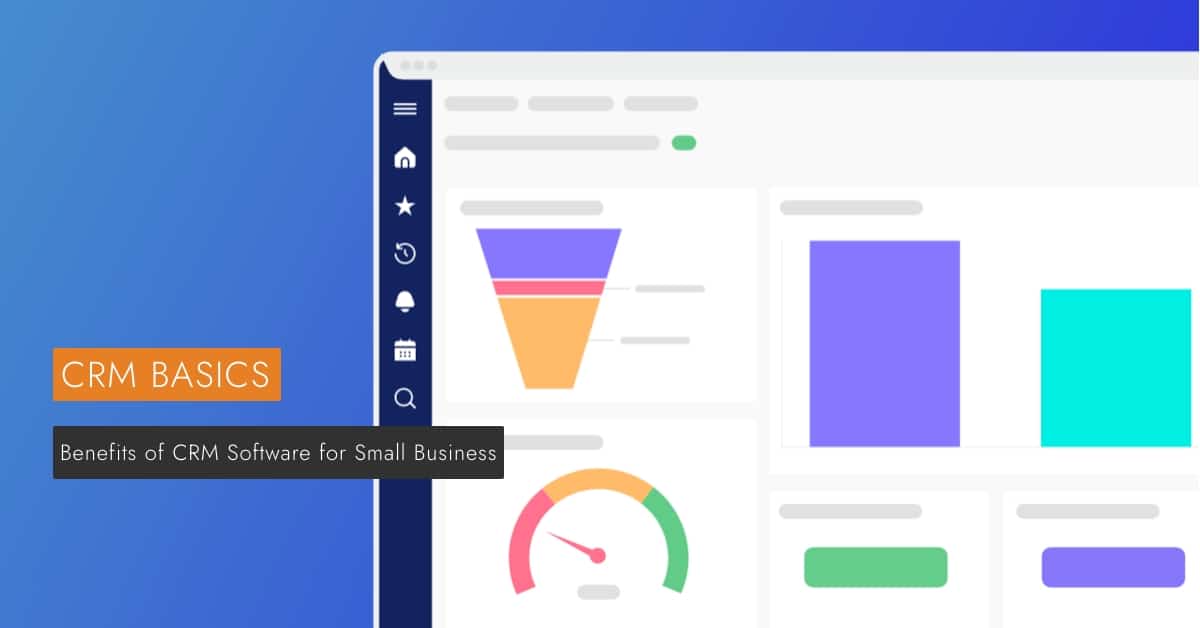 As a business owner, you've probably heard of CRM software, but what are the benefits of CRM software for small businesses?
CRM software is a powerful tool for small businesses to manage their operations. The benefits of a CRM system include the ability to keep track of clients and prospects, manage sales and marketing efforts, and communicate with all of your employees.
In this post, we'll discuss how CRM software can benefit your small business and how it can help you automate your customer relationship management.
Benefits of CRM Software for Small Business
Customers are the epicenter of any business, regardless of the size, and types of service provided. And when you are a small business owner, you need to be more careful of generating leads, turning them into deals, and identifying opportunities to streamline so your business can grow and drive revenue faster. Exactly where a CRM for small businesses comes into play.
But how?
Let's dig deep into how a CRM can benefit your small business:
Stay Organized with a CRM
No more digging through endless spreadsheets and documents or taking sticky notes when you have a small business CRM implemented. Not only does it help you consolidate your company's interactions with customers into a centralized repository, but it also enables you to categorize client data using segmentation filters and tagging.
From revenue number, and marketing campaign matrices to notes about field visits, a CRM ensures every data that flows into your small business is on a single page. So your sales, marketing, or service team can get essential data at their fingertips just when they need it.
And the more organized your business data is, the more efficient your team will be in delivering proactive customer service, having a 360-degree view of customers.
Effortless Team Collaboration
Ensuring effortless team collaboration should be on top of your to-do list as a small business.
Thankfully a CRM can aid your staff in tracking sales opportunities and pipelines centrally by allowing all departments to access data about customer interactions input by any team.
More impressively, multiple users can work on the same data and collaborate in real-time to track customer touchpoints smartly.
A quality CRM ensures no one is out of the loop, rather on the same pane – all that a small business needs to make informed decisions to boost productivity and retain customers.
Save Time and Work Smartly With Automation
A quality CRM solution can automate most of your daily repetitive tasks that kill a lot of time but yield little productivity.
Thanks to CRMs that support workflow automation that is applicable on any phase of your business – sales, service, or marketing. All you have to do is program the rules into the CRM system, and the rule engine will auto-trigger actions at the right time, freeing your team from a lot of hassles.
How can we forget the heart of a CRM – marketing and sales automation?
Streamlining your email marketing presence, creating personalized messages, scheduling mail-outs to reach hundreds of people simultaneously, and driving improved lead generation with far less time and effort have become easier now – thanks to CRM's advanced marketing automation.
With a CRM's sales automation, you can configure and design the sales process and automate most of the sales tasks like routing leads to the right reps, tracking sales appointments, and purchase follow-ups, scoring and following up leads, and more. So it becomes effortless for your sales reps to focus on what matters next and move a deal to the next stage in the pipeline.
Seamless Integration with Third-party Software
A quality CRM can easily integrate with the third-party system your business is built around, like HR solutions, accounting or electronic data entry software like EHR, etc. Thus you can have your client data and business-critical information consolidated by different systems fired off into your CRM for a more transparent and holistic view of your customers straight from your CRM dashboard.
Easily Visualize Your Sales Pipeline
As a small business owner, you must have a clear view of your sales leads and identify where they are in your sales funnel.
Thanks to small business CRM tools that enable salespeople to visualize the different stages of the sales pipeline. So they can have a better understanding of the sales process and sales figures, track the effectiveness of your current sales efforts and understand if they require tweaking, and devise more efficient sales strategies to bolster business productivity.
How to Choose a Small Business CRM
Never break your bank on a CRM platform that has a steep learning curve and makes your data integrity go out of the window. Invest in an easy-to-use system that is easily navigable, comes with ample training resources, and offers prompt expert service to help you troubleshoot issues at the earliest convenience.
Every business is unique in terms of growth dynamics, customer base, and processes. Before deciding on a system, compare its out-of-the-box features against the functionalities your business requires to run optimally.
Never spend on CRM with a set of basic, inflexible, and standard functionalities. Investing in a scalable CRM is the prerequisite of uninterrupted development.
If you have just launched your business, do not have in-house physical servers to host an on-prem CRM, or run on a tight budget yet need a CRM with bells and whistles, a cloud-based one can be the right pick for you.
How Can Veloxity Fit Your Small Business?
Are you a small business striving for a full-fledged CRM to build long-lasting customer relationships that would carry your business forward? Make your business thrive with the world's most trusted CRM – Veloxity.
Let's see what makes Veloxity the best choice for small businesses:
Veloxity makes it effortless to prioritize, manage and deliver a proactive response to customer emails on a real-time basis by offering seamless integration with Gmail and Outlook. Syncing your email inbox with your CRM contacts and viewing relevant interactions in the CRM timeline has become easier than ever before!
Veloxity is a feature-rich CRM that comes with an easy-to-navigate, streamlined and intuitive interface, so you can start selling immediately you implement the system.
With Veloxity's fully-functional native mobile app, your team can be productive and keep working on the go, even offline!
From home page configuration to designing sales stages, Veloxity comes with a handful of customization facilities to ensure your expanding business can never outgrow the CRM. Now, with no code and fewer clicks, you can make the system fit into your business process and sell faster.
With features such as complete audit trials, two-factor authentication, standard encryptions, and malicious IP restrictions, Veloxity conveniently secures your sensitive and business-critical data, only allowing access to authorized users.