Veloxity is the Best CRM For Small Businesses
Veloxity is the only CRM software for small businesses that is easier to use than entry level CRM's, has the attractive pricing of SMB CRM's, but with the power of the Enterprise CRM's.
For small to medium businesses, managing sales info relating to your contacts and customers isn't difficult. As your business expands and is successful and you get more customers and more employees, information about customers and contacts may be in spreadsheets, notepads, or even sticky notes.
With success, this disorganized situation becomes problematic and will result in lost sales, dissatisfied customers, and missed opportunities. That's where a CRM for small businesses helps you organize your information on customers, prospects, and their interactions with your company. A proper CRM package for small businesses will pack in the features for marketing and sales tracking and all interactions so that you have detailed context on a client's activity and feedback. A CRM for business helps your team be more efficient, save time, and accelerate your organization's sales, while not breaking the bank on pricing and implementation costs.
CRM Systems for Small Businesses
The challenge is that there are dozens of different CRM options for small business solutions out there. Those looking for a CRM system for small businesses should consider not just your current situation but also your plans for growth. Many of the entry-level CRM's such as Pipedrive, Hubspot, and Zoho for example, offer some attractive pricing and some enticing features, but they are not platforms. A CRM for business that's a platform is one that enables you to personalize it with no limitations and with no code. Being able to create Custom CRM software is the hallmark of enterprise-class CRM's such as Salesforce and Microsoft Dynamics (read more about Salesforce® CRM Competitors).
The problem with the entry level CRM's is they won't be able to be adapted to your specific businesses needs. The issue with the enterprise CRM's for business is that they are hard to customize, are expensive and lack ease of use features that you see in the smaller players. At Veloxity we provide an enterprise class platform at a price half that of the competition, but also create groundbreaking ease of use features to ease onboarding and efficiency of your sales and management teams, while also enabling acceleration of your sales to hypercharge your organization's growth.
Laser Focused Marketing Campaigns
You may still be an SMB, but with Veloxity's CRM for business you will market like the larger businesses
Easily create professional email campaigns in minutes.
Use Veloxity's industry best targeted searching to reach the optimum audience.
Set up advanced A/B testing and DRIP campaigns, or combinations of both.
Automate lead creation and route them to the proper sales rep based on campaign target response.
Instantly view built-in campaign dashboards that show campaign performance.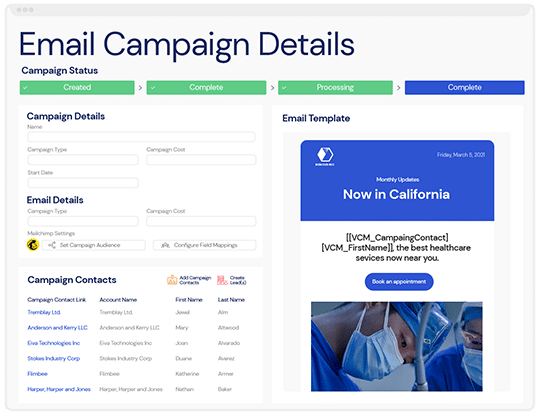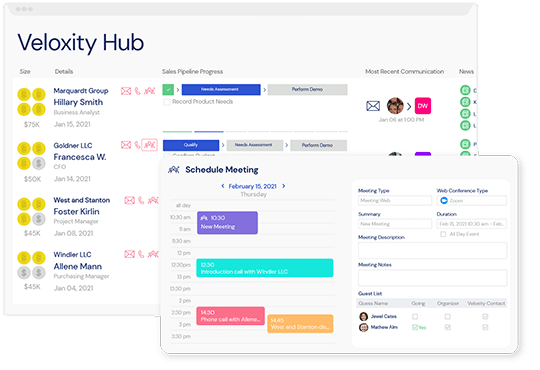 Unprecedented Ease of Use and Features
The most efficient CRM package for small business, period.
The Veloxity Hub makes the hyper-efficiency of your salespeople the norm. Unprecedented insights…click less…sell more.
Integrated email, phone calls, webinars, calendar all available from the Hub.
The only interactive timeline on the market. See the entire communication history with your prospects and customers and respond right from the timeline.
See performance to quota for each territory in a single view that you can interpret in minutes. Read more about CRM for consulting firms.
The system can tell you what to do next. Stop digging through emails to determine what you should focus on.
Automate your Workflows and Business Rules
At Veloxity we understand that your business may not have an extensive IT department so our CRM systems for small businesses enables you to create powerful automation and workflows with zero programming and leading ease of use
Create unlimited rules with the most powerful Rules Engine in the CRM space.
Pick from one or more workflow actions when Rule conditions are triggered.
Schedule future events based on Rule trigger, such as sending emails from a template in the future.
Enforce business rules by rejecting data changes that don't comply with your requirements.