How Can a Good CRM System Increase Profits For a Company?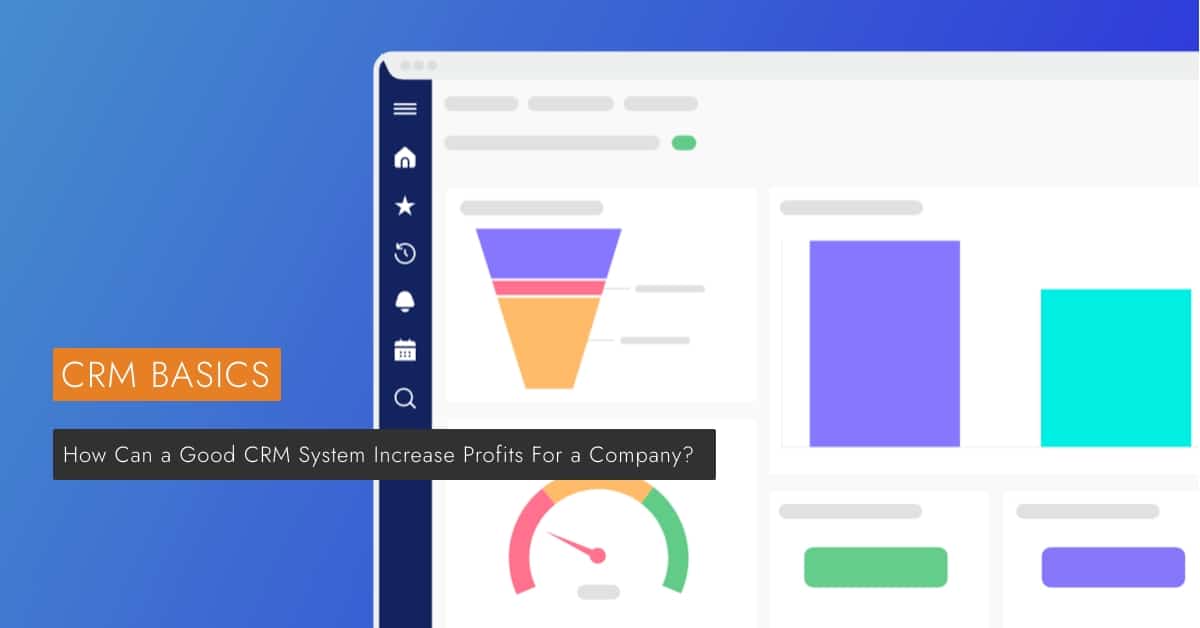 If you want a better business, you need a good customer relationship management system in place. A CRM software can help you collect, track, and report information about your customers, prospects, and leads, so you can build better marketing campaigns and make more sales.
In this post, we'll discuss the key features of a CRM system and how to use them to build a better business.
So, if you want to increase company profit, read on.
What Companies Can Benefit From CRM?
If any business, whether a small or Fortune 500 powerhouse, wants to make a mark on the industry, building long-lasting customer relationships, CRMs can be tremendously beneficial.
Let's get a bit more specific. You can reap the benefits of a CRM if you are:
a B2B company that involves multiple buyers and has to track prospects, clients, and sales leads across longer and comparatively involved sales cycles, for instance, marketing agencies, HR software manufacturers and sellers, etc.
a B2C company, like real estate or jewelry service, focusing on targeting audience and customers for effortless and fast sales at a massive scale.
Even if your business does not fall into the above two categories, you can invest in a CRM platform upon identifying your business goals and priorities.
CRM Capabilities
The functionalities and capabilities that make a quality CRM package include:
Automated Workflows: Helps sales teams handle their workloads more efficiently and track contact data so that nothing significant slips through the cracks.
Forecast Automation: Helps businesses augment forecast and estimate future revenues, financial outcomes, and customer behavior.
Automated Lead Assignment Rules: Facilitates lead follow-up and lead scoring by assigning your new sales leads to Sales Divisions with easy-to-define rules.
Improved Tracking and Pipeline Visualization: Provides your sales team with clear visibility into what stage a lead or prospect is at, revenue generated at each sales stage, etc.
Dashboard and Analytics: A CRM should come with a configurable dashboard and bespoke analytics to enable users to visualize key matrices.
ROI of CRM
In 2020, the CRM market was worth around USD 43.7 billion, and the skyward trend is forecast to continue, reaching a mind-boggling USD 80 billion by the end of 2025. But why has the use of CRM software been skyrocketing in recent years? Its tremendous success in improving business ROI is the catalyst.
What Nuclear Research has found is more impressive. The study run in 2014 says that each dollar invested in a CRM system can pay back as much as $8.71 in gross sales revenue.
Let's dive into how.
How Can a Good CRM System Increase Profits for a Company
Lets You Connect Marketing with Sales, Finance, and Production
It is a no-brainer that application integration can be the game-changer for any business – big or small. By integrating your CRM with the other systems your company is running around, you can align sales, marketing, HR, finance, and manufacturing departments and make them operate from a single glass pane. For instance, with a seamlessly integrable CRM in place, transferring data enabling cross-departmental communication becomes effortless.
When data consolidated by third-party software gets fired off to your CRM in no time, automating the ordering system, inventory management and tracking, and evaluating the efficiency your business runs and makes profits becomes a matter of a few clicks only. So your team can deliver proactive customer service, analyze financial aspects of your sales efforts better, optimize operations, and more, resulting in improved ROI and business profitability.
Helps You Know Your Customers Better
CRM is an intelligent business model that is the recent buzzword in today's market. With quality CRM featuring intuitive dashboards with data visualization, configurable reporting, real-time sales and marketing performance monitoring, and AI/ML-based analytics, you can get greater visibility into your customers.
And with a mobile-friendly CRM like Veloxity, the power is now in your pocket. So you can track how efficiently your current marketing efforts translate into deals, tailor your offers to customer expectations, understand which offers can win more sales, and more even on the fly.
These powerful insights help you devise strategies to route budgets and available resources in the right direction, fuel your sales and lessen operational expenses – all that can directly improve your bottom line.
Helps Generate, Identify and Categorize Leads Accurately
Lead generation is the first step of a sales cycle. Thanks to modern CRM systems that help sales teams build, identify and score leads effortlessly and classify them precisely – but how?
The marketing team generates the right type of prospective business clientele and coaxes them through the sales funnel, so your sales team can turn those opps.
Further, the sales reps can understand how likely a prospect is to convert into a paying customer and which leads require more nurturing to manage the pipeline more efficiently and sell more – thanks to CRM lead management functionality.
For instance, if you start your sales funnel with leads, Veloxity CRM can help you track leads better and turn sales leads into opps and contacts using its pipeline or hub views.
Increases Customer Retention to Encourage Repeat Purchase
CRM tools can be proven to be great to retain customers from your present clients, resulting in higher revenue. Research conducted by the Harvard Business Review says that around a 5% decrease in your consumer defection rate can improve your profitability or sales by 25%-85%.
A CRM like Veloxity can consolidate customer data into a central database and make it available at your teams' fingertips. So it becomes easier for your salespeople to identify and approach the at-risk accounts proactively, and also interact with happy clients at the exact time by sending personalized or automated messages. All these tactics work great for getting repeat clients and bolstering ROI.
CRM Cost
While most cloud-based CRMs today are subscription-based, charging you around $12/user/month to as high as $300/user/month depending on the package and functionalities you choose, you will also find free software. Also, you can pay annually and save a big figure.
Do you need a quality CRM solution to improve your business profitability and drive growth faster without breaking your bank? Veloxity can be your ultimate pick – a future-proofed CRM with robust out-of-the-box and customizable features for every business of any budget. Give the free edition a shot or make your business thrive with one of Veloxity's paid versions starting at $7/user/month.