How Much Do Companies Spend on CRM Software?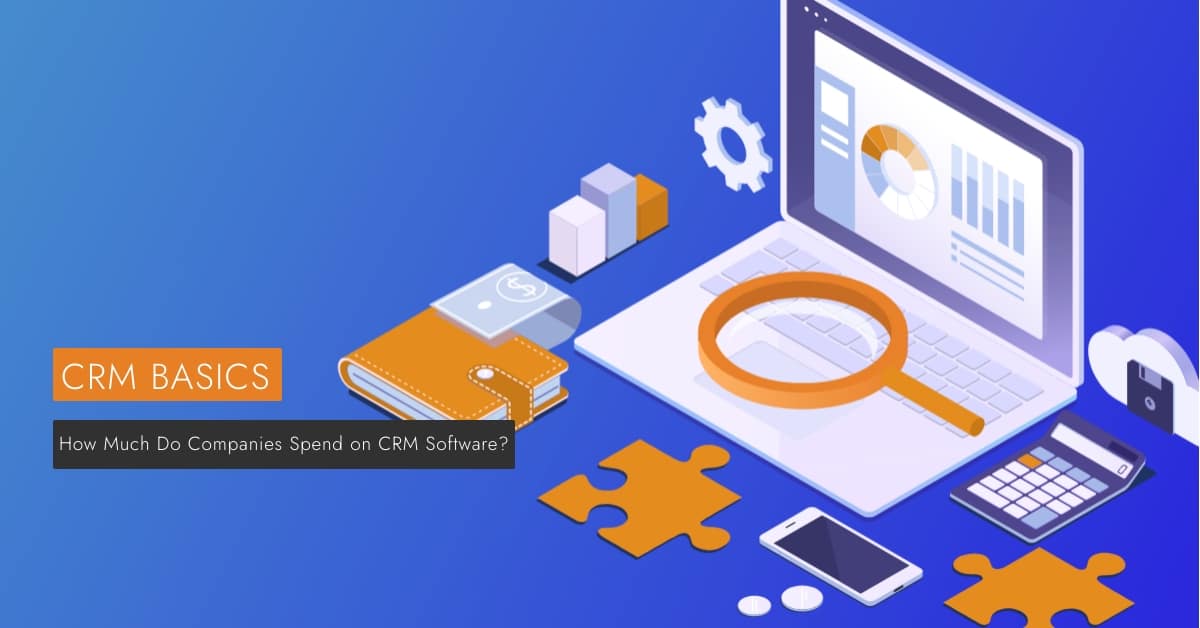 In a recent survey of 800 corporate respondents, it was found that 80% of businesses don't know how much they spend on their CRM software.
The survey also revealed that companies that spend the most on CRM software report better customer churn rates and cheaper employee attrition. But lack of a proper implementation process can drive up CRM costs.
In this post, we'll also show you how to figure out the true cost of a CRM system for your business.
How much should your company spend on customer relations management?
Everyone is installing a CRM system today. Millions of dollars are spent on different hardware, software and CRM personnel. Only a few companies can justify their cost on CRM, and the spending pattern is quite different.
CRM involves developing a massive data warehouse accessed by different and expensive customer relation software like Siebel and Epiphany. Different companies have spent more than $20 million on CRM installation and millions more on the warehouse.
The installed software is designed to select customers and prospects for promotion using the database at various crucial moments in the life cycle of the customer.
What is the cost of CRM?
CRM active campaign starts at $49 every month with up to 25 users for a five hundred contact plan. The plan will include marketing automation, email marketing, customer experience automation and landing page automation features.
CRM price can vary widely, and different CRM platforms charge each user differently. For example, one user can be charged up to $130 per month when using CRM from an enterprise like Microsoft Dynamics.
However, affordable CRM costs are as low as $12 per month per user but may include some hidden implementation fees. The estimated installation fee ranges from $1200 to $5000.
What is the main work of CRM?
According to CRM industry statistics, there are two main tasks: increased existing customers' sales and customer acquisition. Customer relationship management is often phase justified. For example, making the right offer to the right customer at the right time.
CRM technology can accomplish the above tasks by collecting behavioural and demographic data about every customer and prospect. The CRM system will use that to create actionable segments for different customers. This will lead to communication offering relevant offers to the customer to strike a responsive chord in their mind hence sales.
The working principle of CRM software is to use the already existing information to create a profitable communication with the customer. The main question still remains: how to measure the return on investment or CRM effectiveness.
To do CRM measurement, you need to understand that many CRM's effects increases. If the CRM system in your small business is successful, it can result in higher conversions, increased sales and a higher response rate.
However, the original sales processes are seldom because of CRM itself. Most small businesses are selling services and products before adding CRM to their sales team.
Therefore, most companies finance their CRM solutions from the existing operation to increase the profits of those operations.
What are the hidden and transparent costs of CRM implementation?
This is one of the dreaded marketing budget questions. It might seem impossible to answer this question when it comes to CRM implementation.
It is not easy to understand the true cost of CRM implementation at the beginning. This is because of improper funding that can lead to CRM implementation failure. Therefore, implementation costs can be divided into two categories: hidden and transparent costs.
In either of the categories, you will pay in one of two ways: time or money.
Because of that, we have four CRM implementation costs:
• Hidden time investments
• Hidden fees
• Transparent time investment
• Transparent fees
Can CRM increase market sales?
Yes, but in some unusual situations. $100 million is the current sales and is significantly higher by using prospect and customer data to make more timely and relevant communication.
According to CRM industry analysis, those without effective CRM software get lower conversion rates compared to those using it. To know the rate customer relationship management increases conversion rate, it is necessary to know the current conversion rate.
The rising of mobile CRM
Some businesses have been going through a hard time making their employees adapt CRM software. However, the increased dependence and use of mobile technology have helped those companies increase the adoption rate when using mobile CRM solutions.
Providing your sales team with mobile CRM access will increase workforce productivity and the use of the software. In return, it increases the CRM software market size since many companies are finding the software more convenient and easy to use.
Also, CRM tools are available in different devices, mostly mobile devices hence increasing user accessibility on CRM software.
Take away
CRM implementation in your business is one of the biggest steps you can make regardless of the number of team members. However, implementation can take more effort, money and time.
You can always keep your project on track when you determine all the costs. Therefore, you can set effective expectations for CRM tools and delivery to solve your business's most important problems.