CRM and Accounting Software: Which One Is Right for Your Business?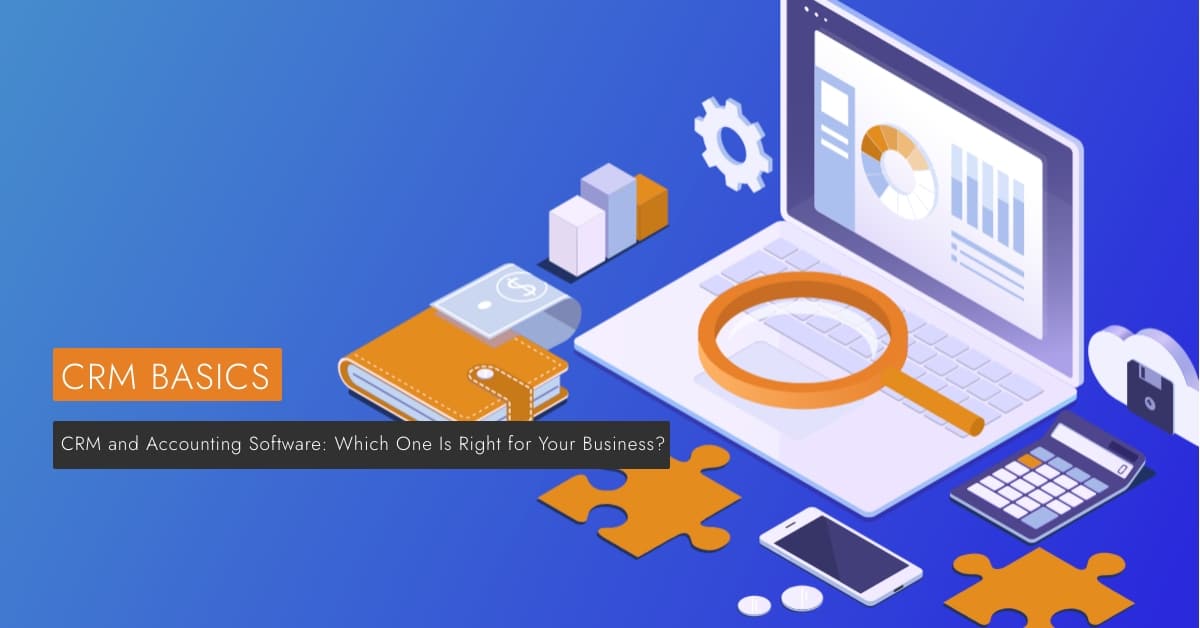 Most businesses will use CRM software to manage customer relationships. However, not all CRMs are suitable for accounting firms.
In this post, we'll go over the best accounting CRM products on the market today that come with helpful solutions for your accounting business. We'll also briefly discuss top accounting software (such as Quickbooks) that you can integrate into your CRM.
So, if you're not sure which CRM and accounting software product is right for your business, keep reading.
5 Most Popular CRM for Accounting Firms
1. Zoho CRM
Zoho CRM is an excellent choice for small-and-medium businesses who want a user-friendly system that comes with all the basic features plus other enterprise solutions, from marketing to customer service. It's also very affordable, starting at just $20/month per user plus additional fees for add-ons. Zoho offers free chat, email, and phone support.
2. Salesforce CRM
Salesforce is a much more complex platform, which is why it's great for mid-market and enterprise companies with specific business needs to manage monthly customer activities, contacts, and opportunities.
3. Sugar CRM
Sugar is a good choice for larger businesses that need to integrate basic accounting features into their CRM, such as manual invoicing and accounting features, task automation, and custom reporting capabilities.
4. Insightly CRM
Insightly is a cloud-based CRM that's ideal for individuals and small businesses who want to manage their accounts from a smartphone or tablet device. It comes with customizable dashboards, contact lists, tasks, and calendars so you can view everything you need in one place.
5. Hubspot CRM
Hubspot CRM is perfect for mid-sized companies who want an all-in-one solution for their marketing automation, lead management, and customer relationship management needs (with unlimited contacts, activities, and custom reports). It's also very affordably priced.
Top Integration Options for Accounting Firms
If you're in the market for accounting software, there are a few options that can integrate into your existing CRM system to streamline your billing process and provide helpful data from both platforms in one place.
QuickBooks CRM Integration
QuickBooks is an online accounting solution for small-to-medium businesses. It offers the basic bookkeeping functionalities you need, including invoicing, estimates, bill payments, inventory management, and payroll. Once you've integrated your CRM with QuickBooks, you'll have access to your contacts and customer activities from within the accounting platform.
Xero Accounting Integration
Xero is affordable cloud-based accounting software for small-to-medium businesses that offer unlimited invoicing (for both recurring and one-time billing), estimates management, invoices, and receipts. Once you integrate your CRM with Xero, you'll have access to all of this data in one place, so you know exactly how much your customers owe.
FreshBooks Accounting Integration
FreshBooks is an online accounting solution specializing in small-to-medium businesses, offering invoice and estimates management, invoice and receipt tracking, customizable reports, and more to help you manage your cash flow. Once it's integrated with your CRM platform, you'll be able to see customer data (including email and phone numbers) and track all billing activities in one place.
Wave Accounting Integration
Wave allows you to manage your entire accounting process from start to finish with a mobile-friendly interface, free customer support, and no transaction fees. It also integrates with a few popular business platforms, including Salesforce and QuickBooks. You can integrate your CRM with Wave to see your contacts, communication history, and billing expenses.
5 Tips for Choosing CRM & Accounting Software That Work for Your Business
Choosing the right CRM/accounting software solution can be a complex process, but once you examine your specific industry needs and business goals, you're sure to find the one that works for your company.
1. Determine Your Business Needs & Goals First
It's essential that you first define your business needs and goals before making any purchases. This ensures that you're purchasing the right product for your specific business, whether it be CRM or accounting software. Ask yourself how much cash flow management is important to your business—whether you're looking for integration solutions or simple invoicing functionality.
2. Segment Your Customers & Accounts
You'll need to know how to best segment your customers and accounts to determine which CRM solution would be the most beneficial for your business.
3. Consider the Features of CRMs & Accounting Software
You must look at the features each software offers before making any purchases. Some accounting software solutions might only offer basic invoicing, while some CRM accounting integrations may lack customer data and communication history. It's therefore crucial that you look at the big picture to determine which solution will be the most beneficial for your business.
4. Consider Integration Options
You must consider integration options when choosing CRM and accounting software solutions. You can check them out in the above section.
5. Think About the Company's Skill Set & Expertise
When integrating both CRM and accounting software into your business, it's important to consider your team's skill set and expertise. Some software solutions take for granted a user's pre-existing set of software skills.
Conclusion
Many SMB decision-makers purchase both CRM and accounting software when looking for ways to streamline their business processes. However, you must take your business needs into account.