Why CRM is Important for Sales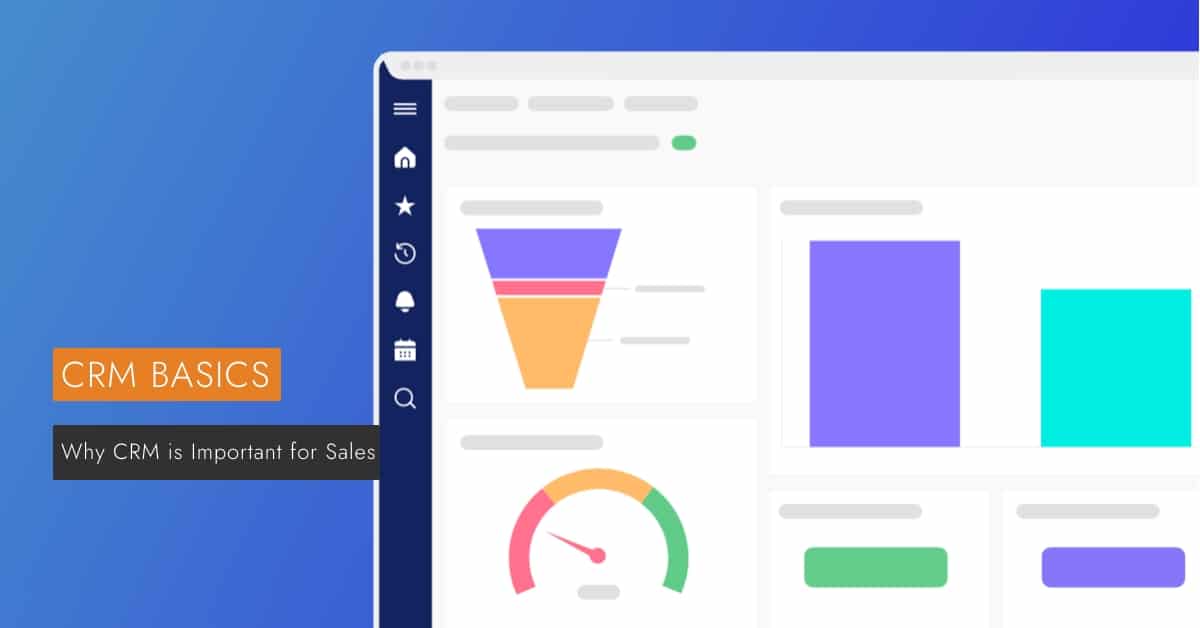 CRM refers to customer relationship management, which is the process of storing and managing customer information and communication history. By tracking customer details, sales teams can stay on top of client inquiries and future sales opportunities.
Your business will be more successful when you use a CRM, as it helps your sales team better serve your customers.
In this post, we'll go over the benefits a CRM has for your business and why a CRM is important for sales teams.
What Companies Should Use CRM Software?
To reiterate, a CRM is a specially designed software system that can help you gather data about your sales leads, prospects, and current customers on a single page.
But it is way more than a tool for aligning your marketing, support, and sales team. With a quality CRM solution in place, you can deliver a seamless customer experience and ensure even your future clients will be satisfied with your service, pivoting faster like never before!
But investing in a CRM system is not mandatory for all businesses. However, an all-in-one CRM like Veloxity may help you improve your business productivity if yours is a:
B2B business that requires you to track up-sales, cross-sales, and comparatively involved sales cycles;
B2C business like real estate, home renovation, and more that has a longer sales cycle;
A business that can make its customers feel they are interacting with a single entity – your company, rather than individual reps every time they are attended, is sure to stay on top of the competition and thrive in the market. It is exactly where modern CRM systems come in.
When today's clients expect a more personalized approach and prompt customer service tailored to their needs from companies while interacting, switching to a quality CRM from legacy systems is the most viable option to adopt for businesses.
Features of a Quality CRM
Some of the CRM features that can help your business grow faster, enabling your team to crack more deals include:
Visual Sales Pipeline: A quality CRM tool can exempt you from endless drill-downs and static pipelines by enabling you to visualize your sales pipeline. So you see your custom sales stages and the revenue generated in each stage, understand where the priority deals are in your pipeline, etc., and sell more in less time!
Analytics and Charting: Another jaw-dropping feature of a top-notch CRM is that it offers you precise AI/ML-based analytics about your customers so your sales performance can get a significant boost. It also helps you facilitate and streamline your business operations.
Reporting and Dashboard: Even the most basic CRM must come with a customizable reporting system so you can, with fewer clicks, get insights into your new leads, conversion rate, periodic recurring revenue month over month, and more. Having a CRM system with an intuitive sales dashboard is a long-term investment that enables you to add charts, graphs, and business metrics so you can track your sales performance in real-time.
Email Marketing with Professional Templates: No need to depend on a separate email marketing software when you have put a quality CRM with an email marketing tool like Veloxity into action. Not that it only ensures cross-departmental cooperation, it can help you create hyper-personalized customer-directed emails using the CRM Email Template Builder and schedule mailouts. More impressively, you can get real-time analytics on how many people have clicked and opened the links within, the bounce rate, and more to track the performance of your marketing efforts.
CRM Benefits: Why is a CRM Important for Sales Teams?
Provides 360-degree View of Customers
As the basic functionality of a CRM is to capture the customer data flowing into your business from multiple channels and put them into a centralized repository, your sales reps can effortlessly get it at their fingertips and deliver more proactive customer service.
For instance, with Veloxity CRM, a sales rep can go to the holistic profile of a particular customer and better understand his purchase history, demographics, interests, etc., by tracking the past conversations to offer more personalized service.
Helps Manage Follow-up Activities
While it is not rocket science to understand that your sales reps must follow up the incoming leads to convert them into sales, ensuring simultaneous follow-ups to multiple leads may seem messy and time-consuming.
Thanks to quality CRM solutions like Veloxity that can automate most repetitive activities and trigger your salespeople to track lead follow-ups. So they ensure seamless interactions with sales-ready leads, customers, and prospects more consistently.
Helps Stay Up-to-date on What's Happening
One of the surpassing benefits of implementing CRM software is that it improves transparency among teammates by enabling real-time file sharing and collaboration.
For instance, Veloxity CRM supports Google calendar sync, email integration with Outlook and Gmail, and an integrated chat system. These features make it downright effortless for the users to collaborate among themselves, see CRM contacts' emails straight from the system timeline, and access files input by any member from anywhere.
And when your staff can share data about sales processes and insights, they can understand customer requirements better and optimize the selling process for reaching targets faster and improving ROI.
Helps Predict Future with Sales Forecast
Most CRM tools in today's market come with sales forecasts that help sales teams picture future sales growth and economic trends and understand how successfully they can track against their quotas in a specific period. Thus you can evaluate your long-term and short-term business performance.
Moreover, your sales managers can make data-driven decisions regarding resource and budget allocation, devise strategies on additional stock procuring, and so on to augment sales and retain customers.
Wrapping Up
Try out Veloxity – an all-in-one and innovative CRM with best-in-class features and bring out the best in your sales team. Powering a company of any size and winning more sales even on the fly have never been so easy before! You can also read more and get more information on our Sales CRM Software page.