Examples of LinkedIn Consultant Profiles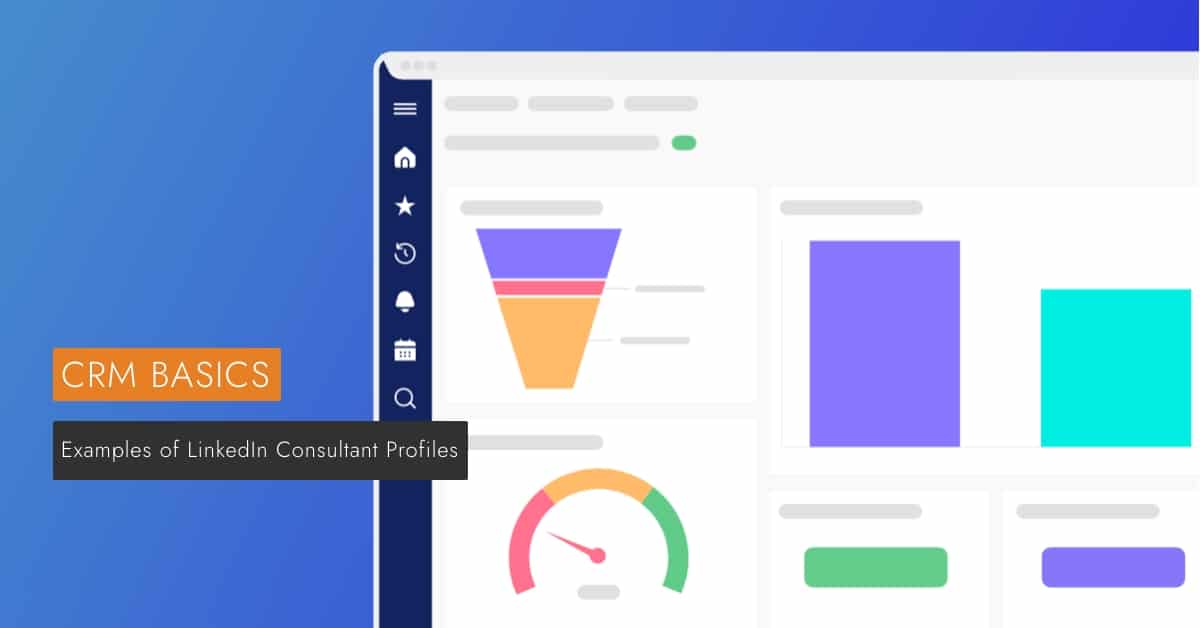 Do you want to be a freelance consultant but don't know where to start? It takes more than industry knowledge and a unique set of skills to get the clients you need to stay afloat. You also need to think about marketing yourself so that clients can find you.
LinkedIn is a great place to start marketing yourself as a consultant. As the world's biggest professional social media platform, you're pretty much guaranteed to find leads who are looking for the services you offer.
But if you don't have a great LinkedIn profile, you won't compete against other consultants.
Need help with your LinkedIn profile? Let's take a look at some examples of ideal LinkedIn profiles so you can see what's attractive to potential clients and what will drive them away.
A Good Example of a Perfect LinkedIn Consultant Profiles
This following section shows an example of a real consultant's profile:
Consultant at The Creative Group
LinkedIn Summary:
The Creative Group is a professional employer organisation that helps companies find and hire highly talented IT, marketing & creative professionals. The company offers permanent, contract-to-hire, and temporary positions in over 80 offices nationwide.
Specialities:
IT Staffing, Marketing Staffing, Technical Recruiter, Creative Recruiter
Keyword:
The Creative Group, IT jobs, Marketing jobs, Technical recruiters, Creative recruiters
Detailed Work Experience:
Provided IT staffing services in support of a large nationwide retail organisation in the Silicon Valley market.
Conducted extensive candidate searches to identify qualified candidates with strong backgrounds, including, but not limited to, positions in programming, web development, QA testing, support, and development.
Developed strong relationships with candidates, allowing my feedback on their experiences with the company to be used when making critical staffing decisions.
Staffed large-scale marketing projects, including two important trade shows that served our clients' national accounts totalling over 5,000 attendees.
Identified, interviewed, reference checked, and selected candidates for our clients' permanent, contract-to-hire and temporary IT staffing needs.
Managed all aspects of technical recruiting for a small software development company in the Silicon Valley market—including identifying and contacting prospective candidates, determining their skill sets and strengths against client requirements, scheduling interviews, and negotiating offers.
Maintained relationships with industry professionals, professional associations, and universities in Silicon Valley.
A Step-By-Step Guide to Optimising Your LinkedIn Profile
Like most other things in life, having an attractive LinkedIn profile is only half the battle. You also need to know how to make it stand out amongst the crowd.
Let's look at how you can optimise your LinkedIn profile to grab your audience's attention.
Professional Photograph
The first thing hiring managers will notice about your profile is your photo. You need to make sure you choose a professional image that adds value to your profile.
If you're in the tech industry, it would be beneficial to include photographs of you at hackathons or other technology-related events. If you're smart with your use of photos, you can market yourself on your LinkedIn page.
Profile Headline
Your LinkedIn headline is the second thing hiring managers will see when they click on your profile. As such, it's crucial to make sure you get this right. Your headline should be catchy, get their attention, and show them at a glance who you are and what you do. If you're struggling to come up with ideas, try looking at some examples.
Industry Trends
The only thing you need to do is use a LinkedIn search and type in a word related to your industry. For example, if you're a consultant who helps others with social media marketing strategies, it would be beneficial for you to see how other consultants are describing their services.
Once you come up with some ideas, you can incorporate them into your profile to give it more oomph.
Summary
You've probably heard that less is more when writing CVs and cover letters, but this rule doesn't apply to LinkedIn profiles. Your summary should be long enough to outline your skills and experience. However, it also shouldn't be too long, as people will only read the first few lines before deciding if they want to know more or not.
Specialities
What do you specialize in? If you're still struggling to figure that out, look at how other consultants describe their skills. Most people will list their specialities in bullet points under their profiles' skills section. The only thing you need to make sure of is that you highlight the skills that best align with your clients' needs.
Keywords
Another way LinkedIn makes it easy for hiring managers to find consultants is by allowing you to include keywords in your profile. You need to look under "Skills & Expertise" and fill in what words come to mind when you think about your skills.
Of course, you'll need to choose the most relevant keywords to help people find you.
Recommendations
Now, let's look at recommendations. Most consultants are unaware that they are allowed to include recommendations on their profiles. It's easier than you think, too. All you have to do is ask for them from your clients or employers.
It sounds simple, but most people don't bother asking for recommendations because they expect it to be complicated. However, if you want a professional LinkedIn profile, you need to get recommendations.
Detailed Work Experience
The next thing you can learn from looking at examples of good LinkedIn profiles is how to write about your work experience. You need to include all of your previous jobs and the experiences you gained from them.
The difficult part for many consultants is coming up with a way to make their work sound exciting and compelling enough so that other people will want to read it. You need to explain how you helped the company and why you enjoyed it so much.
Bottom Line: Do Your Research
Creating the best LinkedIn profile strikes a balance between using what works and finding ways to stand out. This might be a tricky path to take, but if you're new to LinkedIn, you'll highly benefit from learning from your competition.