How to Get Consulting Clients on Linkedin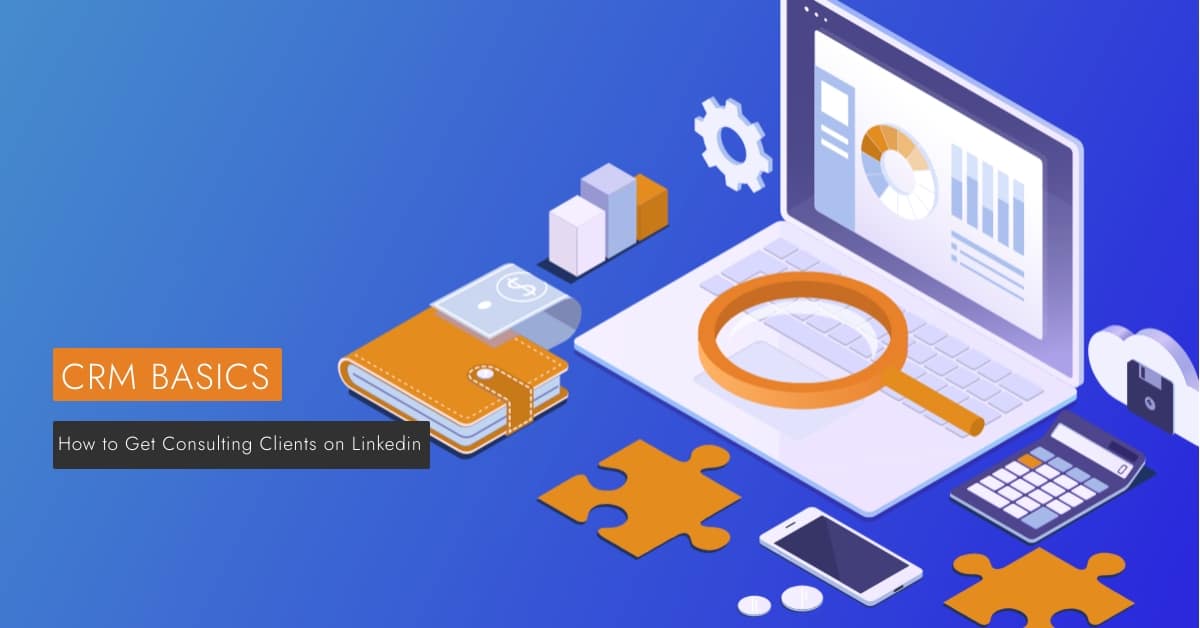 If you're an entrepreneur seeking to grow your consulting business, you probably know that LinkedIn is a valuable online platform for connecting with potential clients. But you might not know the best practices for reaching out to potential clients or showcasing your services. 
If you aren't sure how to approach customers on LinkedIn, keep reading.
We'll explain how to get consulting clients and go over the steps for building your brand and engaging with your community. So, read on whether you're looking to expand your network or want to generate new leads. 
Showcase What You Can Offer
On LinkedIn, you're dealing with heavy competition. Whether you're new to consulting or simply new to LinkedIn, you'll be up against other consultancy firms with similar skills and a head start on LinkedIn experience.
The best place to get started is your profile. This is where you can really show off your value and experience.
"Seeing is believing" is a cheesy saying, right? But when it comes down to it, just as in any job interview, prospective clients need proof that you can produce great results.
How do you show (not tell) your audience your high level of expertise, skills, and experience? You can do this by creating a sell sheet, such as:
A short video with testimonials from happy clients
A list of your products
The incredible services you offer
Focus on whatever makes your consultancy business stand out. Your profile determines whether the client will choose to work with you or not. Put as much effort into creating an outstanding portfolio.
Your profile should include a great professional profile picture, a catchy and positively impactful headline, relevant skills, and a brief spotlight on the services you offer. If you're not confident about your spelling and grammar, hire a professional to fine-tune your profile.
Up Your Marketing Game
LinkedIn offers elite business owners like you sponsored mail and text ads that you can send to your prospective clients.
First, find out who your ideal clients are and determine how you can address their pain points. Make your ads catchy and remarkable to get clicks from prospective clients. You can also add a thirty-second commercial on your profile, which gives you an advantage over competitors.
Do not forget to join LinkedIn groups and post relevant and related content to show off your knowledge and chat with prospects. Social engagement will build goodwill with other users, create networking opportunities, and increase your chances of attracting more leads.
Add a Call to Action
This site has a Call to Action (CTA) button feature to ensure users interact genuinely with your brand instead of just scrolling past.
Take advantage of CTAs by creating a well-designed website that will attract new clients (it makes no sense to create ads that draw clients to a poorly designed website). Be concise and keep the CTA simple and clear. This step will increase website traffic and, in return, boost your sales.
Grow Your Lead List
Build your network by connecting with people you may know. This undertaking will increase your chances of referrals and growth. The better connected you are, the more visible your profile will be.
Boost your chance of making a connection by networking with people you already know that aren't necessarily a lead—such as family, friends, past coworkers, and school mates. You never know where a lead can come from.
The features of the LinkedIn Sales Navigator, such as automated lead generation and real-time sales updates, will help you continue to grow your lead list.
Next, follow your current clients and prospects. To maintain good relations or establish trust with your clients, you can add paid trials or money-back guarantees. 
Make Your Costs Transparent
Spending time and money on ads means that you're likely going to attract prospects to your website. Include a page that explains your costs and payment structure, so that potential clients know what to expect before they reach out to you.
Ensure that your clients understand your payment terms, such as project-based fees or hourly wages, to avoid any problems in the future.
Final Thought
You can integrate your LinkedIn account into your CRM, which will help you stay connected to your new leads and current clients.
LinkedIn is an excellent social network that allows you to connect and build relationships in a professional setting. If you still do not get as many profile views as you feel you should, check your privacy settings.
Do not put too much pressure on yourself, and always be ready to learn and grow. Explore your options and get a team to help you.