Role of CRM in Pharmaceuticals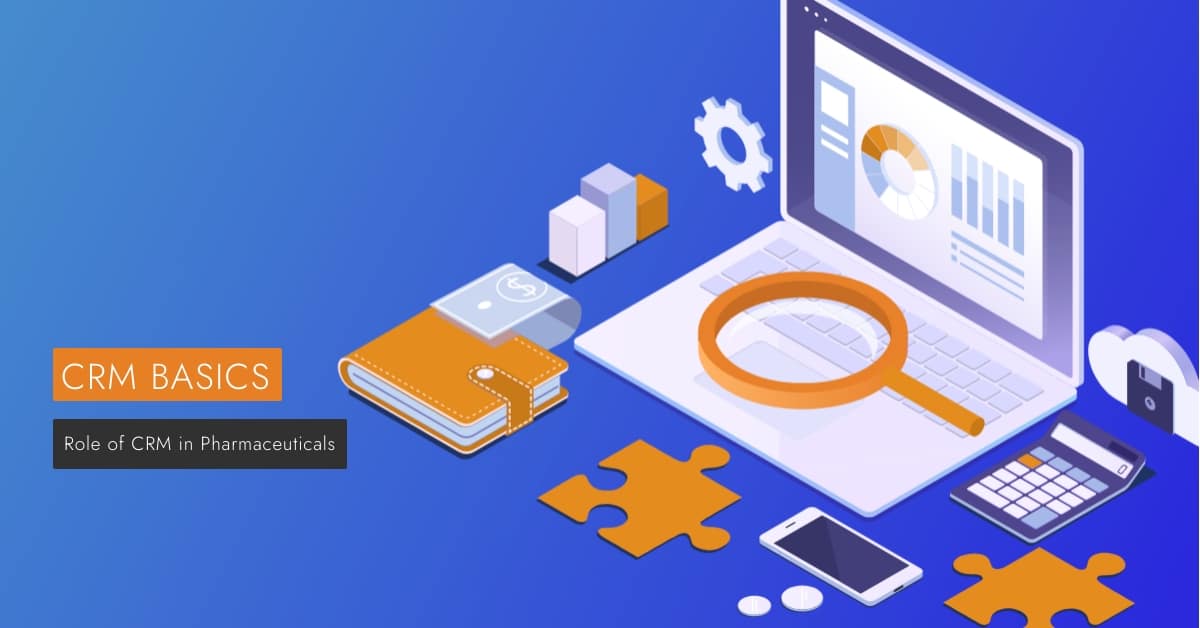 The pharmaceutical industry is built on relationships. It relies on a rigorous and proven sales and marketing process to generate new customers and keep existing customers happy and loyal.
A CRM is a comprehensive software platform that provides pharmaceutical companies with the tools and resources needed to effectively engage with customers and prospects. CRM systems help pharmaceutical companies focus on what matters – the customer – and generate new leads and sales.
As a result, pharmaceutical companies can maximize their sales and reach their goals more efficiently than ever before.
In this post, we'll discuss the role of CRM in the pharmaceutical industry and list the benefits of implementing a CRM in your pharma organization.
CRM in the Pharmaceutical Industry
CRMs tailored to the requirements of the pharmaceutical industry provide users with a centralized repository to store and manage essential information about drug manufacturing through tracking all communication channels within the business – social media, website, email, mobile, and more. Thus any verified users can access and retrieve accurate data about the drugs and therapeutics you manufacture and deliver just by checking in through the CRM in action.
Further, you can efficiently promote and advertise your newly developed products, track your staff members' performance and daily activities, categorize data staying on top of regulatory compliance.
Role of CRM in Pharmaceuticals
Optimizes Products and Services
The pharma companies have to make huge investments in CRM system implementation. It is a highly competitive business and the rapid emergence of new and advanced companies in the pharma business only intensifies the competition. So to ensure sustainable ROI and drive growth, you need to keep production and service expenses as low as possible.
With pharmaceutical crm software in place, a patient-centric organization can consolidate patient and customer data in unique holistic profiles to produce drugs customized to its clients' requirements, which in return, can help save on production costs largely. It is particularly beneficial if you have targeted patients with chronic diseases that require constant medicine delivery.
For instance, with Veloxity pharma CRM, you can put all essential data about your target customers, including their health condition, weight, BMI, metabolic rate, etc., into one page and categorize them using segmentation filtering and tagging for patient-specific medicine production.
Helps Establish Strong Customer Relationships
Implementing a CRM makes it effortless for your sales, marketing, and support team to get greater visibility into channel tiers, distributors, and dealers – all you require to build and maintain an ever-lasting customer relationship with your business clientele.
Further, your sales reps can get triggered to send messages to customers when necessary, for instance, when a specific package availed by a client expires. Thus they can interact with that customer and offer package renewal.
More impressively, as your team can have professional, personal, and social-economic data about your customers at their fingertips, it becomes easier for them to customize offers, send personalized emails on special occasions – all these can foster customer satisfaction and help you win more sales, delivering proactive customer service.
For example, with Veloxity's state-of-the-art search functionality, your support reps can find essential data in no time and respond to any inquiry promptly for boosting customer satisfaction.
Integration with Industry Databases
Advanced pharma businesses often need to employ internally developed IT systems within their company. Integrating the data stored in these third-party databases into the CRM means you can innovate and unveil a powerful and whole new aspect for data analysis.
A CRM that seamlessly connects with software like ERP, HR or accounting tools, etc., can help you remove information silos, enabling robust and real-time data exchange across your entire IT infrastructure. Plus, comprehensive client profiles get revealed – your teams can have more data points to evaluate and analyze to get better insights.
Further, automation and integration between industry databases offer better and real-time cross-departmental collaboration for optimal business operation – thanks to CRMs that can bring data across the company into one single pane of glass.
Helps Run Targeted Marketing Campaigns
Now more than ever, businesses need to run marketing campaigns to advertise their products. Thanks to pharma CRM solutions that can help your marketing department assess the current market based on trends, customer purchase history, and behavior.
Further, you can effortlessly realign markets by product, segmentation filtering, and even territory.
Plus, your marketing team can segment distinct clients like doctors, healthcare centers, etc., into logical groups. They can schedule mailouts to hit hyper-personalized emails to your target audience inboxes at the right time and win more deals.
For instance, Veloxity's marketing automation with advanced Email Template Builder empowers you to power your email marketing efforts with laser-targeted campaigns and keep them rolling forward, getting real-time performance reports.
How to Choose the Right Pharmaceutical CRM?
HIPAA Compliance: To ensure all your mission-critical and sensitive patient data is securely stored and backed up, investing in a HIPAA-compliant CRM is a must. Thanks to Veloxity HIPAA compliant pharma CRM that consolidates data in encrypted systems and offers data encryption in transit, robust access control, and a complete audit trail to ensure your peace of mind.
Mobility: If you want your pharma reps to get armed with real-time customer data and updates to deliver proactive customer service at speed, invest in a mobile-friendly CRM like Veloxity. Get the power of a full-fledged CRM in your pocket and make your business grow with ease with Veloxity's native mobile app.
Check for the Key Features: Look out for the following features in a pharma CRM before you invest in it:

Sales Forecast Automation: Helps you project revenue based on your sales pipeline of potential deals, and allocate resources and budgets for maximum profitability.
Reports and analytics: A quality CRM must feature customizable reports, intuitive dashboards, analytics, and charts to help your team gain better insights into business matrices through visualization.
Lead Management: Helps salespeople score, qualify and follow up inbound leads better by employing automated lead assignment rules.
Ask for a Test-drive: A CRM is a long-term investment and hence, before you invest in one, make sure you, with your teammates, conduct test drives. If possible, ask for a free trial for a specific time and live demo session to evaluate how easy-to-navigate the system is and is it really worth your hard-earned money.