Hubspot vs. Veloxity: Which CRM is Better for Your Business?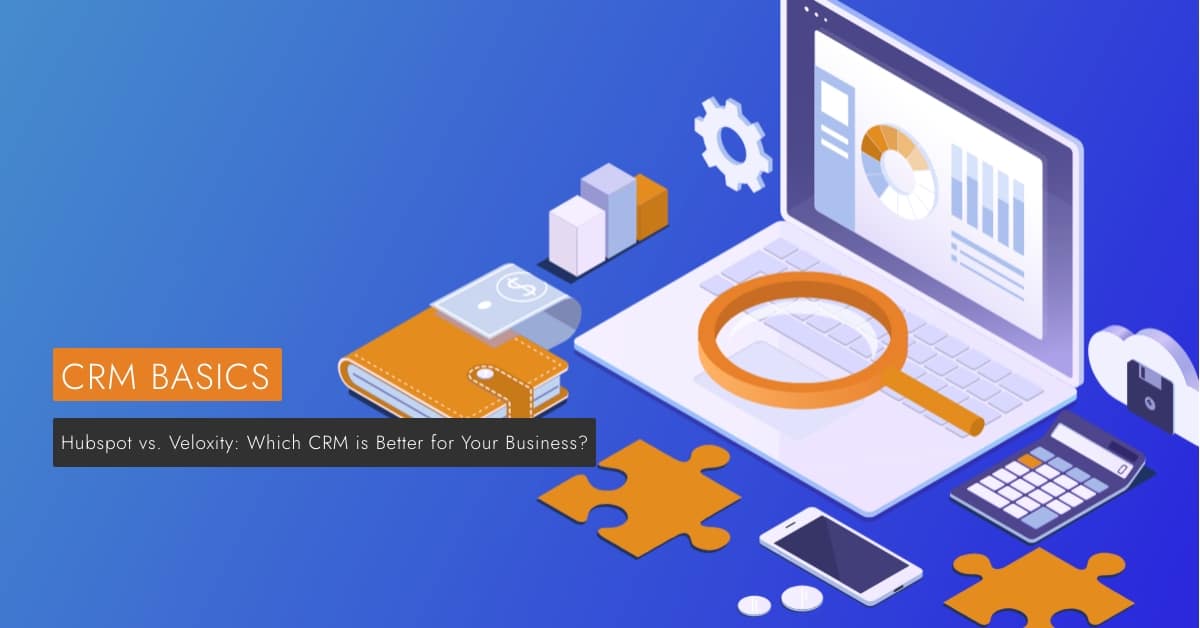 If you want to grow your business, you need the right CRM software to help you manage your leads, build a robust marketing strategy, and streamline your sales processes.
But how do you know which CRM software is best for your business?
Veloxity and Hubspot are two popular CRM tools that offer a wide variety of sales and marketing features to help your business grow. 
So, HubSpot vs. Veloxity: which one is better for your business?
In this post, we'll go over the main features, benefits, and costs of each CRM product to help you make the right decision. So, if you're on the fence between these two CRM platforms, keep reading.
Blending the uniformity and ease of a basic CRM with the robustness of an enterprise-grade system, Veloxity – the market-leading CRM, promises to deliver the top-notch user experience ever available. Enabling you to manage data about your contacts, opportunities, leads, products, and sales organization super-efficiently from a centralized repository, this SaaS-based CRM ensures your business can thrive in the market. It offers state-of-the-art usability with its unprecedented Kanban views and Hub – both reachable through Veloxity's responsive, intuitive UI.
Seize the power of a future-proofed CRM in your pocket with Veloxity's native mobile app, and you will be more productive even offline, no matter where you are.
Veloxity CRM Features
The out-of-the-box features Veloxity CRM offers are:
Integrated chat system to let you send messages to other CRM users right from the CRM system
Supports multi-currency
Supports activity tracking with Veloxity's Calendar View to offer a precise brief of your past, present, or future schedules.
Veloxity enables users to design and configure their sales stages based on their business model, specifications, and sales process.
Supports interactive sales pipeline visualization and real-time cross-departmental collaboration and data sharing
Features super-intelligent lead assignment rule builder with its lead management system
Email template builder with template customization facility
Supports customizable reporting and charts
Benefits of Veloxity CRM
Veloxity's ML-powered predictive analytics provides better insights into your sales channels and enables you to weigh the effectiveness of the marketing efforts by forecasting outcomes and assessing past sales. Plus, you can get real-time visualization of the marketing performance on Veloxity's intuitive campaign dashboard.
Laser target and reach your target audience with Veloxity's email segmentation supported by its marketing automation tool and schedule mailouts. With A/B testing, finding the most effective email among many and automating sending it to your target audience has become effortless – all thanks to Veloxity CRM.
Syncing emails with Outlook and Gmail, Veloxity has made it easier for your teams to track email inboxes right from the CRM. Plus, Veloxity integrates with Zoom, GoToMeeting, and Google Meet – now you can schedule meetings and webinars from within your CRM.
No more struggling with repetitive tasks – with Veloxity's sentence-based rules automation engine, managing apps, sending automated emails to new prospects and leads, etc., has become a matter of a few clicks only.
Veloxity CRM Pricing
Besides a free-forever plan loaded with out-of-the-box functionalities, Veloxity offers three affordable paid versions with superior features like forecast automation, homepage configuration, a live news feed, and more. These are:
Basic Edition: Starts at $7/month/user only
Professional Edition: Starts at $54/user/month
Enterprise Edition: Starts at $94/user/month
HubSpot CRM
HubSpot is a cloud-based CRM system widely used for its free-always version. With this one-code-based CRM, now you can enjoy a unified and proactive user experience that's effortless for your staff members to navigate and use. 
Besides enabling users to categorize contacts, monitor sales processes, and follow up with leads, HubSpot CRM ensures your teams are on fire by offering a complete pipeline view, reports on performance and activities, and more.
HubSpot CRM Features
HubSpot CRM key features are:
It enables contact segmentation based on various factors – lead scoring, interaction channel, webpage visit, etc.
Supports workflow automation
HubSpot workflow integrates with LinkedIn, Zoom, Slack, Instagram, and Facebook.
HubSpot supports a configurable deals dashboard for sales pipeline visualization.
It supports automated logging and updating of client information and sales actions.
Ad management features for marketers
It provides real-time data on email campaign performance metrics – open rates, click-through rates, email bounce rates, etc.
Benefits of HubSpot CRM
With HubSpot's built-in analytics, users can evaluate your website performance, identify the channels most traffic comes from, and more – you can improve your bottom line and expect higher conversion rates.
With HubSpot CRM, loading files and sharing them with teammates have become effortless. Plus, it enables you to lock down a file for better control and track that file when a recipient opens it.
Troubleshoot any issues, ask your questions or negotiate sales – get everything done using HubSpot live chat sessions. Plus, you can customize the chat appearance.
Sending automated messages, assigning tasks, or tracking sales calls has now become a matter of clicks only – thanks to Hubspot CRM.
HubSpot Pricing
It has three paid CRM suite plans with one free plan:
Starter: Starts at $45/month
Profesional: Starts at $1,600/month
Enterprise: Starts at $4,000/month
HubSpot CRM Limitations
Basic and not-that-strong reporting functionality with the free edition and hiccups in the UI
Customization of the pre-build email templates requires CSS expertise.
Costs extra for uninterrupted technical assistance.
Free and Starter programs don't support A/B testing.
Not that cheap as it seems at first sight: Let's explain it a bit. With its free version, only basic features are supported. Now, when you need to upgrade to one of its paid editions with add-ons, the cost will be multiplied quite steeply. For instance, with the Starter plan ($45), you can add 1,000 marketing contacts only. And to add more, you have to subscribe to its professional (2000) or Enterprise (10,000) plans paying $1600/mo and $4000/mo, respectively.
No flexible contracts – once you sign a contract for a specific period, you get tied to the program, whether you are satisfied with it or not – no easy refund policy supported.
Not an all-in-one solution: HubSpot Sales, Marketing Automation, CRM, and Service solutions make a complete package to run a system seamlessly. But if you have your website built in other CMS like WordPress, or Joomla, HubSpot might be a wise decision.
HubSpot vs. Veloxity: Which One to Choose?
Both Veloxity and HubSpot are robust CRM software that can help your company develop faster. We agree every system has its own advantages and downsides, and there is no one-size-fits-all solution.
But HubSpot vs. Veloxity – which one is better? Let's compare:
Affordability: When it comes to pricing, Veloxity clearly wins. From out-of-the-box tracking and customization to expandability and collaboration, including everything you need in each plan, Veloxity ensures you get the best and powerful CRM package without breaking your bank.
Free Plan: Though Veloxity's free version comes with quality and sophisticated features, HubSpot offers a wide range of workable services with its free plan. Plus, it supports quality functionalities with its free marketing, sales, service, and operational solutions.
Usability: While HubSpot CRM better suits SMBs, Veloxity CRM can meet the demands of small, middle, or large-size companies better. For an SMB with a tight budget, HubSpot freemium can be a better choice.
Scalability: If you need a CRM system that can scale effortlessly with your organization, Veloxity should be your ultimate choice.
Adaptability: While considering adaptability, users with complex sales processes and large revenue streams may find it tough to adapt the HubSpot software to their company specifications. Plus, data organization becomes challenging with HubSpot when you have a pool of information and leads flowing into the CRM from multiple sources. On the flip side, Veloxity's Ml-based extendable automated marketing and sales solution is intelligent enough to get adapted to your requirements seamlessly.
Wrapping Up
Don't make a purchase decision in a hassle. Do proper research, set your budget, compare the functionalities you require against what the CRM provider offers, and deploy the CRM that better suits your business.
Try out Veloxity for FREE now and power up your business.