What Are the Core Principles of Lead Management?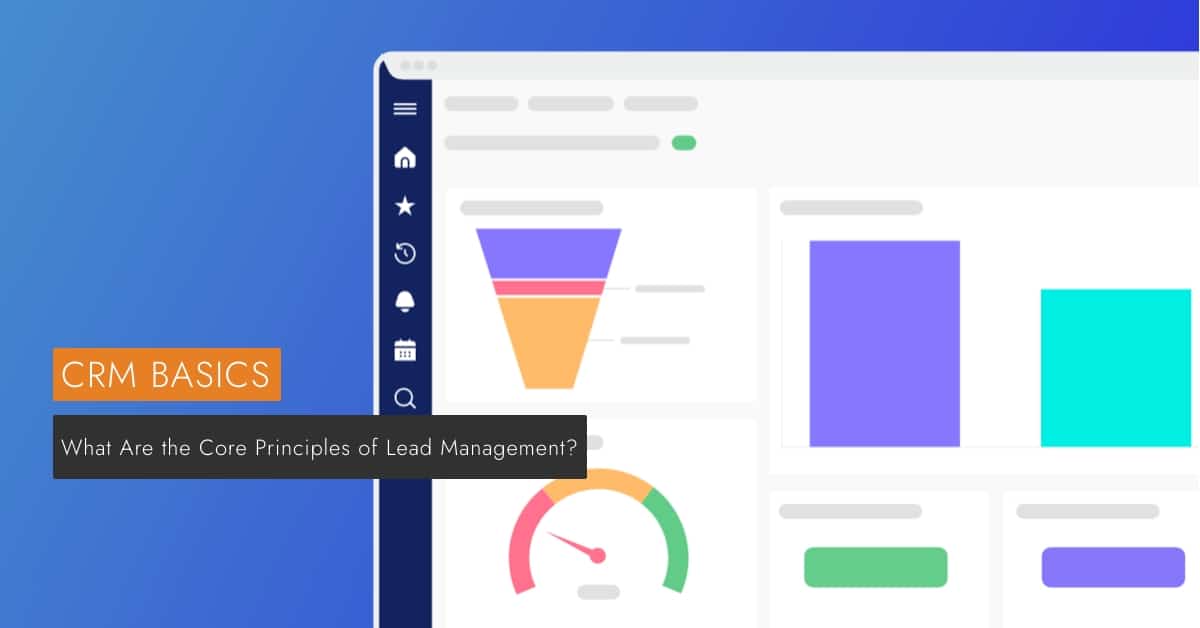 Lead management is the process of generating, scoring, prioritizing, and nourishing leads to guide them through the marketing funnel and convert them into customers.
Lead management software can help businesses manage their leads to maximize marketing efforts and increase ROI. But all businesses, no matter what they are, should always follow essential lead management principles.
What are the core principles of lead management?
In this article, we'll answer this question and give examples of how lead management software can boost your sales.
So, if you're looking to make the most out of your lead management program, read on.
What is Lead Management
A lead can be an organization or an individual having interests in your products or services and inquire about them interacting with your business, sharing information through various communication channels like email, SMS, web form, social media accounts, etc. A lead can be a potential business clientele that may turn into your regular and happy paying customer – your marketing department has to generate high-quality leads, and the sales department has to qualify and nourish them efficiently.
Here comes the need for the lead management system.
Lead management is the method and technique of generating, capturing, qualifying leads, tracking all channels and customer touchpoints, and nourishing leads and potential clients as they move through each stage of the funnel. So they remain engaged with your organization and purchase from you – you can win more deals and generate more revenue. You can ensure capturing high-quality leads and sell more by using quality lead management software or CRM.
The system involves four steps:
Lead Capturing: Converting your website visitors into leads by collecting customer data using lead capture pages, lead capture form – a system that gathers client data offering special privileges (discount code, special guide, etc.).
Lead Enrichment and Tracking: Sales reps gain better insights into lead data, identify the sources the leads come from, track their activities to determine their position in the sales process, and better analyze how likely they are about to purchase.
Lead Qualification: It involves scoring and ranking business leads depending on two factors – the fit of the leads and their level of engagement/commitment with a company during the entire sales process. While the information about their purchase history, job title, demographics, company revenue, etc., help you determine how much fit these inbound leads are, their interest in your service/product can be determined depending on standards like how frequently they visit your site, email response, eBook download, social media activities, etc.
Lead Nurturing: The process of reinforcing and cultivating relationships with prospective clients and repeat customers by sending personalized messages and offers.
What Are the Core Principles of Lead Management?
Now more than ever, businesses realize the significance of lead management and nurturing as today's customers make fickle decisions and move faster. But to keep lights on and bolster revenue generation, ensuring efficient lead management, you need to follow some principles:
Ensure Proper Research
To shape and hone your lead management strategy, you must recognize your prospective and ideal clients; otherwise, all your efforts will go in vain, and you will be doomed to failure.
For instance, the lead data you have gathered must comply with your ideal customer profile.
Bring your marketing and sales teams on a single glass pane and ensure seamless collaboration and data sharing for effective lead management. So your teams can have an in-depth overview of the inbound B2B leads, understand their mindset, identify whom the reps are interacting with – whether a company owner, staff member, or an individual, whom the campaigns should target, shape campaign content, and so on.
Use Lead Scoring
While most marketers are more likely to shuffle and send all initially captured leads to the sales reps, only around 27% of them turn into qualified leads in reality. The result is, the sales team has to struggle with the initial leads that put a lot of strain on them, and their productivity declines.
The solution here is lead scoring – one of the fastest yet efficient tactics to lessen the number of low-value prospects and make your lead management process more precise.
Although the standards for scoring leads, both negative and positive, can vary from company to company based on their ideal customer profile and distinct business model, the steps include:
Determining the qualification standards for lead scoring
Defining point values and on what criteria make leads lag
Outlining the characteristics of a sales-ready lead based on your business specifications.
Lead scoring is, in fact, an out-of-the-box functionality of almost all market-leading CRMs (although you have to pay a bit higher). For instance, with CRM Quality Scoring, your sales reps can analyze the interactions and data the leads have submitted and rank them instantly based on the points they have earned.
Curate a Lead Nurture Strategy
A carefully curated lead nurture strategy can play the role of a catalyst to boost sales. Though there is no magic bullet answer to how your lead nurture strategy should look like, some pro tips include:
Segment your audience and identify their preferences and requirements. So you can promptly identify the warm leads and pass them to the sales team. Audience segmentation will also help your sales reps curate lead nurturing campaigns tailored to the requirements and preferences of different audiences.
Set a conversion timeline
Set up KPIs; So you can better understand the aim of your customer segments and how you can drive them towards the end of your sales process faster and close deals.
Create content distinct to the segments
Design and roll out email campaigns based on audience segment
How Can a CRM Help You with Lead Management?
A lead management CRM like Veloxity is a long-term investment that can make the process seamless, accurate, and faster with its best-in-class features. While a lead management software can only help you till a lead converts into a client, a CRM continues to help maintain lasting customer relationships post-conversion.
The benefits of using a CRM for lead management include:
With a robust contact management system, a CRM ensures all your lead data is consolidated into a single centralized repository. So you can ensure no leads slip through the cracks and you are on top of the lead management system, offering proactive customer service.
Investing in a quality CRM that integrates with other third-party software is a plus. For instance, Veloxity supports email sync with Gmail, and Outlook, and integrates with Zoom, Google Calendar, GoToMeeting, and more. So, you can track your email inboxes right from your CRM system, and schedule meetings, and webinars from within the CRM.
As CRM marketing automation makes campaign data available at your fingertips for more accessible and accurate analysis, you can expect higher conversion rates. It automates most of your repetitive tasks – your teams can spend more time on better strategizing campaigns. Supporting seamless integration with other systems for collecting data about market funnel position and lead demographics, CRMs make automating and streamlining marketing efforts effortless like never before. Plus, market-leading CRMs like Veloxity feature intuitive campaign dashboards and marketing ROI so you can weigh the performance of your marketing campaign by evaluating what percentage of your target audience has converted, cost justification, and more.