How to Grow Your Business with Lead Generation (B2B)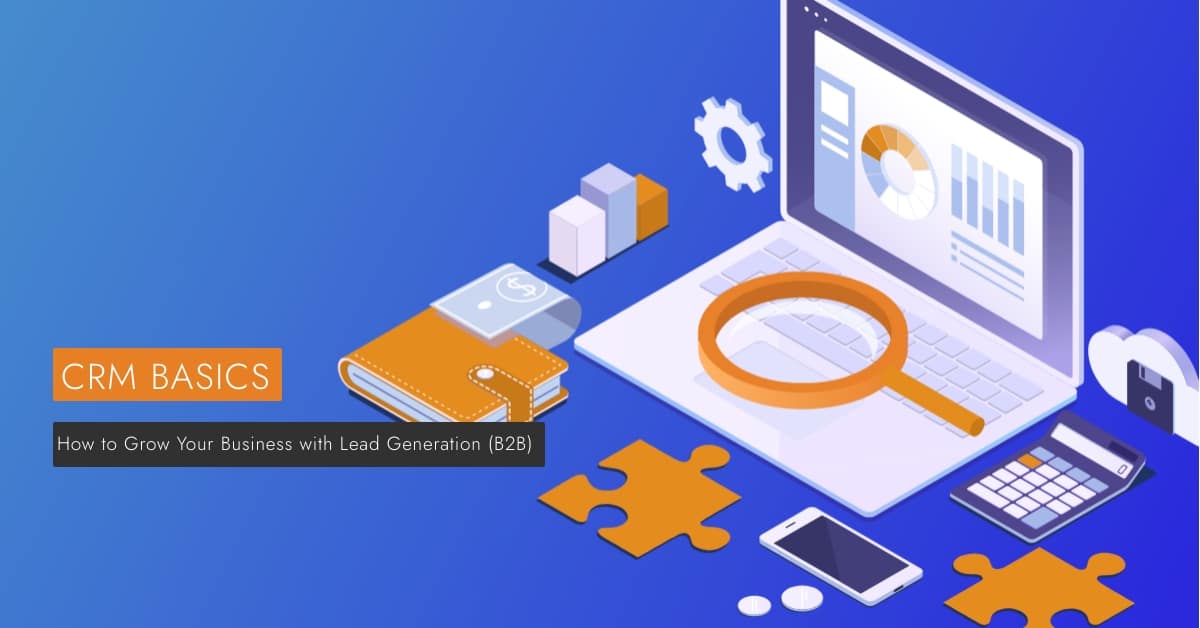 Lead generation is the process of attracting potential customers to your site and nurturing their interest so that they can eventually turn into customers. Top-of-funnel lead generation tools include SEO, email marketing, social media content, blog posts, and more.
The goal of B2B lead generation is to move visitors down the sales pipeline by increasing their interest and engagement with your brand and eventually making a sale. 
In this post, we'll briefly discuss the lead generation process and go over the most successful B2B lead generation strategies.
What is B2B Lead Generation?
The most basic definition of B2B lead gen is the process of gathering the contact details of representatives from other businesses for the purpose of marketing and selling your product or service.
B2B lead generation strategies differ from B2C because, most obviously, the customer is different. Because you're not marketing to an individual, your B2B lead generation strategy has to factor in business budgets and a lengthier awareness and consideration stage. You're not just trying to sell your product to an individual, but you're also trying to convince them that your brand is ideal for the company they represent.
How Does Lead Generation Work?
Every successful lead generation strategy follows the same process for turning leads into happy customers.
The first step in this process is finding leads. There are various ways to do that, but the most effective approach is inbound marketing through social media posts, content marketing, videos, and search engine optimization. For B2B customers, networking on LinkedIn is a successful approach.
Now that you have a list of your leads and their contact details, the next step is to qualify them.
What Is Lead Qualification?
You don't want to waste your time and money chasing leads that aren't really that interested in buying your product. Lead qualification can increase your ROI by helping your team focus on leads that are most likely going to turn into paying customers.
But lead qualification isn't a binary process where you put your contacts into two categories called "ready to buy—chase" and "not ready to buy—ignore". Rather, lead qualification understands that while not every lead is ready to hit the "buy" button, they might still turn into customers with nurturing and the right marketing message.
Lead scoring is the easiest way to qualify leads. It ranks every lead on a scale and assigns them a score based on their perceived value. The higher the score, the more likely they are to buy. While not all qualified leads will receive top scores, your marketing efforts can go a long way to bringing them through the funnel.
Examples of B2B Lead Generation Strategies
Your lead generation strategy will likely depend on your product or service, but by and large, here are the most effective ways B2B marketers find and attract potential leads:
Content Marketing
If you're focusing on building awareness of your brand and establishing your company as an authority in your industry, content marketing is the best way to send this message.
Content marketing—such as blog posts, case studies, podcasts, infographics, and ebooks—is the best way to build interest around your brand. Keep in mind that B2B customers spend a lot of time researching various products before they decide to buy, and the quality of your content will make a difference in their decision.
Advertising
Paid media is a clear-cut example of an effective lead-generation strategy. When you advertise across various websites with video, text, and display ads, you'll expand your reach to a broader audience of qualified leads. Using a clear call to action, your ads can generate a large volume of leads, but you should know your target demographic so you can spend your budget wisely.
"Free" Products
A free product or lead magnet is something of value you can offer your audience in exchange for their contact information. The more valuable your free product appears, the more likely your audience will be willing to give up their contact details.
A lead magnet or "free product" can be an ebook, printable guide, whitepaper, newsletter, or anything that the customer perceives as useful and helpful.
LinkedIn Outreach
As the world's biggest professional social media platform, LinkedIn is a hotspot lead generation. There are various ways to attract leads to your website using LinkedIn, such as employee advocacy, ads, and content.
The main LinkedIn lead-generation strategy, however, is direct messaging, which has largely replaced the cold-calling days of yore.
Lead Generation Tools
If you're using a CRM software like Veloxity, Zoho, Salesforce, or Hubspot, you'll have a wealth of tools at your disposal to help you generate leads and organize them as they come in so that your sales team can get to work.
Popular CRM lead generation tools and features:
Landing page builder
Automated lead assignment rules
Analytics and charting
Lead scoring
Social media management
SEO
Ad management and tracking
Boost Your B2B Lead Generation Efforts with a CRM
B2B lead generation is a vital aspect of increasing your sales and improving your marketing efforts. WIth the help of CRM software, you can apply data-driven lead generation tactics to all your marketing campaigns, which can drive up your sales and lower your overall costs.
Want to see what B2B lead generation looks like using Veloxity CRM? Start your free trial now!