Less Annoying CRM: Is It Any good?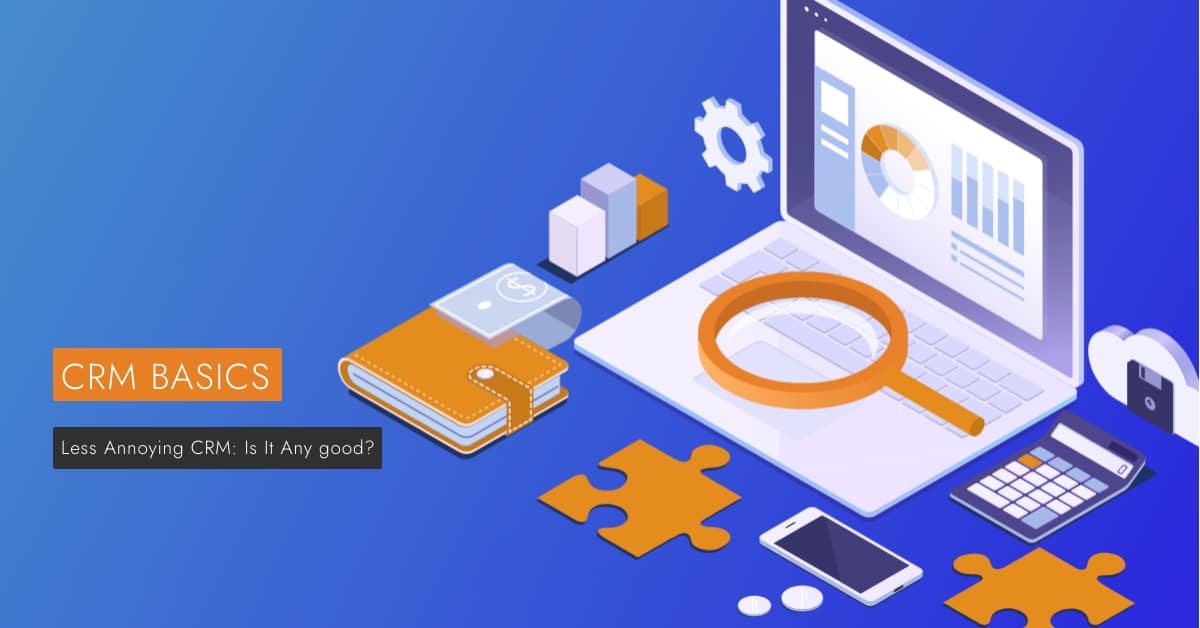 If you're searching for CRM software, it's likely you've come across Less Annoying CRM. Yes, the name is catchy, but is the product any good? In order to answer that question, we first need to understand what Less Annoying CRM has to offer.
Based in St. Louis, MO, Less Annoying CRM specializes in customer relationship management (CRM) software for small to midsize business (SMBs), including startups. Workflow tracking is provided in the form of pipelines, which are used to track and handle leads and other processes. These pipelines provide a simple set of lead management solutions that are best suited for small businesses or groups.
Keep reading as we take a look at the various features offered by Less Annoying CRM, so you can decide for yourself if it's the right product for you.
Less Annoying CRM Features
Less Annoying really is designed for SMBs, startups, and freelancers, which is evident in its solid roundup of CRM tools that give users everything they could possibly need from a CRM without any add-on solutions for marketing, customer service, content management, etc.
Less Annoying CRM Features
Contact management
Calendars with built-in tasks
Lead reporting and pipeline management
Unlimited users
Custom fields
Mobile access
Free phone and email support
What Integrations Are Available for Less Annoying CRM?
Google Calendar and Google Contacts
Microsoft Outlook
Mailchimp
The follow third-party integrations aren't managed or supported by Less Annoying, and API access may be necessary to set some of these up:
Leads Bridge
Leads Connector
JustCall
Invoco
Agile Forms
Badger Map
Less Annoying CRM Pricing Plans
What's unique about Less Annoying is its pricing options: there's only one. Less Annoying costs $15 a month per user, for the purpose of eliminating "hidden fees" and doing away with confusing tiers. For startups and single professionals this flat rate is likely very attractive. 
However, what you get for that $15 is all that you can expect from the CRM. If your business starts to grow and you require more CRM features and integrations, you'll have to find another product entirely.
Pros & Cons of Less Annoying CRM
Pros
Easy to Use
Less Annoying recently revamped their interface and menu orientation to make it more modern and intuitive. Existing customers will have to get used to the changes (e.g., customer history is now called "activity feed"), but a quick view of the Beginner's Guide video is usually all one needs to catch up.
No Contract
Less Annoying is proud of its easy payment structure. People can add as many users as they like and cancel at any time.
Affordable Full-Service CRM
If you run a SMB, you may not even notice that Less Annoying's platform is limited compared to giants like Zoho and Salesforce. For only $15 per user per month, small business owners have everything they need to manage their sales pipeline and contacts.
30-Day Free Trial
Not every CRM offers such an extended trial (i.e., you only have 14 days to try Salesforce's Essentials' edition). Less Annoying wants to make sure their customers are satisfied and comfortable using the product before they commit.
Cons
Basic Reporting
Be sure to run a report during your free trial to see if you're able to generate the data your business can actually use. That's not to say that there's no customization, but there are certainly other CRMs out there that offer more. 
No Possibility to Expand Features
We can't discredit Less Annoying's no-nonsense business model…mainly because so many small business owners have been singing its praises. But there is a downside to only having one pricing tier…you might outgrow it.
If you think your company will need a more complex CRM in the future and you don't want to have to go through the hassle of learning a whole new platform, check out Veloxity CRM. We are a future-proofed platform, which means you can expand our features and integrate more tools to suit your company's growing needs whenever the time comes.
No Forecasting
Sales forecasting gives organizations intelligent estimates about future sales. Again, not everyone needs this feature, but it certainly comes in handy when you want to know if your team is on track to filling their sales quotes.
Why Consider Less Annoying CRM?
If you've never used a CRM platform before, you might be intimidated by how many options are out there. Just looking for the right CRM can be an arduous exercise if you aren't familiar with the software. What Less Annoying does really well is make it easy to just sign up and go.
Customizing your dashboard to the enth degree with add-ons, integrations, rules, and sales stages can be a long process. With Less Annoying, you're less burdened by choice, which makes adoption quick and often painless. It might be why U.S. News rated it the #1 best CRM software in 2020.
Should You Try Less Annoying CRM?
Less Annoying is a simple CRM with a full list of essential customer relationship and pipeline tools. However, even though the platform's low price is enticing, you can find less expensive versions of expandable platforms—you know, in the likely event that you'll want to add more solutions to your CRM in the future.
For example, did you know that Veloxity has two editions for less than Less Annoying's monthly fee? Try our always-free edition or our Basic Edition for $7 per user per month. Our Basic Edition is loaded with features (including forecasting) and you won't have to learn a whole new platform should you ever decide to integrate more tools.