Best Healthcare CRM Software: How Does an HCRM help your Healthcare Business Grow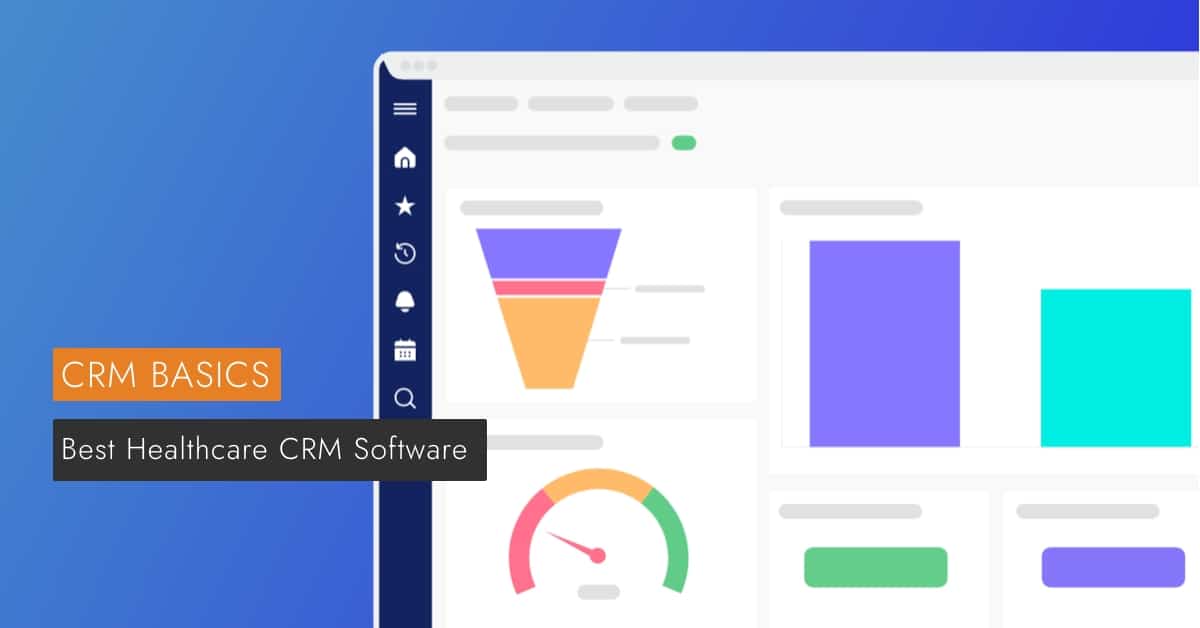 A quality CRM system is an indispensable part of every modern business that aims to flourish — and that too includes the healthcare sector. The healthcare industry is getting increasingly competitive each year, and spending on sophisticated medical equipment and hiring expert staff only, relying on a legacy system, cannot drive innovation.
A healthcare CRM software may sound unconventional as most people think CRMs are all about marketing and sales. It is somehow true, but CRMs specifically designed to comply with the healthcare system, the involved processes, and help meet challenges are tremendously beneficial, especially in maintaining and boosting customer engagement – one of the vital keys to improving business ROI.
In this post, we will look over healthcare CRM features, functionalities, and how they can help your healthcare organization grow.
What is a Healthcare CRM Software
As a savvy healthcare business owner, can you ever afford to lose analysis results, compromise data security, or even minor pathological errors due to administrative mistakes? You can never, right?
How about implementing an HCRM – centralized healthcare software system to tackle all these issues and ensure your business runs optimally? It can be your all-in-one solution to ensure better engagement with your customers (in this case, patients), storing business and customers' data in order, save on operational expenditure, and more.
But what is a healthcare CRM system?
A healthcare CRM, also known as medical CRM or HCRM, is a specially designed CRM software that helps retain, acquire, and engage patients and offer better care across the patient lifecycle. It enables owners to systematize interaction with referring providers and patients, personalize and promote services effectively, and boost customer satisfaction, consolidating each customer's medical, behavioral, and socio-economic data into a holistic profile. 
When highly personalized healthcare services with top-notch protection for personal information is the priority of most patients nowadays, healthcare providers must implement HCRMs to better adapt to these challenges.
As the number of touchpoints and data inputs increases, health systems have to gather, save, and analyze that massive volume of data more efficiently. An HCRM helps caregivers improve their services and provide them with a "single pane" representation of each patient and equipment to deliver patient-centered healthcare.
To ensure putting everything on one page, healthcare CRM software tracks and records the communication between a patient and a dedicated assistant or organization's website, provider credentialing, EHRs (electronic health records), etc.
The global healthcare CRM market value is estimated to reach 8289 million dollars by 2026, from 7523.4 million dollars in 2021, at a Compound Annual Growth Rate (CAGR) of 9.4% during the forecast period 2021-2026.
Who Uses Healthcare CRM Software
Businesses that consider HCRM an integral part of their system are:
Retail health clinics
Businesses that manufacture healthcare products
Primary care practitioners and offices
Urgent care centers
Fitness and gym organizations
Pharmaceutical organizations
Industries that manufacture medical equipment
Global healthcare providers, and more.
Healthcare CRM Functionalities and Use Case
A top-class HCRM should offer the following functionalities:
Lead Management: Route leads to the appropriate sales rep and follows up the lead qualification method and all interactions with prospects.
Opportunity Management: Helps you leverage healthcare business opportunities and track all your leads and potential sales prospects better.
Contact Management: Helps healthcare providers maintain a consistent patient and contact base by organizing their contact data efficiently.
Forecast Management: Helps assign quotas and track sales progress using sales forecasting depending on your pipeline of potential deals.
HCRMs offer top-notch client support by ensuring:
Order transcription
Automated patient report generation
Sample accessioning
Medical director review
Most top-notch HCRMs come up with an intuitive Physician Portal to enable digital report delivery and Electronic Ordering.
A cutting-edge CRM system and health analytics software is an all-in-one tool tailored to the requirements of both caregiving organizations and patients.
Mid-sized and small healthcare organizations can leverage CRM capabilities for:
Monitoring medical equipment
Improving scheduling and alerts
Introducing real-time collaboration among care teams
Optimizing case management to meet a patient's health requirements
Leading caregivers in the healthcare business use CRM tools to manage in-patient clinical outreach for:
Ensuring patient tracking and follow-up after discharge
Using a central repository to consolidate and sync PHI over various departments
Notifying patients about clinical trials
For out-patient services, CRM capabilities help to:
Analyze team performance.
Record patient communication, follow-ups, and appointments
Gather PHI (Protected Health Information) in a centralized database;
Features of Healthcare CRM Software
A quality HCRM is an asset that can help you run your healthcare business more efficiently.
Healthcare providers usually invest in two types of HCRMs — one that helps them interact better with their patients to stay connected uninterruptedly and the other that keeps specialized and general healthcare practices interconnected.
Each of these two types of HCRMs has its unique features and services to offer. However, the basic features every HCRM software must include are:
Email Automation
An essential feature of every HCRM is to help owners run automated email campaigns for mass mailout and streamlining their email marketing presence. You can use the CRM's ready-to-use email templates, customize emails using the CRM's email builder to insert content like embedded images, or videos or build your own.
Create the email list, and leverage the power of email automation using A/B testing, email merge, etc., and you are all set to send personalized and effective emails to hundreds of patients and leads in minutes!
Furthermore, email automation helps you reach more people with less effort and generate more leads cost-efficiently.
Reports and Dashboards
A modern HCRM solution gathers a massive volume of data from various devices, care points, applications, and teams.
One of the basic functionalities of any CRM is to generate and customize reports and facilitate data analysis to provide a 360-degree view of the patients and customers and help track ROI efficiently. It is vital in the healthcare industry where manually planning, executing, and tracking administrative, outreach, and marketing efforts is a time-consuming task.
Again, a CRM must offer configurable and intuitive CRM dashboards to facilitate marketing and sales data tracking.
Ability to Integrate with Existing Software
Remember, you are adopting HCRM software to help you facilitate your business operations, not to increase your system complexity operating as an isolated system.
Most market-leading HCRMs are seamlessly integrable with software like EMR and EHR – the core systems of your business that are crucial for automating and streamlining manual processes to ensure prompt data entry and precision in record keeping.
The patients' data (appointment time, treatment information, etc.), logged in your EHC, and EMR fires off straight to that patient's holistic profile in the HCRM after integration. So you can get a complete view of all patients to diagnose patients more efficiently and offer better and safer care and prescribing.
Multi-platform
Another surpassing feature of a quality HCRM is that it is also available via the cloud.
With a multi-platform CRM, you can engage staff from onboarding and beyond. So they can offer more reliable customer experiences and track essential data from anywhere.
Practice Management Integration
A good healthcare CRM software supports integration with practice management to automate and facilitate administrative operations vital for running a healthcare center. For instance, if you use a CRM that integrates with your practice management system, it can automatically gather data in patient profiles when patients book appointments through a patient portal.
Likewise, your HCRM can also record billing data automatically.
The other best-in-class features an HCRM must include are:
Facilitating data tracking with a fully configurable data model
Advanced Machine Learning (ML) adjustment of forecasting data to help providers evaluate the opportunities of future profits and revenues better
Configurable data views
Advanced permission control on CRM features and information
Automating tasks like ownership assignment, lead routing, rules implementation, and more
HIPAA compliance; we will discuss it in detail later.
Benefits of Healthcare CRM Solution: How an HCRM Helps you Grow
Evaluate Your Business Performance with an HCRM
Just like other businesses, a healthcare organization strives to evolve and boosts its productivity. But how can it be ever possible if you do not have a comprehensive overview of your business performance? An HCRM can be your savior here by providing you with an in-depth analysis of your business.
Get Better Business Insights
How can you analyze if you need to adjust your fundings allocated for each department or current business strategies? A healthcare CRM can answer.
For instance, to assess the success rate of your mailout, patient retention, or customer engagement campaigns, you must drill down to evaluate real-time data on your email opening and bounce rates and clicks.
So you can assess whether your current marketing efforts can successfully translate into deals or not, understand which type of marketing campaigns can generate more prospective clients, help you retain patients, and fit into your service.
Also, CRMs can help calculate and evaluate expenses and facilitate KPI analysis. In short, leveraging AI and ML, HCRMs can perform any business analysis tasks.
Collect Patient feedback
Your patients and customers will welcome the chance to speak out if you allow them to leave feedback. A quality CRM is integrable with various customer feedback and survey tools, VOIP phone systems, etc., to help you build a stronger relationship with your patients and customers. So you can understand how satisfied your customers are with your services and evaluate your competitive capabilities fairly.
Optimize Your Administrative Tasks and Business Processes with a Quality HCRM
Healthcare is a complex business that requires efficient management of all resources and personnel involved with it. Thanks to healthcare CRM systems that can help you manage administrative tasks and even automate some of them.
Allocating Resources
Tracking data about essential drugs and medical equipment is always on the top of the to-do list of any healthcare organization. But the manual process of regularly monitoring machines and ensuring everything is running just fine is time-consuming and prone to errors.
HCRMs can help you here by storing data about your available resources. By consolidating information about expiration dates of drugs, scheduling machine inspection, and dedicated staff responsible for executing the administrative tasks in your HCRM software, you can ensure you never run out of essential resources like medicines and everything runs optimally.
Task and Customer Management Automation
From filling out forms, complying with regulations, and confirming appointments to consolidating notes on patients' health – a healthcare industry involves so many responsibilities, and even a minor mistake can incur a heavy loss to your business and your patients as well.
Thanks to the HCRM task management module that can automate tasks that involve a particular chain of actions. So adding and assigning duties and tracking task progress in terms of priority and deadline has become easier like never before!
Managing Schedule
Filling out vacancies and responding to changes in physician roasters promptly, and manually handling simultaneous requests from multiple customers and patients is no picnic.
But for a CRM that is built on AL and ML, it is no big deal.
Thanks to CRM software that can efficiently handle scheduling. So you can ensure there is no unlimited waiting queue, clients are satisfied, and doctors can serve efficiently.
With powerful AI/ML-based predictive models, CRMs can also forecast the busy hours and days of the week for effective scheduling.
What is more impressive is that you can also employ your HCRM software for a better doctor-patient match by creating individual profiles with features and specialties for all practitioners working at your healthcare organization to ensure a better customer experience. For example, for a patient who knows German only, you can identify a physician who is an expert in German with your CRM in time. Though you may not require a CRM for such things, it is fine to use such CRM functionalities for immediate customer support.
Offer Your Patients Better Customer Experience with HCRM Systems
Like other CRM tools, HCRM also focuses on helping caregivers to boost their customer experience.
Better Data Organization
HCRMs can efficiently consolidate and organize all your patients' information into a centralized database. And with a centralized and highly organized system, pulling up essential information while interacting with a specific client and ending up with a highly productive conversation becomes effortless. So you no longer have to dig through endless files and spreadsheets and search for previous conversations while interacting with a particular client.
Now, you can get essential data at your fingertips displayed in your HCRM intuitive dashboard or email inbox when you need them and track your patients' and clients' contact data, social media, and email accounts more efficiently.
Offer Personalized Service
A savvy business owner knows how essential maintaining seamless communication with customers is to boost ROI. Though much of this interaction can be handled over the phone, sending and responding to emails is equally significant.
While customers count personalized messages and emails as a standard of communication today, focusing on value-based selling should be your priority.
An HCRM not only stores data about patients' medical conditions, but it can also record their personal information, like age, date of birth, patient demographics, etc., and categorize them based on segmentation filters and tags to send personalized emails more effectively.
For instance, with a CRM solution, you can send greetings on your patient's birthdays, inform them about your special offers and discounts, notify them about the upcoming appointments, and more to offer a more personalized proactive service.
What is more interesting is that you can, in no time, push out highly targeted and personalized outreach by simply pulling any data (for instance, the patient's first name) you have saved in the CRM platform into your emails. This way, HCRMs email personalization functionality can help you convert more leads and turn them into loyal customers.
And most importantly, email personalization increases your chances of acquiring new patients and patient retention by helping you share the experience of your current patients digitally. All you have to do is to make sure your hyper-personalized emails can hit your patient's and prospects' inboxes just at the time.
Prevent Errors with Auto-generated Bills
You might have multiple front-desk staff to process patients' billings – one of the time-consuming tasks of the healthcare system that is prone to human-made errors and needs cross-checking.
What if you have auto-generated bills? Thanks to healthcare CRM software that can automate the billing process by facilitating in-app coordination among different departments.
It is a tremendously helpful functionality of modern HCRM, especially when laboratories and healthcare centers have to make countless bills a day, and even an exchange of two decimals can change the amount radically.
Helps Improve Interdepartmental Communication
Maintaining coordination among the departments your healthcare system is made of is crucial. But the hectic schedule and fast-paced work make inter-departmental communication falter sometimes.
Thankfully CRM systems can help you ensure seamless communication and file sharing among departments once you have automated workflows and implemented appropriate conditions.
HIPAA Compliant Healthcare CRM
For life science, pharmaceutical, and healthcare industries, HIPAA (Health Insurance Portability and Accountability) set out the regulatory framework a healthcare provider – both an individual or a company must abide by while working with patients' personal and confidential clinical data.
Ensuring all patient data like contact information, demographics, biometric data, clinical histories, current health plans, etc., are stored and backed up securely is key to compliance with this regime. If the security of such confidential data is compromised, it can be stolen and misused for illegal purposes. If a service accountable to HIPAA regulations fails to ensure the standard data governance, it is bound to face penalties and legal actions.
A healthcare organization that intends to deploy a CRM must invest in a HIPAA compliant HCRM like Veloxity that comes with robust access control, layers of data security, login authentication with protocols to ensure only verified users can access the CRM database, and more.
Choose Veloxity – the Best Healthcare CRM
Are you searching for top-notch HCRM software that delivers measurable developments? Veloxity healthcare CRM can be your ultimate choice – your all-in-one solution that can improve every digital touchpoint of the customer experience.
Accelerating time to value and building healthier patient relationships have become effortless with the world's most appreciated CRM solution – Veloxity HCRM, which allows healthcare providers to reach more clients faster and offer the most translucent and comprehensive patient experience possible. With clicks, not code, you can innovate even quicker and stay ahead!
Let's look over what makes Veloxity one of the best healthcare CRMs in the current market:
Veloxity is pre-integrated with Exemplar, one of the finest clinical LIMS solutions in the market for instant data processing upon data accession. Laboratory protocol outputs are sent back to Veloxity HCRM for evaluation, and immediate inclusion in patient reports, once data processing is complete.
Thanks to Veloxity template builder that has made patient report building effortless.
Veloxity's built-in reporting modules allow configuring patient reports adding dynamic elements in real-time so they can be better understood.
You can efficiently manage your leads, contacts, sales pipeline, contacts, and activities, streamline sales processes from anywhere at any time to unveil new value of your consolidated data, and identify opportunities for proactive engagement.
Veloxity values your patients' privacy. Hence, this HIPAA compliant CRM encrypts your business data with best-in-class security measures and a complete audit trail to ensure your peace of mind. Thanks to its robust documentation and role-based permission system that will help your company meet all relevant privacy and data security legislation.
Wrap Up
To get ahead in today's highly competitive healthcare and life science industry, replacing legacy systems with integrated healthcare CRM software is crucial.
Try out Veloxity, the best HCRM platform with state-of-the-art features that can ensure you are laser-focused on driving innovation through delivering personalized healthcare services and strengthening relationships with clients.