Benefits of CRM in Healthcare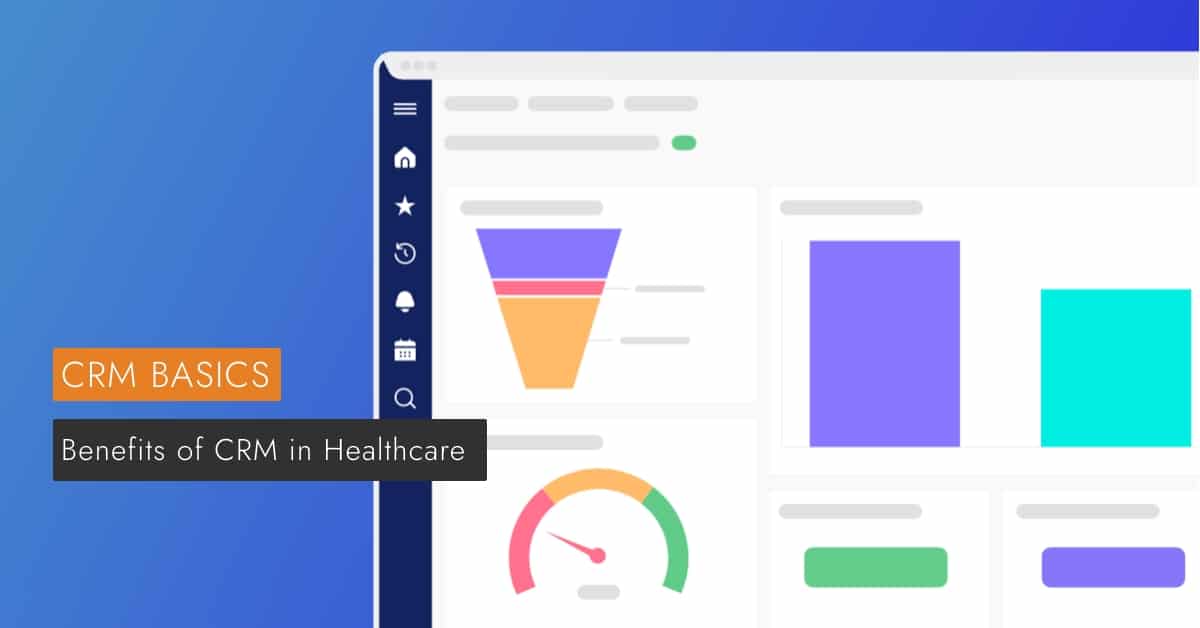 Customer relationship management (CRM) is a system that uses data to help healthcare organizations develop customer-driven business processes. CRM has increasingly become a top priority for healthcare organizations, as they realize it can help them be more effective in delivering services and products.
This article will discuss the benefits of CRM in healthcare, then discuss some of the challenges of implementing CRM. We'll also provide software recommendations to help you make the right product choice for your organization.
What Companies Use CRM Software?
The market for customer relationship management platforms has been gaining momentum for quite a number of years so far now. No matter how big, powerful, multi-national or even digital a company is, they will always require a CRM at some point or another, mostly due to the need to power businesses with deeper insights into all aspects of the company.
So which companies now use CRM software? Well, most of them these days. When it comes to choosing a CRM software to use can become tricky though, thanks to enterprises emerging all the time which supply the market with their own CRM tool, making the whole industry a battlefield. The list of CRM solutions available today isn't exhausted and business owners can become overwhelmed by the sheer amount of them and become unable to make a decision.
What Are The Must-Have Features Of A Healthcare CRM?
When it comes to healthcare systems, patients nowadays expect nothing less than ease of access, services personalized to them as well as privacy and security for their most sensitive health information. Patients these days are also better informed and more involved within their own healthcare, which is why more and more people are meticulous when it comes to selecting a professional for them. These challenges are what marketing departments of clinics need to begin to adapt to for the future.
Technology has begun to revolutionize how healthcare functions and as a number of data inputs increases, health systems will need to keep up and effectively analyze and store that influx of data. To improve patient outcomes, health care teams require a "single pane of glass" picture of each patient as well as tools for coordinating appropriate care and communications. In addition to providing fully patient-centered treatment, the healthcare sector tries to keep operating expenses under control.
Features vary based on platform provider, however a one size fits all approach to must-have features won't work here, different clinics and healthcare institutions have different requirements and thus it's important to do your own research of different platforms before deciding on one.
As a rule of thumb, the following features should be considered:
Patient management
Team management
Medication management
Communications
Marketing
Dashboards and reporting
Referrals management
Recruiting management
What Could A Healthcare CRM Do For Your Practice?
CRM systems can help transform healthcare practices for the better, allowing for improvement on patient communications among other internal processes. Another note to make is that a healthcare CRM improves the customer experience and assists your practice in retaining more patients.
Building deeper relationships and keeping engaged with patients are both important goals in an increasingly competitive healthcare market. You may take your practise to the next level by performing both at the same time with the aid of a CRM system like Pipedrive (which is presently not HIPAA-compliant).
Does my practice need to make use of a CRM?
It is important to establish strong ties with your patients in today's business situation. There is a significant change in the health sector as a whole. As the health care provider increases, it has never been tougher for the patients to pick and retain their customers high.
What patients are looking for now is a deeper interaction with their doctors at their healthcare providers. The ability to access your doctor by chat or video allows patients to check every time they wish.
At the same time, consumers want to see the finer facts of their situation from their health care practitioner. Today, patients are prepared to investigate alternative therapy kinds which might benefit their cases and are able to change their healthcare provider if their present healthcare provider feels that their needs are not satisfied.
E-health records are another feature that CRM brings to the table. Most hospitals now save computerised records of their patients' medical histories. So it doesn't take long for a doctor or nurse to obtain a patient's health record. This saves the patients the trouble of lugging a big folder about, and it also makes the entire procedure much more simplified.
A CRM programme also makes it easy to keep track of documents and doctor's schedules. And because it's on the cloud, anyone with access may view it. E-health records result in significantly less paperwork, which is both environmentally friendly and less time-consuming to manage. This also increases the resilience of your data in the event of a calamity.
A CRM programme also makes it easy to keep track of documents and doctors' schedules. And, because it's on the cloud, anyone with access may view it. E-health records result in significantly less paperwork, which is both environmentally friendly and easier to manage. This also improves the resilience of your data in the event of a calamity.
What Should I Look For In A Healthcare CRM Vendor?
There's a cost to not having the right CRM tool for your use cases. When evaluating partners look at CRM offerings that understand healthcare, as opposed to "generalists":
Built-in modelling that allows clinics to easily target the correct people for certain campaigns
A database which has been specifically designed for use within healthcare settings
Reports, from ROI targeting to tracking, can readily answer questions
Contact center functionality to truly provide a unified patient experience
Ability to provide robust, accurate, and latent data
Product configurability and flexibility, understanding that goals and priorities can shift quickly and/or unexpectedly
Staff that are healthcare CRM experts
A number of reference-able clients and case studies
What Are The Benefits Of Having A CRM Software In Healthcare?
In a competitive environment like the healthcare sector, one cannot afford to lose their consumer just for delayed service. To fasten up the processes, it is important to utilise CRM software. You cannot expect your front desk representative to respond to all emails and calls, and manage the entire schedule also be available at the support 24*7.
It's simply impossible. But you can surely augment your CRM with the healthcare live chat system. It will help you gather and process information as well as efficiently respond to customers queries. If a chatbot seems difficult to manage, you can adopt a simple chat application that can be filled up by customers.
Enhances your process of billing
Thus, using a CRM makes it easier for you to trail billing transactions and bill orders of healthcare users. Since many CRM solutions are integrated with analytics tools that help to get real-time insights into the process of payment. So, you can easily utilise your CRM to track billing and send a reminder to your patients to make the payment on time.
Managing reports, metrics and dashboards
A CRM software for the healthcare industry helps to store data on patients within a communication record so that it is readily accessible to staff throughout the healthcare platform. You can easily reschedule and monitor patient appointment and interaction records.
There are many doctors that practices, and hospitals at the same time have set up an online healthcare portal to make a new patient check-in and record upgrades so that it takes less time for present staff to check the records.
The patient management system of the CRM is designed to classify the patient demography to evaluate and then understand them in a better way. Moreover, it can examine particular metrics including patient retention percentage, duration of stay, and more. Also, reports can be produced through metrics or personalised information to monitor and measure progress over time.