What is a Sales Pitch? How Can You Make a Winning One That Sells?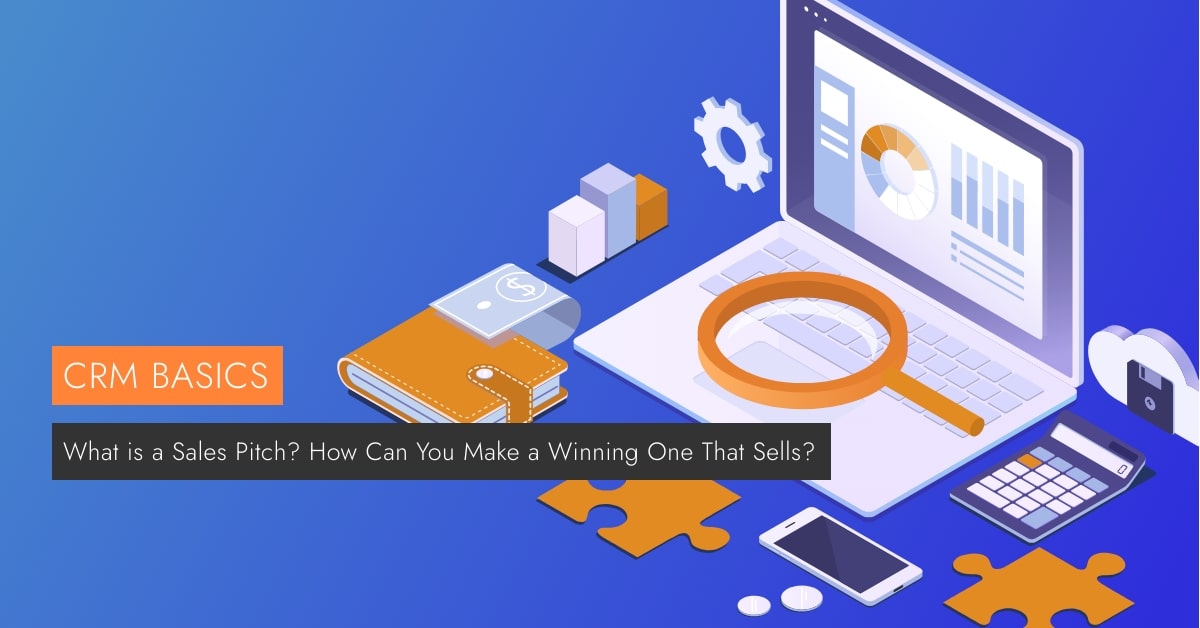 Generating new leads and turning them into closed deals is challenging. And letting those hard-earned leads fall through cracks is the last thing you can afford – you need to curate a winning sales pitch and get it nailed down to create a buzz around your business.
A customer-centric sales presentation can enable you to engage prospects with your company and persuade them to buy from you.
But what is a sales pitch, and how can you maximize its potential to win big deals and close them faster? Let's dive deeper and unpack everything essential you need to know to make a successful sales pitch that sells.
What Is a Sales Pitch?
A sales pitch is a consolidated sales presentation that sales professionals deliver to their potential clients. The target is to pique their interest, convey a clear business value, convert prospects into high-value leads and drive them through the sales pipeline to speed up the sales cycle. It should be no longer than one to two minutes and can occur via different channels – direct call, cold calling, email outreach, offsite meetings, or social selling.
You cannot deliver an hour-long pitch to today's customers – their attention span is ever-shrinking, and you need to be outstanding in your introductory spiel to outperform your competitors.
Importance of Sales Pitch
Let's go through some sales challenges even the reps of high-growth companies are up against:
48% of sales professionals find closing sales deals challenging as they have to compete against low-cost rivals.
A survey conducted on 472 sellers of businesses having 10 to 5,000+ salespeople found that the average win rate for sales is only 47%
The percentage of sales reps successfully hitting their target quotas has plunged from 63% to 53% in the last 6-years
How about if you get a ready-to-go sales recipe to reach your target customers most efficiently?
You would love it, right?
Surprisingly, 20% of skilled salespeople can win 80% of all deals.
But how do they manage to be so efficient in clinching so many sales deals?
It's no secret they implement the failproof formula of elevating sales presentations.
A perfectly-curated pitch is gold dust to a company that lets you directly communicate with your would-be clients and build an in-person value exchange. It enables you to drum up your startup, bring value to both parties, and devise more rigorous strategies to keep sales rolling in your system.
Storytelling- the Base of Your Pitch
Facts tell, but stories sell – they say. So you should create a stellar storyline and make the pitch revolve around it to keep your prospects engaged with your offers while swaying them to make a deal.
The narrative can be on anything – the story behind your brand, how your customers found you, etc.
How to Make a Killer Sales Pitch
Let's dig deeper into how you can curate a perfect sales pitch to start stronger and close well:
Research -a Must-have Element of a High-converting Sales Pitch
Let's accept the reality – your company will not sell itself. To create real value for your presentation, improving the probability that the would-be clients will positively respond, you must understand who you pitch to, what your target organization deals with, their goals, the competitors, etc.
Plus, you should prioritize the sales deals you would be chasing by counting on data analytics rather than mere intuitions.
To get better insights into your potential customers, channelize your sales efforts accurately, and pitch the right leads, cash in on your CRM database. For example, Veloxity's high-fidelity intelligence centralized databases augment customer data, consolidate interactions and contact details in holistic profiles unique for each client, and enable reps to categorize customer base using segmentation filtering and tagging.
Revolve the Pitch Around Your Customers' Needs, Not Yours
Speaking about your company only is the snappiest means to get customers to tune out. You have to frame your sales presentation around your clients, not you. Elaborating on the value your company can build for the consumers will always pay off. Are you lowering prices, boosting efficacy, or reducing manual tasks? Your potential clients would be more likely to react to advantages than product attributes.
Use the Right Channel to Reach Your Target Audience
Reach out to your B2B clients via the communication channels they usually prefer. For example, while high-growth companies reply more to conventional types of outreach, like direct calls, an SMB or contemporary business favors private messages/DM (direct messages). With that said, don't overstress this step; if you cannot nail it on the first shot, trying to reach them via another channel is absolutely fine.
Personalize Your Pitch
Personalizing your sales pitch can go a long way in helping top-professional sales teams win big deals with ease. Thanks to different market-leading automation tools that enable reps to work off customizable templates and map their presentations with each prospect's preference, pain points, and requirements.
And CRMs make pitch personalization as painless as possible. For instance, Veloxity's state-of-the-art CRM offers a 360-degree view of all leads and enables reps to get customer data at their fingertips – anytime, anywhere! Further, its robust Email Template Builder lets your sales reps use the built-in email templates or build their own, and the system auto-fills in the appropriate fields in the body and subject before sending out. Delivering consistent, hyper-targeted sales presentations tailored to customers across all touchpoints has never been this effortless.
Keep Following up
Following up with to-be consumers periodically after the initial pitch is a sure-fire way of acquiring more new leads and pumping up your sales. A study reveals that 70% of email interactions end if the first email is unanswered. However, the possibility of getting a reply to your second email is 21%.
Thanks to Veloxity CRM – it notifies sales reps to follow up with both low-value and high-value prospects timely and enables mail-out scheduling and automating to ensure a rep can reach out to the right lead with the right message at the right time.
End with a Steller CTA
A winning sales pitch followed by a compelling CTA empowers you to make incredible strides and keep leads flowing into your company.
Besides offering your buyers a follow-up email/number, convince them by rewinding what you have to deliver and then push them to take a clear action (purchase, newsletter subscription or mailing list, opt for a free trial, etc.). Further, you can make the CTA more enticing by spicing up the pitch with sensory phrases and words.
Tips to Create a Knockout Sales Pitch
Take your pitch to the next level by using an appealing headline.
Keep it short and succinct while incorporating a value proposition.
Shake off the traditional pitch strategies – the foolproof technique to convince your clients is to spend less time on pitching and more on interactions.
Keep your pitch packed with stats and facts to back up your claims – a study run by Dimension Research revealed that 90% of prospects said online feedback impacts their purchase decisions.
You have a whole host of sales pitch types to use – switch up your pitch based on how you want to frame it, your target business type (B2B/B2C), etc.
Give Veloxity CRM a free shot and rock your sales world.