CRM vs. ERP: What Are They and How Are They Different?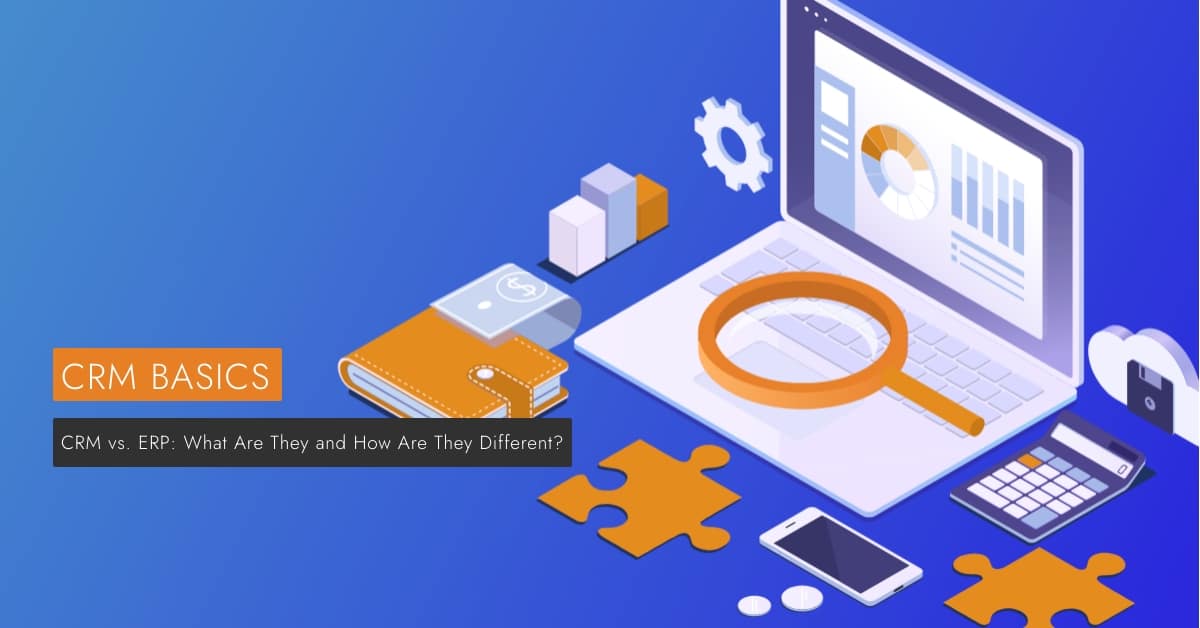 CRM stands for customer relationship management, whereas ERP stands for enterprise resource planning. Both are systems used to help companies manage their business.
Some businesses use only one of these systems, but many use both. So, what are they, and why are they important?
A CRM allows companies to keep track of the different parts of the buying cycle, from customer research to order placing. ERP is a software system that allows companies to manage all of their company's core systems.
To help you understand the difference between these two business management systems, we've put together this post. Keep reading to find out which system is right for your business.
What Is CRM Software?
A CRM or Customer Relationship Management software is a centralized system that consolidates customer data from various communication channels for better analysis and tracking interactions to optimize your sales process and foster customer satisfaction. Thus you can maintain long-lasting customer relationships.
A CRM helps track client information across all touchpoints in the customer lifecycle. 
Though CRMs were first built focusing on the sales sector (also called salesforce automation), with eventual development, CRM providers have brought marketing and service teams of a business under one umbrella alongside sales to facilitate business development.
Let's have a quick overview of how a CRM, for instance, Veloxity, can help your business:
Provides a 360-degree view of your customers
It frees your sales team from the hassle of manually doing repetitive tasks like data entry by automating them.
Captures leads from various channels and qualifies them using lead scoring that improves your chances for higher conversion.
It helps you manage and track interactions with leads and prospects to turn them into happy paying customers.
A CRM empowers users to organize customer data through segmentation, filtering, and tagging and enriches data enabling data augmentation.
You can laser target your customers for rolling out effective marketing campaigns. Get real-time data on your campaign performance on CRM's campaign dashboard.
Streamline and visualize sales process and augment forecast with CRM's automated sales forecasting feature.
What Is ERP Software?
ERP (Enterprise resource planning) program integrates all business departments and enables standardized data to flow across the entire company in real-time to streamline and optimize all back-office operations.
So, implementing ERP software means you now have a single centralized yet shared database of a defined structure that can connect every sector of your business – you no longer have to deploy separate software for each department.
While finance is the core of an ERP, it includes order and inventory management, financial reporting, procurement, GL (general ledger), supply chain management, risk management, HR management, payroll, basic CRM functionalities (can't help B2B businesses with involved sales cycles much), and more.
How can an ERP help your business operate seamlessly?
Let's look through:
Automates routine and manual tasks for better team efficiency
Implements smarter business workflows
Ensures efficient demand forecasting and intelligent inventory management, reducing admin expenses
Improves financial consolidation
Decreases manufacturing bottlenecks
Ensures seamless cross-departmental collaboration
It helps update accounts and process orders more efficiently
Standardizes the supply chain and helps plan production cycles
ERP software can reduce operational expenses radically.
CRM vs. ERP: The Differences
The primary distinction between CRM and ERP lies in their basic functionality. While CRM offers a unified customer database and helps increase the customer base to reinforce marketing, sales, and support service efforts, an ERP mainly focuses on the finance sector and finance-based data a business generates. 
The other significant differences include:
Success Metrics
CRM success metrics encompass client generation and retention to improve conversion rates and bolster revenue – you have to set benchmarks with realistic and quantifiable aims, for instance, winning 20% more deals, improving lead capturing by 15%, etc. Here a quality CRM enters the scene – it helps your teams follow up and forecast the future success rates of the set goals by analyzing the present trends and past sales and marketing performance.
On the flip side, for an ERP system, the success metrics revolve around the entire company – finance, HR and accounting departments, wholesale distributor, and more.
Ease of Implementation
As an ERP brings all departments into a single glass pane, implementing it may involve higher costs and more complexity than a CRM. Again, the ERP system productivity largely depends on the IT expertise of each staff member and how efficiently they can operate the system and work from it.
On the contrary, a CRM is a standalone system that is easy to use and learn and requires far less time and money to train the staff compared to an ERP.
Ease of Data Migration
If you have just installed a CRM or ERP platform, you have to export the existing data from the legacy systems and other third-party software to the new system, right?
A CRM is more explicit – migrating customer data from other solutions to a CRM is effortless. 
On the other hand, the process becomes a little hassle-some, involved, and time-consuming with an ERP, as your teams have to export your entire business data to it (invoices, payroll, product distributions, notes, etc.).
Process of Generating Profit
An ERP program helps business owners improve their profit margins by making their businesses more automated, data-driven, and interconnected – they can track job costs throughout the product manufacturing process accurately and cut down overhead and operational expenses.
A CRM, on the flip side, focuses on enabling a business to grow and keep up with its customer base – the marketing, service, and sales efforts can translate into success, expanding a company's reach that in return drives profitability faster. So the nutshell is, while an ERP is meant to reduce expenses, a CRM tries to improve sales by retaining and acquiring more customers to generate profit.
CRM vs. ERP: Which one is Right for Your Business?
Almost all expanding organizations, whether small, medium, or large, have to deploy a single system (CRM or ERP) or even an integrated ERP-CRM system at some point. It is because they eventually realize that the endless digging through spreadsheets or reliability on legacy systems only holds back their progress.
But which one can better suit your business? It depends on your business model and specifications.
For instance, a business with complex financial activities or one that needs to streamline business operations across all departments to ensure a speedier financial close must implement a quality ERP.
On the other side, if your business has a massive client base that runs on customer retention and optimized sales process by leveraging lead management, you need a CRM.
Try out Veloxity's future-proof ML-powered intelligent CRM with best-in-class features and level up your business!