Free Lead Management System: What You Need to Know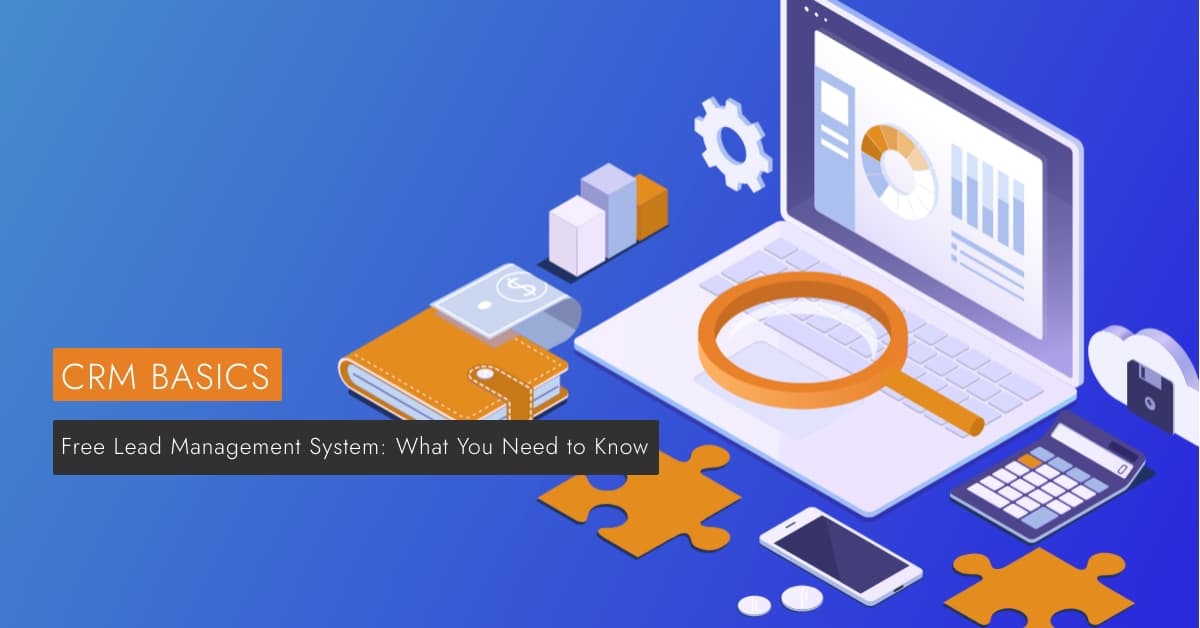 A lead management system is similar to a customer relationship management software, except that it is focused more on your company's sales leads.
A lead management system helps sales teams qualify, analyze, and nurture leads all on one platform. It also minimizes time spent on administrative tasks by storing vital information about each lead.
Is your sales team looking for a free lead management system? In this post, we'll discuss what a lead management software does and suggest free lead management software solutions.
What Is Lead Management Software?
As the name suggests, lead management software is a sales tool that collects and tracks sales leads from landing pages, ads, social media posts, web forms, and other places. Leads are then prioritized and assigned to sales teams using lead scoring.
With lead management software, you can focus on lead nurturing and stay on top of every potential customer so no one slips through the cracks. All the lead's contact details, as well as information about each touch point is stored in one location.
One of the benefits of lead management software is that business owners can use the analytics to rate a sales rep's performance as well as develop smarter, more impactful marketing campaigns.
Lead Management vs. Customer Relationship Management
You might have seen the term "lead management" being used interchangeably with customer relationship management. While the two are similar, they focus on different areas of the sales pipeline. Rather, a CRM platform does more than just lead management. It also provides tools for sales teams and customer support reps to maintain customer relationships and encourage brand loyalty.
If you're looking for an app that just focuses on the very beginning stages of the sales process, lead management and CRM softwares can be two separate products. We say can because most CRM software solutions also come with lead management tools, such as Veloxity's lead assignment rule builder.
Essential Lead Management Software Features
Lead capture
Lead scoring and prioritization
Lead automation
Lead assignment
Lead nurturing
Analytics and reporting
Email, voice, and SMS communication
Third-party integration abilities
Data protection
Free Lead Management Software for Small Businesses
You'll recognize some of the biggest names in lead management software because they're also customer relationship management software products. That's right—while we've just finished saying that the two solutions are different, many CRM products have built-in lead management tools, which allow you to follow your leads through the entire sales cycle in one platform.
Adopting a free software version is a great way to learn the platform if you're a startup, small business, or single professional. You'll find helpful lead generation tools, as well as other CRM features that help increase your sales and boost business productivity. And when you're ready to add on more features and functionality, you'll find available tiers at affordable price points that meet your needs.
Check out these free versions of CRM products with lead management tools:
Veloxity CRM (Free Edition) Lead Management Tools
Configurable sales stages with guided sales
Interactive pipeline view
Accounts tracking
Activity timeline view
Hubspot Marketing (Free Edition) Lead Management Tools
Email marketing
Form builder
Landing page builder
Contact Management
Bitrix 24 (Free Edition) Lead Management Tools
Automatic customer journey tracking
Call tracking
Reports and Analytics
Apptivo (Free Edition) Lead Management Tools
Lead list management
Contact management
Standard reporting
Tasks, appointments, and notes
Affordable Lead Management Software
If you're looking for an all-in-one CRM solution, you may have to set your sights a little higher than the free edition if you want to get more useful lead management tools. Check out these affordable editions from some of the top-rated platforms:
Veloxity CRM ($7–$94/user/month)
Lead Management Tools
(everything available in the free edition plus…)
Lead management
Forecast automation
Marketing automation with template builder
Landing page builder (coming soon)
Web form for lead capture (coming soon)
Zendesk Sell ($19–$199/user/month)
Lead Management Tools:
Customizable sales pipeline
Lead and deal scoring
Email marketing
Call and email tracking and recording
Lead-capture form
Goals tracking
Zoho ($19–$65/user/month)
Leading Management Tools
Lead automation
Workflow automation
Standard and scheduled reporting
Social media automated lead generation
Lead forms
Sales forecasting
Start Turning Leads Into Customers With Advanced Lead Management
In this post, we learned that lead management focuses on capturing, scoring, and nurturing leads at the very start of the sales cycle. This type of software is helpful for sales teams at the start of the lead management process to ensure that no lead is left behind.
We also learned that some of the most popular CRM software solutions on the market today have integrated the essential lead management tools to provide customers with an end-to-end customer management solution.
Are you looking for a CRM with full lead management functionality. Try Veloxity for free today! Or alternatively, you can learn more about CRM Lead Management.