How CRM Improves Customer Service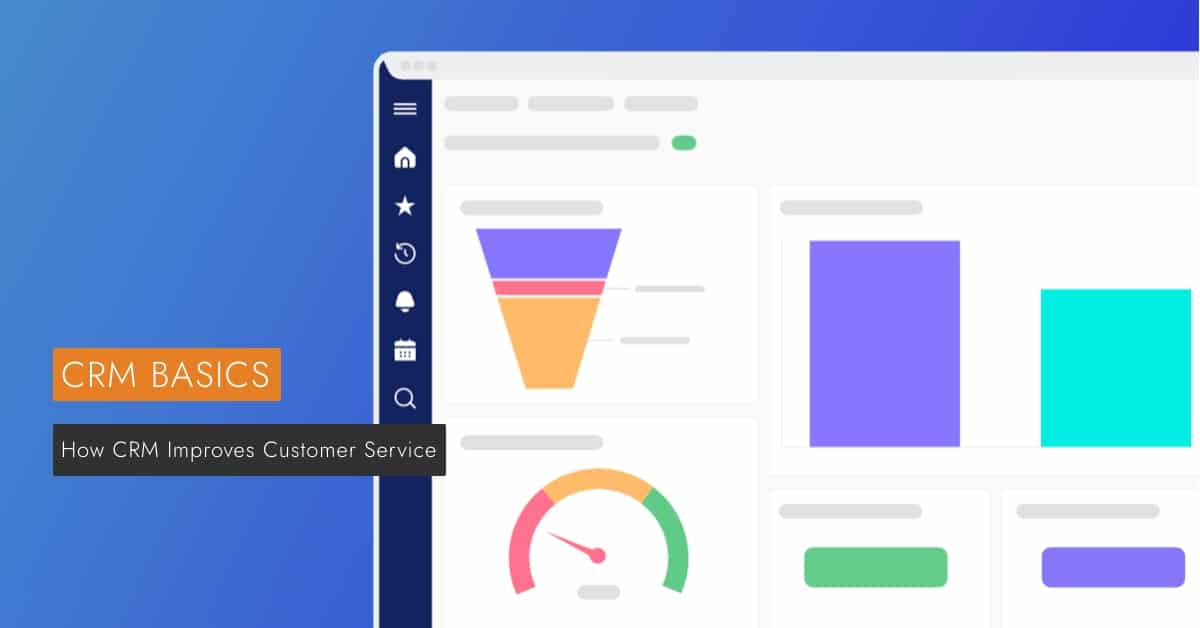 Customer relationship management (CRM) software has been used for decades to manage customer information and interactions. However, recent advances in technology have enabled CRM systems to provide a host of new features and capabilities to help organizations improve customer service.
In this post, we'll cover five ways that your CRM can improve customer service.
But first, here are some popular customer service-focused CRM features offered by Veloxity and other providers:
Ticketing
Live chat and chatbot support
Call centre solutions
Customer feedback surveys
Analytics and reporting
Email automation
#1: Personalize Your Customer Experience
Your customer relationship management software has powerful email marketing features that help you build intelligent lists that split your contacts into various segments, depending on where they are in the sales cycle, the products they've purchased in the past, or any desired demographic or behaviour.
Not only can you customize your emails to your customers, but you'll also be able to create and deliver valuable content that lets them know you care about their experiences.
It may not seem like a huge deal, but your customers are far more likely to open an email that's addressed to them than an email that looks like it was sent out to 1000 people.
With Veloxity, you can save time by using our email template builder, which allows you to create and send out emails to multiple customers using fields that auto populate with the customer's name and personal details.
#2: Deliver Responsive Support
And speaking of emails, you can utilize your CRM software to build automatic responses to the most common customer inquiries, which shows your customers that their needs are immediately being addressed.
If your company offers technical support, you'll find CRM software products that offer advanced tools, like live chat, chatbot AI, telephony, and various third-party integrations like Facebook Messenger and WhatsApp.
If you can't offer 24/7 customer support, chatbots are a great way to take care of straightforward issues that don't require human intervention. This can reduce the number of call-backs and escalations for your team while also increasing your rate of first-call resolution.
Some CRM software products, such as HubSpot, offer customer support solutions that help you raise the standard of service, with features like ticketing, team management, conversation intelligence, and customer feedback surveys.
The more ways you can offer customer support, the faster you can resolve your customer's issues.
#3: Anticipate Your Customers' Needs
CRMs like Veloxity store all your customer's info, order history, and communication history from a single location, so that when they call or email, you'll have all the information you need to help them without having to chase sales teams or go looking through shared drives.
Veloxity allows you to log calls and track emails from the customer's profile so that your team is better prepared to help your customers whenever they have an issue.
Is your CRM linked to your social media account? With powerful social media integrations, you can keep your finger on the pulse of the conversation to find out what your customers are talking about, what they care about, and what they're saying about you. 
#4: Offer Consistency & Professionalism
Nothing sets off red flags for a customer more than inconsistent client support. Companies that can't provide consistency and professionalism in all their customer interactions are far more likely to lose their customers to the competition.
When your customers learn to expect the same level of service at every touch point, you'll foster a high level of trust from your contacts.
How does a CMS offer consistent customer service? By automating your processes.
The easiest example of this is setting up an automatic reply that's triggered every time a contact requests a demo, a callback, or extra support.
#5: Learn More About Your Customer
The data collected from your CRM allows you to better understand your customer's behaviour, likes, and dislikes and to provide a better overall experience. You can use your analytics and charting to determine trends and forecast sales while gaining meaningful insight into what marketing strategies work and which ones are lowering your ROI.
Your analytics allow you to gain insights into not only each customer, but all of your customers. For example, Veloxity's advanced charting tools allow your team to visualize any specific data you choose to help you determine the success of specific campaigns, products, or customer retention strategies.
It can also help you determine when issues start in the sales pipeline and diagnose these issues before they lead to a loss in potential revenue.
In Summary: Your CRM Works for You
One of the greatest advantages of using a CRM is the ability to accumulate, track, and analyze large amounts of data. Not only is your customer relationship management software designed to improve your relationships with your customers, but it can significantly boost your ROI and improve sales processes and marketing strategies.