Keys to Successful CRM Implementation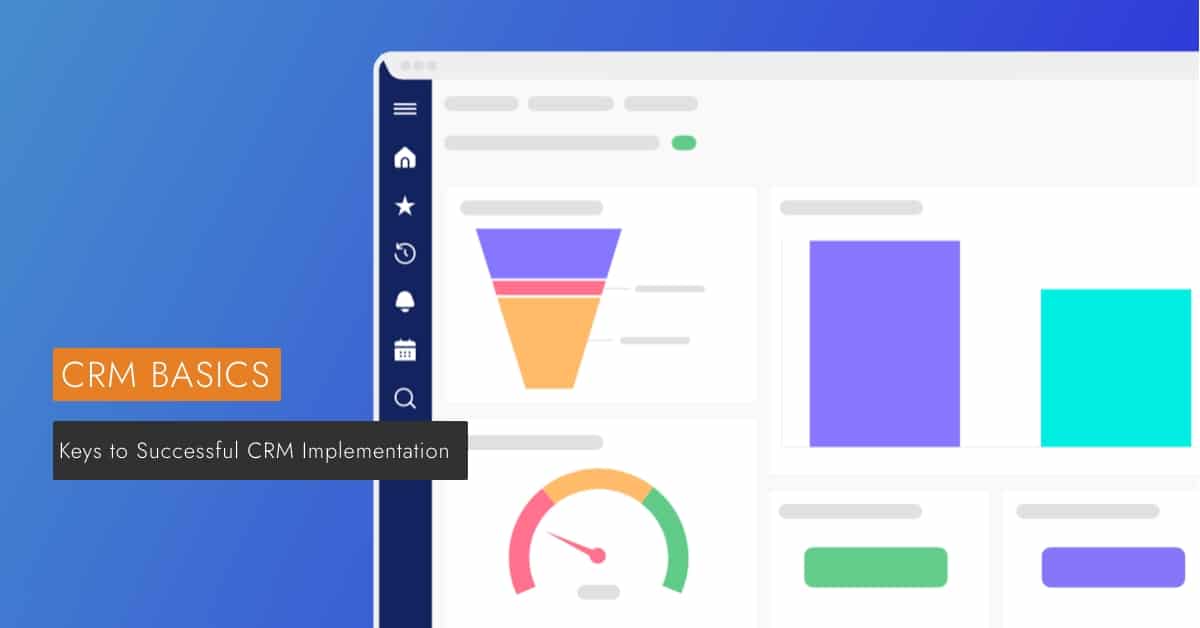 Many companies are still grappling with questions about how to implement a customer relationship management (CRM) system. It's one of the most important tools for improving sales, customer satisfaction, and retention.
To get the most out of your CRM system, you'll need to implement it correctly.
So, in this post, we'll talk about what you need to know to get your CRM system up and running correctly. We'll also share some insights into why some companies are more successful in implementing CRM systems than others.
So, if you're curious about how to implement a CRM system, read on.
What is CRM Implementation?
CRM implementation is the process of centralizing data about interactions between a business and its prospects, leads, and business clientele.
It involves quality a CRM system with functionalities and features that can meet your business requirements better. CRM software may comprise tools for consolidating client conversations, tracking leads and prospects you need to follow up with, marketing automation, etc.
CRM implementation is not merely deploying an application and giving your employees its login access. It is a system that can power up your sales, marketing, and customer service efforts and bolster business productivity if implemented properly.
CRM Implementation Challenges
Though the CRM market is booming and becoming more affordable today, revolutionizing the way businesses operate, many mid and small-sized companies still struggle to reap the benefits of their CRM systems and achieve their set goals.
Let's dive deep into the CRM implementation challenges and why many businesses lag even after deploying CRMs:
Cost: One of the biggest challenges you will face while deploying a CRM is the hefty implementation costs unless you have a strategic plan and checklist of the features and configuration facilities you will require. CRM vendors may try to tempt and trap you with the expensive bells and whistles and customizations coming with their products that your business may never use.
Lack of Mobile CRM: Although most people rely on mobile apps to be more productive today, CRM software is still considered to be on desktops only. A study conducted by Innoppl found that 65% of salespeople could achieve their sales quotas with a mobile-friendly CRM, while the amount was only 22% for companies with desktop-only CRM systems.
Lack of Scope Clarity: Another leading CRM challenge is to fight hurdles in getting scope clarity, resulting in budget overruns. For instance, most business owners find it challenging to allocate budget and time to requirements discovery precisely or cannot evaluate the current customer information to segregate the incorrect or outdated data and only import the accurate and essential ones to the CRM system.
Keys to Successful CRM Implementation
CRM software is an overarching system overhaul, and the details and scale of its deployment must harmonize with its expected reach.
Let's get into the keys to successful CRM implementation:
Set Actionable and Realistic Goals
Deciding on a CRM and implementing it without setting actionable and realistic purposes makes no sense. So, before choosing a system, make sure you list your macro goals, pinpoint the CRM features that align with your set targets, dig deep into the CRM types available, and evaluate the areas that need tweaking and redesign.
You should have an in-depth overview of your customers, their buying behaviours and demographics, and the communication channels your business exists across to evaluate if a CRM can materialize your business expectations of delivering proactive customer service and mitigating churns.
Are you planning to migrate to a new CRM system? Identify where your current system falls short and how new software can bolster ROI. It could be for better automation, lead follow-up, software integration, etc.
Syncing your vision with the company goal will help you create a roadmap to implement a CRM successfully.
Map your marketing and sales process
You can never optimize a CRM solution unless you map your sales and marketing processes precisely. It is an automation platform, and to streamline the business processes, you need to outline them first with best practices, labels, orders, and more and choose a system that can align with these processes better.
Spend Only Where Necessary
A study run by Inside CRM has found that around 65% of businesses count on CRM usability over functionality. Another investigation highlights that approximately 54% of the evaluated companies never invest in CRM software because of the expenditures involved.
So, if you want to reap the best benefits without breaking your bank, you must keep your CRM system narrow-focused, especially if you have just launched your business and are planning to implement a CRM.
Another key to successful CRM implementation is to draft a realistic budget and stick to it. So you can ensure you neither misuse nor overrun resources and can pick the most appropriate CRM deployment – cloud-based or on-prem, to offer you the best benefits with best-in-class features.
Create a CRM Implementation Team
Now that you have identified the required CRM features and narrowed down your choice, it's time to mobilize the implementation team to execute everyday tasks and drive growth, onboarding the champions from different departments.
This team will act as a central touchpoint to strategize the CRM implementation scheme, improve business morale, buy-in from staff members, etc.
The team should include:
Project manager
Systems developer
QA Engineer
Data analyst
Customer Success Manager
Sales and marketing team manager
Customer Support Manager
Leverage Integration
You cannot drive innovation and grow with ease faster by keeping your CRM in isolation.
But the bitter truth is, instead of utilizing the deployed CRM properly, most sales reps spend around 9.1% of their time juggling between spreadsheets to house essential information.
To reduce workloads and sell intelligently with intuitive CRM workflow from the outset, you must integrate the third-party systems your business uses daily with the CRM and create a single centralized customer database.
A quality CRM like Veloxity acts as a central hub that integrates with all essential third-party applications your company is built around. For instance, Veloxity supports email sync with Gmail and Outlook so you can view inboxes right from the CRM timeline, enables you to schedule meetings on Zoom, Greeting, or Google Meet with a prospective client from within the CRM, and more. So data consolidated by third-party systems gets fired off into the CRM automatically, and your employees can have them at their fingertips without navigating among various web pages and tools.
Train the CRM Users
If you want to make your CRM initiative a success, there is no alternative to rolling out development programs and training your staff members – salespeople, field reps, marketing and service support teams, CRM admins, and everyone who will use the system.
The project manager of your CRM implementation team should have a thorough and precise strategy on how to tailor training programs so that the users can get accustomed to the new system and power up the business productivity smartly.
You can opt for training sessions from your provider or assign your super-user to train others.
Thanks to Veloxity that comes with tons of free tutorials, videos, and e-guides to help your employees get started with setting up and customizing the program, using marketing automation, and more.
Why Does CRM Implementation Fail?
Despite the skyrocketing trend of switching to CRM systems in the last few years, analysts point to the high failure rate of the CRM implementation process – around 30% to 70% according to the studies conducted by leading analysts like Forrester and Gartner.
The leading causes of CRM implementation failure include:
Poor/lack of strategic planning before implementing the CRM
Absence of customer-centric goals and vision prior to CRM project initiative
failing to map and re-engineer the essential business processes
Underestimating the challenges associated with data mining and integration.
Try out Veloxity for FREE today and fuel your business growth, staying connected with your leads and customers from wherever they are!