Examples of Customer Relationship Management in the Hospitality Industry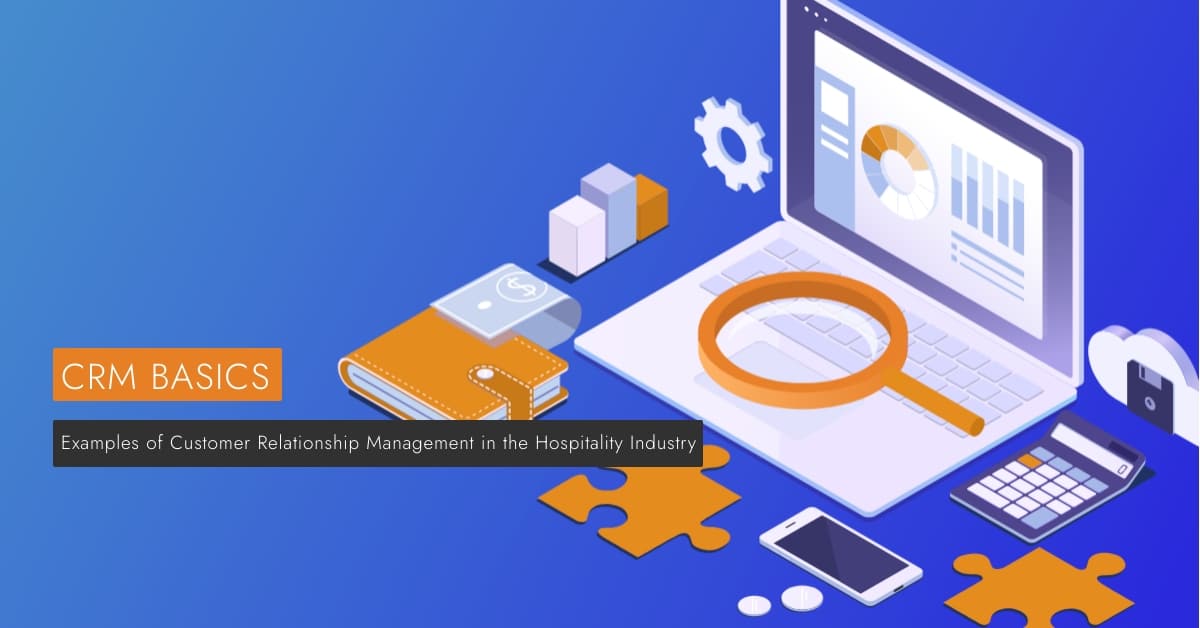 Customer relationships management (CRM) software is a tool used to track guest interactions, analyze customer data, and manage your hospitality organization's relationship with your guests.
A CRM is a way to make sure your company keeps track of what drives business and what keeps your guests happy and loyal.
In this post, we'll give examples of hospitality CRM products and their features, as well as give advice on how to choose the right system for your particular hospitality business.
What Are the Main Features of Hospitality CRM?
#1: Quote and Invoice Automation
CRMs can carry out the basic accounting features for hotels dealing with suppliers or large corporate contracts. Some CRM tools, such as Veloxity's high-quality quote tool, can generate quotes with your hotel's custom branding, which can then be automated into invoices.
#2: Rooms Occupancy Tracking and Inventory Management
CRM solutions in the hospitality industry collaboratively work with property management and operations management systems. This involves a wide array of features from reputation and supply management to housekeeping and room service. An effective hospitality CRM analyzes and unifies all these data.
#3: Hotel Inquiry Management
Major hotel brands and operators must possess clear communication channels to manage their guest inquiries. CRM solutions unify SMS, email, live chat, phone, and social media accounts into a single omni-channel dashboard. Here, fewer personnel can address incoming client interactions all day long, and can even do so via a mobile application.
#4: Schedule Follow-ups for Staff
Each organization has staff members, but hotel staff have huge numbers of employees who are trained in carrying out a wide range of roles. A great CRM solution can help the HR department in the complicated activity of scheduling interviews, hiring, conducting follow-ups, and training recruits.
Examples of CRM Solutions in the Hospitality Industry
Veloxity CRM
Veloxity CRM is a flexible platform with various tools and features to help your hospitality business grow. Because of its flexibility and expandability, Veloxity can be used in many industries and can help you build a positive guest experience and build customer loyalty.
Its main features and benefits include:
Reporting tools help you analyze guest service issues
Product management allows you to stay on top of available products, services, and accommodation
Self-defined sales stages help your sales team nurture important leads and close deals.
Experience Hotel
Experience Hotel is a hospitality CRM solution that aims at enhancing customer loyalty by assisting hotel employees in offering high-quality experiences during and after the stay of the customers. Its main benefits include:
Simple re-booking tools for returning customers.
Comprehensive segmentation features that allow you to design your campaigns for a specific customer base.
Easy and minimal guest surveys can help you anticipate guest issues/inquiries before they become complaints.
Marketing tools to upsell campaigns and offers like spa treatments, restaurant deals, and room upgrades.
Disadvantages
The email campaign of this software still needs more marketing automation.
Inadequate integration with the PMS (Property Management Systems) interfaces.
Revinate
The guest profiles of Revinate comprise the total number of days and nights, methods of booking, upsell requests, time since the customer's last day, special preferences, and other information retrieved from the CRM and PMS. Its benefits include:
Customer surveys and feedback forms provide insight into the guest's experience while at the hotel.
Reputation management tool collects reviews from TripAdvisor, Google, social media, and several other platforms.
Its marketing modules help create, send, and manage marketing campaigns for a unified brand messaging across multiple hotel locations.
It tracks your location performance which helps you compare your booking rates to guest satisfaction.
Disadvantages
Unavailability of real service modules to handle guest tickets and inquiries via the phone.
It requires a more vigorous lead scoring for tracking potential clients who have entered the pipeline but have not booked their stay yet.
NetSuite
NetSuite CRM solution is part of the NetSuite SaaS family, and it is designed purely for the restaurant and hospitality industries. This CRM solution integrates well with other NetSuite products for managing inventory, accounting, loyalty programs, and marketing. Here are some of its benefits:
It can support enormous hotel enterprises consisting of multiple locations, brands, and staff management systems.
Its salesforce automation works nicely on the B2B level for huge corporate accounts and B2C for individual customer bookings and upsells.
It can complete customer profiles to conduct customer service conflict resolution in a timely and personalized manner.
Disadvantages
Advanced searching and reporting are complex.
It tends to be sluggish and users of large accounts often experience downtime.
Final Thoughts: Advantages of a Hospitality CRM
In this post, we gave examples of some of the most popular hospitality CRMs on the market today. If you own or manage a hotel, restaurant, or other hospitality business, a CRM will improve your guest service experience.
Here are some of the advantages of a hospitality CRM:
Centralized database. Several individuals collect and use guest information. Also, a hotel could have multiple locations. Therefore, they must have a centralized CRM.
Improved customer loyalty. Hotel CRMs have tools that can target customers with special offers. Also, the survey forms can show your guests that you're committed to continuous improvement.
Track sales. CRMs monitor the effectiveness of sales activities and help reps to meet their targets and increase revenue.
We highly recommend doing your research for a CRM that suits your budget and business needs. Want to see what it's like using a customizable CRM for your hospitality business?
Try Veloxity for free today!