Disadvantages of Customer Relationship Management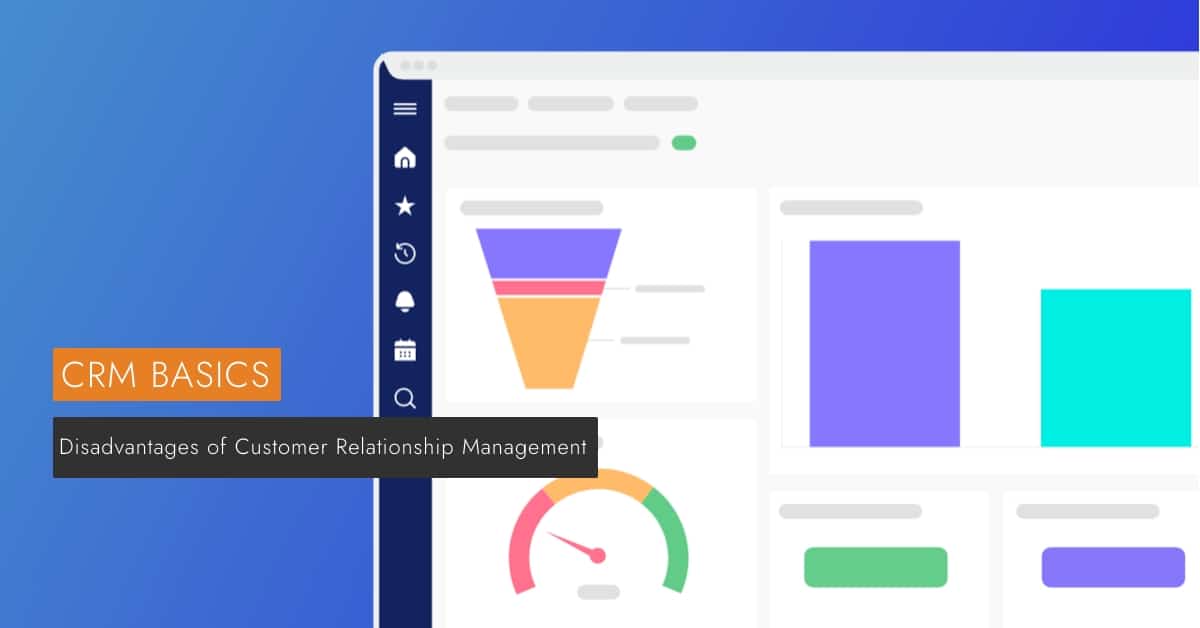 Customer relationship management (CRM) is a software system that helps a business manage its relationships with its customers. It helps a company track a customer's actions and behavior, and it uses this information to increase customer loyalty and sales.
There's no doubt that CRM can make a huge difference to any organization. But like many things, CRM has its downsides and disadvantages. To help you decide whether CRM is right for your organization, we've put together a list of the main disadvantages of CRM software.
What Can a CRM Do?
The purpose of a CRM system is to help businesses and individuals to maximize and foster their customer interaction that, in return, will boost their sales.
Let's dig deep into what a CRM can do for your business and make it thrive:
Puts Your Contact Data in a Single easy-to-access Place
If you have just launched your business, navigating among spreadsheets and manually tracking leads may seem fine to you. But when you have hundreds or thousands of leads flowing into your business daily, the endless digging through spreadsheets and notebooks will only hold back your progress as updating spreadsheets and syncing them with your ever-expanding teams is near to impossible. The result is, you cannot maintain consistent interaction with your customers – acquiring and retaining clients becomes challenging and hassle-some. Thanks to CRM systems that can bring information from all communication channels and third-party software your business is built around into one central repository – everyone from your staff can access it effortlessly for a unified view whenever they need it. ‍Thus getting client personal data (contact info, social media accounts, mailing addresses, websites.), tracking customer interactions, purchase history, and more become easier.
Helps You Sell More, Even Faster!
A CRM solution can radically boost your sales reps' productivity by automating most of their daily repetitive tasks – they can sell more in less time and with less effort.
Plus, by helping your salespeople design a killer sales process, a CRM enables them to set a protocol to follow and close more deals faster, speeding up your sales cycles. Thus they can:
Augment sales forecasting
Predict sales revenue at every stage of the sales process
Deliver proactive customer service and more
Better Customer Knowledge Means Better Customer Satisfaction
Happy and satisfied customers are more likely to be your repeat and loyal clients. But to retain customers, you must evaluate if they are happy with your service and figure out the pain points – you must interact with your customers periodically.
Thanks to CRM solutions that can automate follow-ups and trigger your sales reps to reach out to the hottest leads personally.
Plus, when your salespeople get all customer data about purchase history, demographics, preferences, etc., at their fingertips, they can identify opps more intelligently and collaborate with the marketing team to send hyper-targeted offers and content to customers tailored to their preferences.
Further, your support team can be more prompt in responding to your prospects' inquiries and resolving their issues. Thus you can maintain long-lasting customer relationships that will aid in the faster increase of your revenue.
Disadvantages of Customer Relationship Management
Involves Higher Costs: One of the biggest challenges to CRM implementation is the higher cost it involves. The CRM implementation process is complex, requires expert service, and you need to spend a handsome amount on it. Again, as the market is booming with hundreds of products with various plans at different prices, choosing the best one that can suit one's particular business specifications becomes tricky. Unless you have researched well, prepared a checklist of the functionalities you need, and shop accordingly, the cost can exponentially increase. However, you will find quality yet affordable CRM services that offer top-notch features to make your business grow with ease. For example, you can try out Veloxity's Free edition and upgrade to its paid versions as your business expands (starts only at $7).
Requires Training: To reap the best benefit from your newly implemented CRM, you need to train your staff members well so they can get accustomed to it. But the CRM learning curve is steeper, and you need super-expert staff or ask your CRM provider for running training sessions that may involve huge costs. Thanks to Veloxity CRM that comes with tons of free documentation, videos, and tutorials, so your teams can get in-depth knowledge about the software, set it up, and get started with it right away. Plus, you have round-the-clock expert support, topic-based FAQs, and more to troubleshoot any issue at your earliest convenience.
It May Not Suit Every Business: Implementing CRM is not viable for all types of business. While CRM applications best suit B2B/B2C businesses with complex sales cycles, they may not work great for companies with highly standardized customer transactions. A company that runs on customer retention through sales process optimization and personalized business/customer communication and involves multiple touchpoints can reap the best benefit from a CRM. For instance, while a CRM cannot do much good to KFC, using it is a must for a financial or healthcare center where personalizing offers, periodic follow-ups, and rolling out campaigns are crucial to bolstering ROI.
How to Choose a CRM
Before you finalize a CRM and invest your hard-earned money in it, make sure you ask for a live demo session and a test drive so you can evaluate if the system is easy-to-navigate, user-friendly, and can meet your requirements well.
Before deploying a CRM, make sure you prepare a realistic sales strategy and identify your target audience. So you can decide on what tools and bells and whistles can make a perfect CRM package for your specific needs and help you connect with your prospective business clientele and implement your strategy effectively.
Investing in a CRM with top-notch security measures and requires a backup facility is a big plus. For instance, to ensure your client data is safe, Veloxity's HIPAA compliant CRM stores data in encrypted devices and ensures standard encryptions, complete audit trials, and more.
Try out Veloxity, the world's most trusted CRM with state-of-the-art features and fuel your company growth.